UPDATE FOR 2011 >>> CLICK HERE …
The Arlington Heights 4th of July Parade, Saturday July 4, 2009 at 10:00 a.m. [MAP/SAT], Arlington Heights Frontier Days, July 1-5, 2009 [MAP/SAT] and Arlington Park Racetrack Fireworks, July 3, 2009 at dusk [MAP/SAT] offer plenty of fun for Arlington Heights …

UPDATE FOR 2010 >>> CLICK HERE …
Arlington Heights Fireworks CHANGES FOR 2009
Arlington Park Racecourse and Trackside OTB
2200 W. Euclid Ave. Arlington Heights, IL
FRIDAY Special July 3 Racing/Fireworks Tent Package
Join Arlington Park for a fun filled July 3rd featuring racing, music and and fireworks. New this year! — Live racing will begin later in the day than normal (4:00 p.m.) followed shortly thereafter by the Northwest Suburb's major fireworks display for an Independence Day Fireworks Celebration. Fans may purchase tickets for $5 at the door or $3 in advance online. Children 17 and under are admitted free when accompanied by an adult. The box office to purchase tickets will close at 7:30 p.m.
Arlington Park has announced a $20 restricted tent area package deal ($10 for kids 12 & under) for individuals who purchase their tickets online in advance of Friday's racing/fireworks show at Arlington. The package includes premium seating for the combined racing-fireworks show in the tents and grassy area in front of the tents, hot dogs, hamburgers, potato chips, mixed green salad, watermelon, cookies and cotton candy. Online sales end at 5 p.m. Thurs. July 2.
For more information, check the racetrack online or call: Arlington Park Box Office: 847-385-7500
Many neighbors of the racetrack gather (FREE OF CHARGE) at the Rolling Meadows Cook County Circuit Courthouse property or along parkways of Euclid Avenue and Wilke Road, just south and east of the racetrack.
CHICAGO FIREWORKS WEATHER FORECAST …
Arlingtoncards.com/weather >>> Fireworks Forecast | Fireworks Radar
Missed fireworks at Arlington Park? Mount Prospect has fireworks at Melas Park [MAP/SAT] from 9:00 pm to 10:00 pm. on July 4, 2009.
FRONTIER DAYS at Recreation Park July 1-5, 2009 [MAP/SAT]
Parking is not available at Arlington Market. Most people park in the neighborhood streets north of Recreation Park and in the Parking Garages in downtown Arlington Heights. Shuttle buses run from the parking garages to Frontier Days at Recreation Park. Check the full Arlington Heights Frontier Days Schedule at frontierdays.org …
MUSIC ACTS: WHO'S PLAYING AT FRONTIER DAYS IN ARLINGTON HEIGHTS
Many more events some days and all evenings … see Frontier Days official site.

WEDNESDAY JULY 1 at 8 PM at Frontier Days Carnival/Festival at Recreation Park …
MAIN STAGE … KENTUCKY HEADHUNTERS with hits like Chug a Lug, Let's Work Together,
Dumas Walker, Oh, Lonesome Me, The Ballad of Davy Crockett,
Blue Moon of Kentucky, and many more.


THURSDAY JULY 2 at 8 PM at Frontier Days Carnival/Festival at Recreation Park
MAIN STAGE … BLUES TRAVELER like… Forever Owed, Hook; You, Me and Everything;
Love Does; and Run-Around.


FRIDAY JULY 3 at 8 PM at Frontier Days Carnival/Festival at Recreation Park
MAIN STAGE … EDDIE MONEY with hits Two Tickets to Paradise, I'll Get By,
Baby Hold On, Shakin', and Think I'm in Love.

SATURDAY JULY 4 at 8 PM at Frontier Days Carnival/Festival at Recreation Park
MAIN STAGE … THE CHERRY POPPIN' DADDIES… playing an unconventional lyric-driven
mixture of punk rock, funk, ska and swing music…Zoot Suit Riot and The Ding-Dong Daddy of the D-Car Line.
SUNDAY JULY 5 at 7:30 PM at Frontier Days Carnival/Festival at Recreation Park
MAIN STAGE … AMERICAN ENGLISH — a comlete Beatles experience.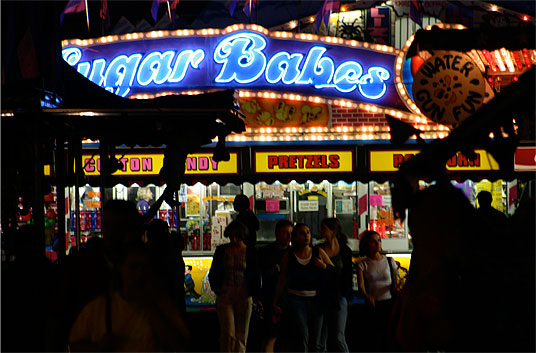 Frontier Days includes much, much more. A running race, flea market, a carnival, food, fire department water fights and more entertainment. See the Arlington Heights Frontier Days Official Site for more details.
FRONTIER STAGE (ASIDE FROM MAIN STAGE BEFORE OR AFTER MAIN STAGE EVENT)
Wed July 1, 2009 +++ 9:15-10:45pm
Heartache Tonight … ultimate Eagles concert experience!
Thu July 2, 2009 +++ 9:15 – 11:45 pm
ARRA… recently voted Best Classic Rock Band…performing the big hits of Journey, Boston, Styx, Rush, Van Halen, Triumph, and many more.
Friday July 3, 2009 +++ 9:15-11:45pm
THE LOUNGE PUPPETS…a tribute to the 80's hair bands performing an incredible heart pumping, fist-thrusting, scream out loud, head banging trip back through time!
Saturday July 4, 2009 +++ 9:15-11:45pm
AFRODISIACS…high energy disco, dance, funk cover band exploding with funky costumes, style and attitude!
See also:
Sunday July 5, 2009 +++ 5:15-7:15 pm
HEARTSFIELD … American music at its best!
Arlington Heights Frontier Days Official Site
Arlington Park Racetrack
Village of Arlington Heights Official Site
Arlingtoncards.com/calendar
Frontier Days is sometimes incorrectly referred to as Arlington Heights "Pioneer Days"