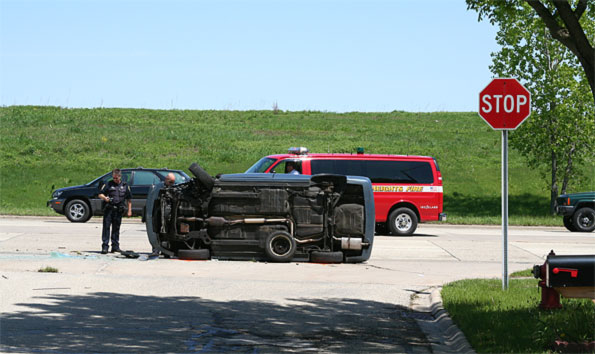 A rollover accident injured a man at Lake Cook Road and Ridge Avenue Sunday morning.
Arlington Heights police and firefighter/paramedics responded to a single car rollover accident at the intersection of Lake Cook Road and Ridge Avenue just before 10:40 a.m. Sunday. A passerby and police first responders held the car, which was resting on the passenger's side, to keep it from crushing the driver's ankle, according to neighborhood witnesses at the scene. The ankle was near a passenger's side window and at risk of being crushed between the car and the pavement.
Firefighter/paramedics arrived quickly and stabilized the car with cribbing and proceeded to extricate and rescue the accident victim from the vehicle. The victim was transported to the Level One Trauma Center Advocate Lutheran General Hospital.

The accident vehicle, a Saturn S-Series Twin Cam, was eastbound on Lake Cook Road and jumped the curb, traveled a direct hit to cause snapping of a young tree, proceeded another 100 yards and hit a larger tree. The larger tree was uprooted and snapped and the impact knocked off a rear wheel, which cartwheeled the car to rest in the middle of Ridge Avenue at the intersection of Ridge and Lake Cook Road.
Eastbound Lake Cook Road was blocked until about noon, and westbound Lake Cook Road was blocked to a single lane until the accident debris and investigation was cleared. The accident is being investigated for DUI.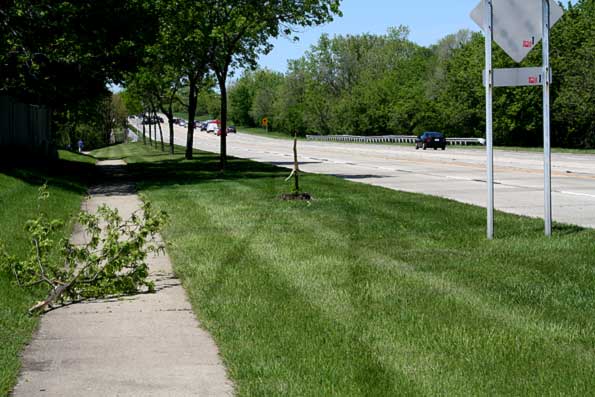 Accident photo shows tire tracks across snapped tree on Lake Cook Road parkway over 300 feet west of the accident scene.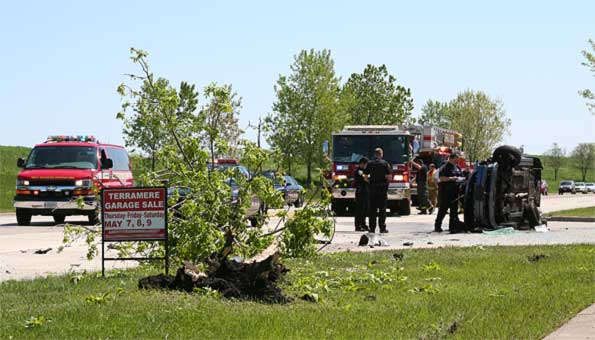 Second tree hit by accident vehicle with the car and rescue vehicles at the accident scene.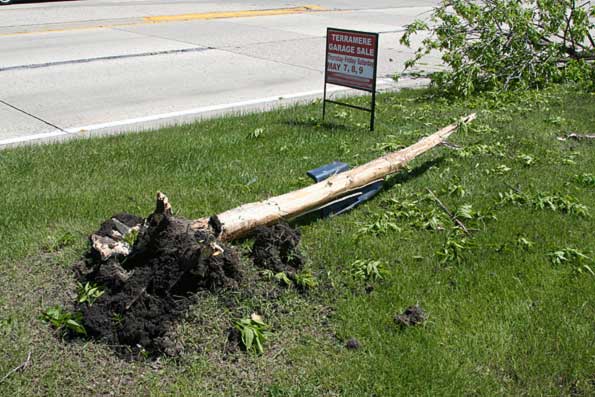 Second tree uprooted at corner of Lake Cook Road and Ridge Avenue.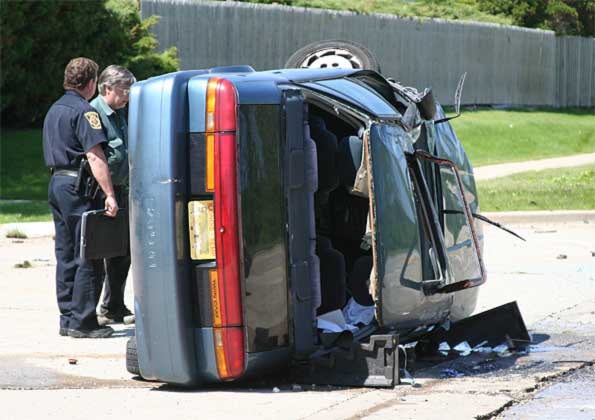 Accident photo showing black cribbing stabilizer under the Saturn S-Series accident vehicle.

View 2007-09 Arlington Heights Fire/Rescue Operations in a larger map
Red line shows approximate path of car from point of leaving roadway to its resting point at the crash scene (Map journal courtesy of STREETSOFARLINGTON.COM).
Get a "DON'T DRINK & DRIVE MUG" from STREETSOFARLINGTON.COM