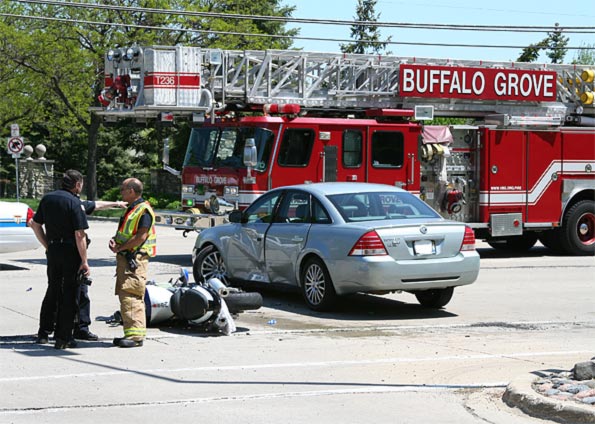 A Suzuki motorcycle rests after crash involving a Mercury Montego at Buffalo Grove Road and Old Oak Drive.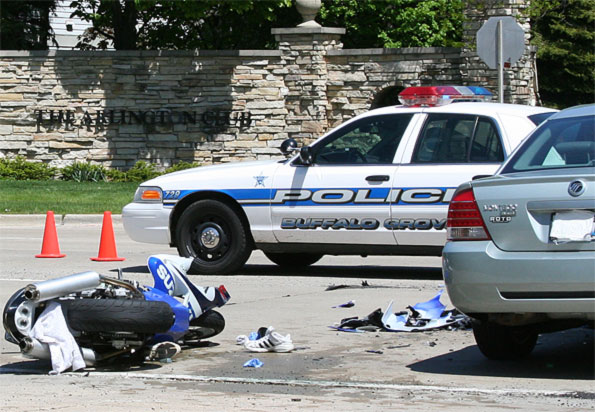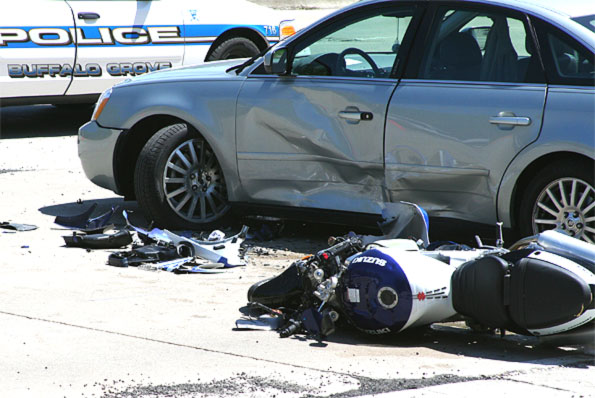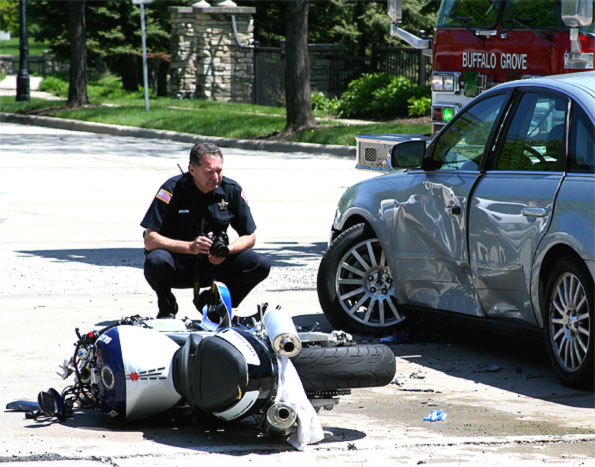 Michael Lechner, 23, driver of a Suzuki motorcycle was apparently southbound on Buffalo Grove Road when he was killed after he crashed into a Mercury Montego that pulled out eastbound from Old Oak Drive.
Northwest Central Dispatch 9-1-1 for Buffalo Grove received numerous calls for a serious motorcycle accident at Buffalo Grove Road and Old Oak Drive (across from Cobbler Lane) about 12:55 p.m. Sunday. Police arrived on the scene first and found a male motorcycle driver under the a silver Mercury Montego. Michael Lechner was pinned under the rear tire of the car and was extricated by Buffalo Grove Fire Department. Lechner, 23, of the 300 block of Lincoln Terrace in Buffalo Grove (about one mile from the accident) was pronounced dead at the scene. Firefighter/paramedics used equipment to jack up the car and access Lechner, who was unconscious without respiration and without a pulse. Police say Lechner was not wearing a helmet. An autopsy is scheduled for Monday.
A driver and a passenger in the silver Mercury Montego were not injured in the collision.
Buffalo Grove Police Department called in the Major Case Assistance Team for a prolonged investigation at the intersection. Traffic delays in the area continued until traffic was opened up at the intersection after 3:00 p.m.
A second motorcycle accident occurred nearby on Golfview Terrace and Buffalo Grove Road with minor injury to the motorcycle driver. The driver of the second motorcycle accident was immediately standing after the accident.
View
Arlingtoncardinal.net/fireblog
in a larger map
Location where car vs. motorcycle accident killed a Buffalo Grove man across from The Arlington Club entrance at Cobbler Lane. The motorcycle struck a car pulling out of Old Oak Drive. Map journal courtesy of STREETSOFARLINGTON.COM.
[ADVERTISEMENT]
PERSONAL INJURY ATTORNEYS — HIGHEST VERDICT SETTLEMENTS IN THE UNITED STATES.
AUTO ACCIDENTS, BRAIN INJURY, CATASTROPHIC EVENTS, MOTOR VEHICLE DEFECTS, WRONGFUL DEATH CLICK HERE FOR MORE INFORMATION …