Video of 5200 Carriageway extra-alarm fire in Rolling Meadows, showing fire, heavy smoke and roof operations on Memorial Day.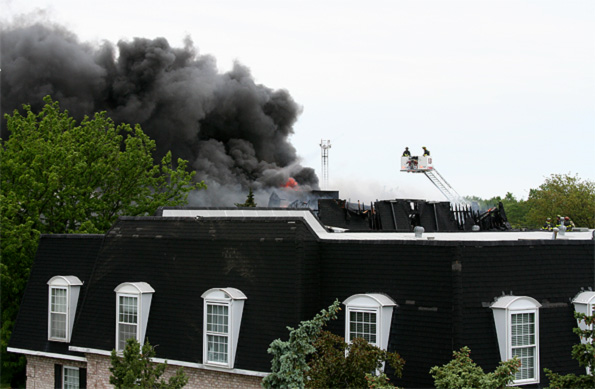 Mount Prospect firefighters from Tower 13 wait for interior attack firefighters to back out before they hit the fire again from the roof.
MEMORIAL DAY FIRE IN ROLLING MEADOWS STARTS IN THIRD FLOOR APARTMENT OR ATTIC STORAGE: Fountains on Carriageway/Carriageway Court Condominiums off of Algonquin Road
Rolling Meadows Fire Department fought a 4-Alarm fire at 5200 Carriageway Drive at the Fountains on Carriageway Apartment/Carriageway Court Condominiums on Memorial Day. Heavy fire through the roof of a three-story apartment building near Algonquin Road behind Russell's Barbecue. The u-shaped condominium complex that houses 87 units had smoke showing from the center of the building when firefighters arrived. Rescues off of balconies were made upon arrival of Rolling Meadows and Arlington Heights firefighters. The fire started about 11:15 a.m. and went to a 4th-Alarm just before 12:45 p.m.
Fire departments from Arlington Heights, Bloomingdale, Buffalo Grove, Des Plaines, Elk Grove Village, Elk Grove Township, Mount Prospect, Hanover Park, Hoffman Estates, Mount Prospect, Palatine, Park Ridge, Roselle, Schaumburg, Wheeling, Wood Dale and others assisted Rolling Meadows Fire Department for the extra-alarm fire.
One firefighter suffered a minor injury, was transported to Northwest Community Hospital, treated and released. Two Salvation Army Mess/Canteen vans were setup near Arlington Heights Fire Department Ambulance 3, which was the onscene rehab ambulance for firefighters. No civilian injuries were reported. The job of accounting for all residents was complicated by the fact that many residents may have been away from home for the Memorial Day holiday.
The Red Cross responded to the scene, and is assisting about 54 displaced residence who will stay at the Rolling Meadows Holiday Inn a few blocks away at least tonight. Residents of the Carriageway Court Condos can call a hotline — the building's 24-hour number at 312-565-6110.
Rolling Meadows Fire Department battled an extra-alarm fire at twleve Oaks at Woodfield almost three weeks ago on May 7, 2009 (see Three-Alarm Fire at Twelve Oaks at Woodfield Apartments in Rolling Meadows). Both fires involved high winds, which caused rapid extension of the fire. Today's fire was fanned by 15 to 16 mph east-northeast winds with gusts to 23 mph [WEATHER DATA for May 25, 2009]. The length of the upper attic roof is oriented in the direction of yesterday's northeasterly winds, which probably promoted extension of the fire from northeast to southwest.
The Twelve Oaks fire was fanned by 17 mph northwest winds with gusts to 24 and 27.6 mph [WEATHER DATA for May 7, 2009].