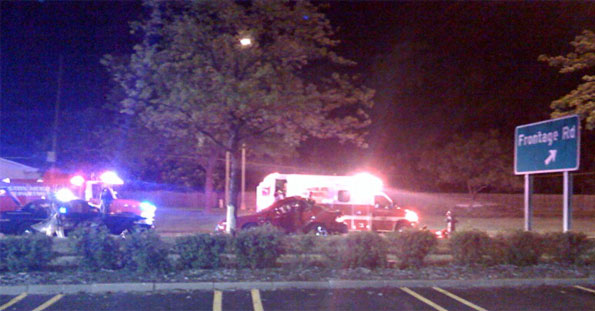 Arlington Heights Fire Department paramedics just arriving to the accident on Palatine Road, showing severe wrap-around damage to the red Pontiac Grand Am after hitting a tree in the parkway.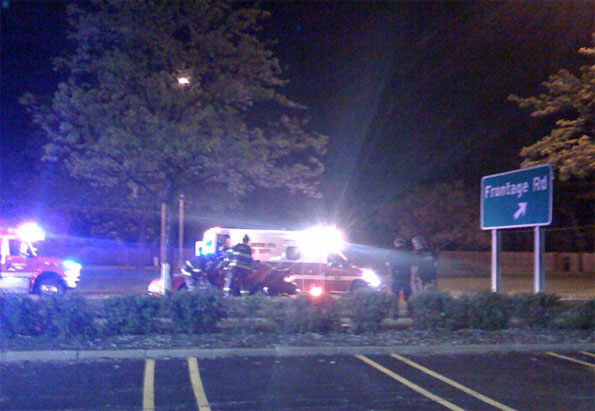 Arlington Heights Fire Department firefighter/paramedics preparing to extricate victims from a severely damaged red Pontiac Grand Am with roof buckled up on Palatine Road late Wednesday night.
Arlington Heights police and fire departments responded late Wednesday night to a one-car accident versus a tree on eastbound Palatine Road just east of Rand Road, where Palatine express and Palatine frontage diverge. Rescuers found three victims in serious condition, and one victim dead at the scene just after 11:20 p.m. One male patient was transported to Lutheran General Hospital Level One Trauma Center and two other male victims were transported to Northwest Community Hospital. Palatine Fire Department assisted Arlington Heights Fire Department with a paramedic ambulance. The person killed was a male passenger in the back seat. He has been identified as Jose Antonio Guzman-Ojeda, 26, of Wheeling.
The driver, in serious, but stable condition, has been identified as Gerardo Torres-Salas, 28, of Prospect Heights. Charges are pending.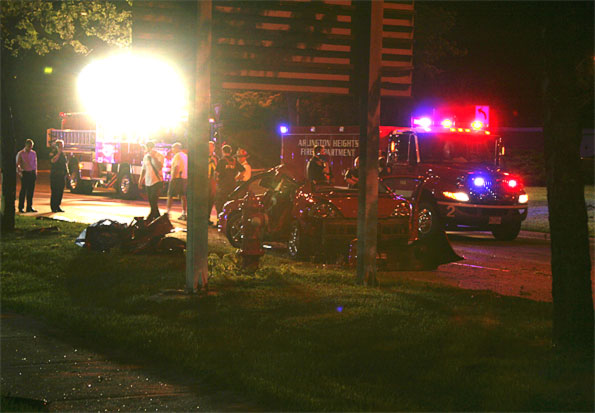 Fire engine lights illuminate the scene immediately after extrication.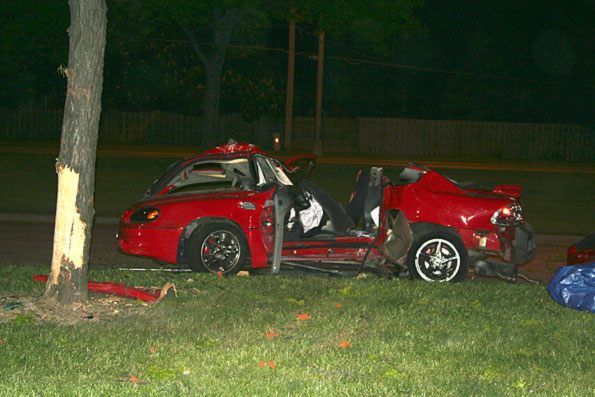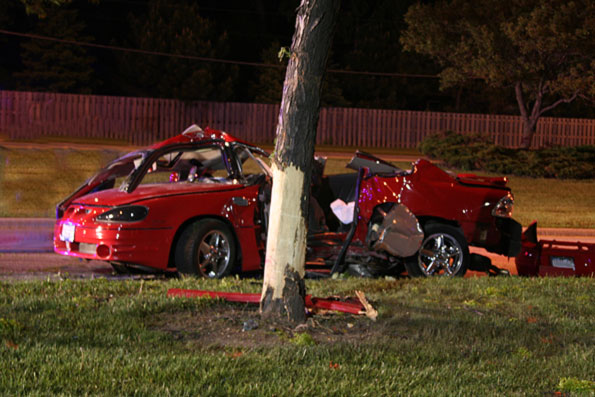 Photos showing extensive damage to the Grand Am with the car roof removed during extrication, and the damaged tree in the foreground.

View 2007-09 Arlington Heights Fire/Rescue Operations in a larger map
Google satellite image map showing the tree that was hit and the site of the fatal crash Wednesday night.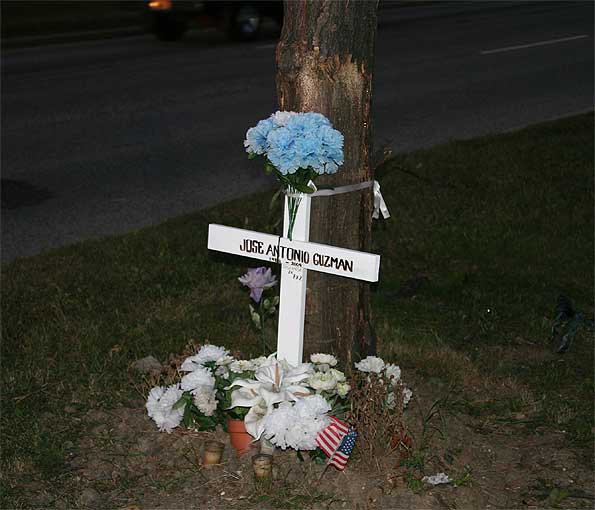 Roadside memorial and Cross for Jose Antonio Guzman on Palatine Road, just east of Rand Road.
The Arlington Heights Police Department has been awarded a Holiday Mobilization Grant from the Illinois Department of Transportation to augment current traffic safety law enforcement efforts within the Village over a one-year period. The traffic enforcement campaigns have been established to coincide with selected holiday periods, such as Memorial Day weekend, when there is historically an increase of traffic crashes and related injuries. The enforcement campaigns emphasize attention to reducing risks associated with speeding, impaired driving, and the non-use of safety belts and child safety seats. Arlington Heights police also have been known to keep a close eye out for speeders along Palatine Road year round.