Three pirates are dead and one injured and in custody while Capt Richard Phillips of Underhill, Vermont was safe aboard a U.S. Navy ship USS Bainbridge and then the amphibious assault ship USS Boxer off the coast of Somalia. On April 10, 2009, USS Boxer was en route to assist USS Bainbridge and the USS Halyburton in negotiating the release of Richard Phillips.
There is sketchy information about a second attempt by Phillips to escape or jump in the water, but it was confirmed that Captain Phillips was tied up while he was a captive. An official statement from a CENTCOM spokesman in a Pentagon briefing also confirmed that sharpshooters aboard the USS Bainbridge at a distance of about 25-30 meters shot and killed three of the pirates. One pirate target was fully exposed to shots and the other two were only had their head and shoulder's exposed. They were given the order to shoot the pirates when commanding officer Frank Castellano on the USS Bainbridge determined that Captain Richard Phillip's life was in imminent danger. Apparently an AK-47 was aimed at Phillip's back shortly before the order to shoot the pirates occurred. A fourth pirate was aboard the USS Bainbridge in a heated discussion immediately prior to the killing of the other pirates. The pirate aboard the USS Bainbridge was picked up in a smaller Navy boat and brought to the USS Bainbridge prior to Captain Phillip's rescue. No other details of the conflict have been released as of 3:45p.m. CDT.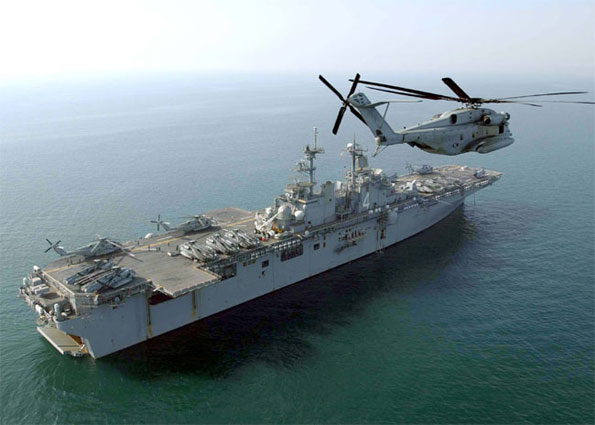 United States Navy Wasp-class amphibious assault ship USS Boxer LHD-4.
Phillips attempted to escape the first time on Thursday night, but was immediately recaptured after he jumped into the water and tried to swim to a nearby US destroyer. The four Somali pirates fired warning shots and one pirate dove in to the sea and caught up with Phillips and dragged him back into the boat.
On Saturday, the Somalis also opened fire when a Navy dinghy approached the lifeboat. The Navy boat retreated after the shooting.
The U.S.-flagged Maersk Alabama freighter has been docked at Mombasa, Kenya since returning from the hijacking. In Mombasa, the crew of the Maersk Alabama has been seen celebrating the release of Phillips — a large U.S. flag hanging over the ship's rail.
Captain Richard Phillips quote: "I'm just the byline. The real heroes are the U.S. Navy and the Navy SEALS who brought me home." The quote was relayed in a statement Sunday by Maersk Line CEO John Reinhart.
The U.S. Navy rescue operation was ordered by U.S. President Barack Obama.