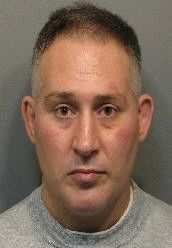 Jason Jakob mug shot photograph.
Arlington Heights resident Jason Jakob, 39, of the 900 block of North Harvard Avenue was charged with aggravated assault, reckless discharge of a weapon, and aggravated intimidation.
Cook County Judge Thomas Fecarotta set Jakob's bond at $175,000 Tuesday, April 7, 2009 and ordered him to surrender all firearms in his possession and under his control, including firearms he may have stored elsewhere within 24 hours.
Jakob admitted firing a Glock .40-caliber handgun and a 9 mm handgun inside his home in the 900 block of North Harvard Avenue. He also admitted drinking alcohol.
Jakob was released after posting 10% bond at $17,500. His next court appearance is April 28, 2009.