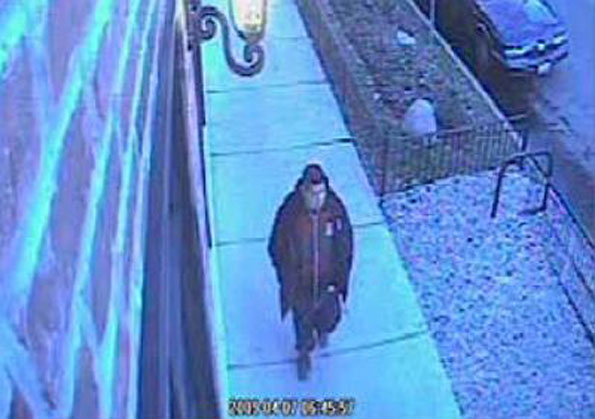 Surveillance photo of suspected Hispanic male that attacked a female jogger Tuesday morning about 6:30 a.m.
Chicago Police Department has issued a community alert after a Hispanic male, 25-30 years old, with brown eyes, dark brown hair, a dark complexion, about 5'5″ and weighing 190 to 200 pounds.
The Chicago police alert described the man as "chubby" with dark brown hair shaved on the sides. The offender was wearing a black zip-up hoodie with a maroon colored garment underneath and baggy, dark-colored jeans.
A vehicle associated with the suspect is possibly a late, light-colored 1980s Toyota, with four doors and a black stripe around the vehicle.
View
Chicago Area High Profile Crimes Map
in a larger map
The man grabbed a 23-year-old female jogger Tuesday morning in the 1000 block of West Wrightwood Ave. in Lincoln Park. He grabbed the woman as she was jogging and pulled her to the ground, injuring her when her head hit the sidewalk.
Contact CHICAGO PD with any information concerning this incident …
Call Area 3 Detectives at (312) 744-8261.