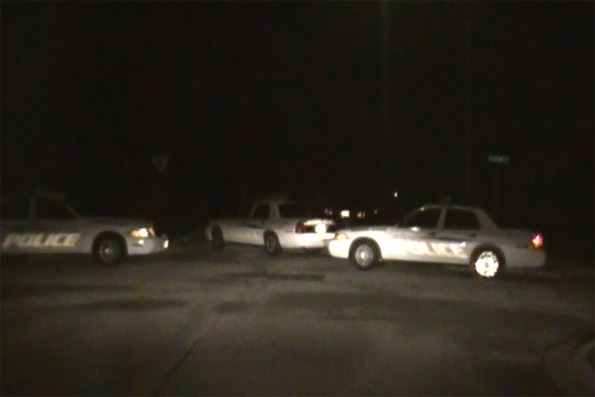 Arlington Heights Police squads blocking one of the perimeter intersections of Elm at Harvard Avenue.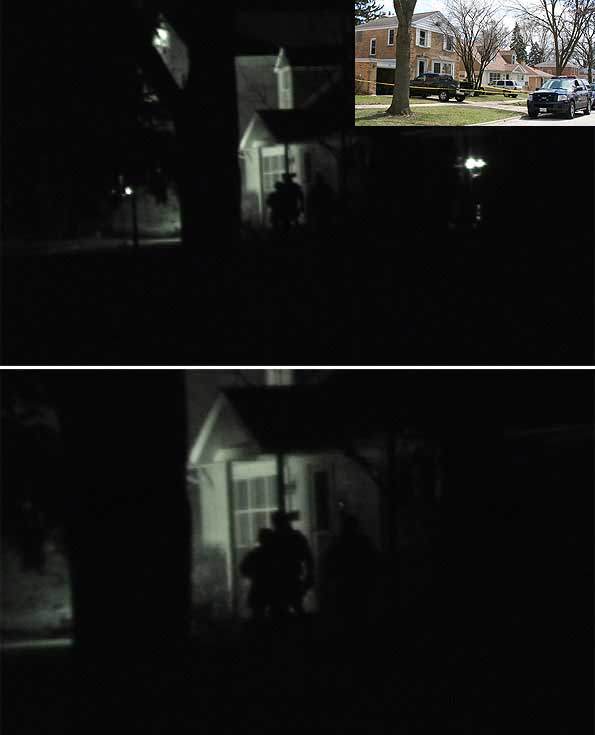 NIPAS Emergency Services Team watching the front door of the offender (not visible) on Harvard Avenue at a neighbor's house just south of the crime scene (inset photo shows police investigation at the two-story brick house where the suspect was arrested).
COURT UPDATE: Charged, $175,000 bond …
UPDATE: Hard Lesson for Jason Jakob: Guns and Drinking Don't Mix

Police used tear gas about 4:00 a.m. Wednesday to arrest a man in a house on the 900 block of North Harvard Avenue after gunshots were heard inside his house and he was seen waving a gun.
Jason A. Jakob, 39, barricaded himself in a home in the 900 block of North Harvard Avenue just after 9:30 p.m. Tuesday. Arlington Heights Police responded to a report of a man with a gun inside a house with shots fired. When Arlington Heights police arrived, they set up a safe perimeter and also heard what were possibly gunshots inside the home. Residents near the offender's house were evacuated. As police got closer to the home, they could see muzzle flashes and heard gunfire. Multiple shots were fired and neighbors were moved to safety down the block.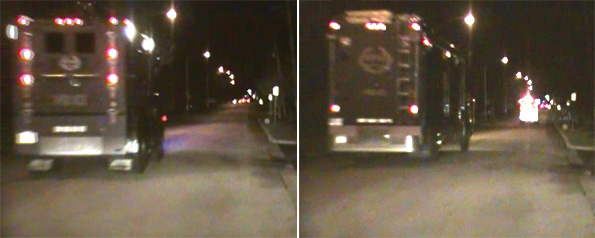 NIPAS trucks respond to a barricade situation in Arlington Heights to a makeshift command post.
Northwest Central Dispatch 9-1-1 Center activated a Northern Illinois Police Alarm System response for an Emergency Services Team about 10:00 p.m., which called for specialist officers to coordinate a response to safely resolve the barricade situation. The unit typically includes a coordinator, assistant coordinator, an entry unit, a containment unit, marksmen, negotiations, and support services. The unit is what people commonly call a SWAT team. The NIPAS response also helps allow Arlington Heights Police Department officers to manage their routine service calls for the rest of the community while the barricade situation is managed. Police departments from Buffalo Grove, Des Plaines, Mount Prospect, Rolling Meadows, Round Lake Beach, Skokie, Streamwood and others responded to the scene. Paramedic ambulances from Arlington Heights and Palatine were placed on standby for injuries. One person was transported by ambulance to a local hospital before the offender was placed in custody.
As of 12:45 a.m. the barricade situation was unresolved and communication negotiations with the offender were being attempted. As of 3:00 a.m. a large area of neighbors, including whole families and some elderly residents were being evacuated from the area. Some residents were evacuated in a BearCat armored personnel carrier and were given shelter for the night at the Lutheran Home Chapel.
At about 4:00 a.m. police captured the offender Jason Jakob after using tear gas. The suspect was arrested and transported to Northwest Community Hospital with police accompanying paramedics.
Many neighbors and residents expressed how impressed they are with the professionalism of the Arlington Heights police officers and NIPAS officers, and the safe outcome of the incident.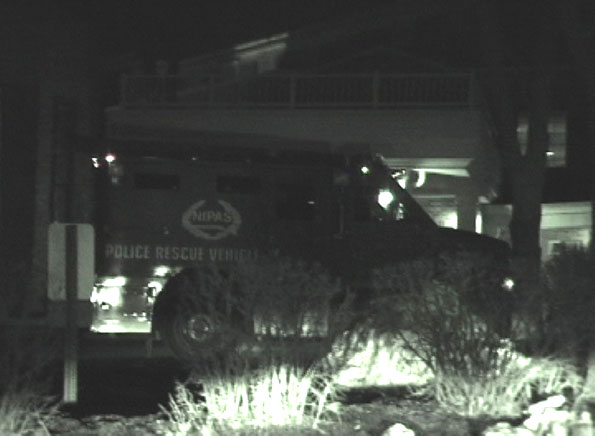 A Bearcat Armored Personnel Carrier was used to transport some residents to a temporary safe shelter at the Lutheran Home Chapel about three blocks from the crime scene.