Photos of Indiana fugitives (left-to-right): Bobby Cockerell, Christopher Marshall, Jerry Sargent (2 photos).

UPDATE: Indiana Branchville Correctional Facility Escapees Caught.
The three inmates from Indiana's Branchville Correctional Facility escaped Friday March 20, 2009. A 1989 Ford F-250 was stolen near the correctional facility in the town of St. Croix (a few miles from Branchville) and was found along Interstate 71 northbound in Carroll County in Kentucky, about 30 miles south of Cincinnati.

Police said the escapees are Bobby Cockerell III, 31, of Jeffersonville, Ind., who is serving a 20-year sentence for burglary; Christopher J. Marshall, 49, of Fort Scott, Kan., who is serving a 50-year sentence for dealing cocaine; and Jerry Sargent, 59, of Williamstown, Ky., who is serving a 50-year sentence for armed robbery and a 20-year sentence for criminal confinement.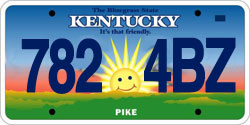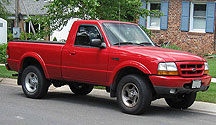 Kentucky license plate on stolen green 1998 Ford Ranger (file photo of red pickup).
The men are considered armed and dangerous. Kentucky State Police say the men attacked three brothers in the northern Kentucky town of Sanders on Monday and stole a truck, guns, cash and clothing. The truck the suspects stole was a green 1998 Ford Ranger with Kentucky license 782-4BZ. See photographs of armed fugitives/escaped convicts from Indiana above.
Authorities in Ohio, Indiana, Tennessee, West Virginia, Virginia and Missouri are on special alert for the three inmates.