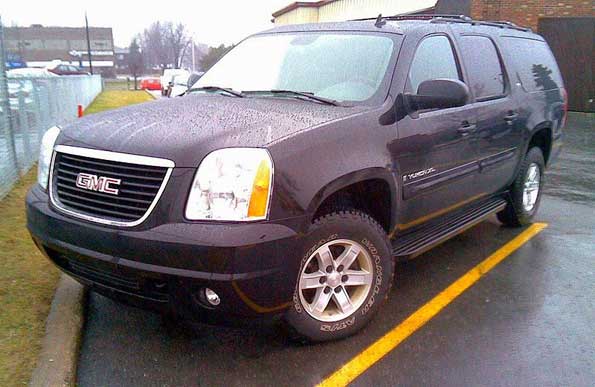 Late model GMC Yukon XL similar to suspicious vehicle reported to Arlington Heights Police Wednesday night (file photo).
WED FEB 18 2009 11:00 PM — An Arlington Heights woman driving home alone around 11 p.m. Wednesday at the end of a night out with some friends was driving north on Dryden from Northwest Highway when she encountered a vehicle that turned out to be suspicious. Both vehicles came to a stop simultaneously at the intersection of Miner and Dryden, which has a four-way stop sign. The soon-to-be suspicious vehicle was a large black or dark-blue pickup truck or Suburban-type vehicle that stopped at the stop sign westbound on Miner. The male driver was on the right (with the right-of-way), so the Arlington Heights woman paused to let the SUV proceed first. The male driver flashed his headlights, presumably indicating that the Arlington Heights woman should proceed first, which she did.
After she proceeded, she noticed that the male driver turned his SUV northbound on Dryden — following the woman. After she passed a few streets north of Oakton Avenue and St. Viator High School, she noticed blue and red flashing lights activated from the SUV/truck that had turned after the stop sign at Miner and Dryden. The Arlington Heights woman felt uneasy because she new she made a complete stop at the stop sign and that she was not speeding. The flashing lights were not the typical lights on police cars and the Arlington Heights woman confirmed that the lights were coming from the large unmarked vehicle.
The woman did not stop, but slowed down and dialed 9-1-1 so she could confirm whether a police car was in her area. The SUV/truck had pulled in behind the woman as they proceeded, but kept at least a car length away. After 15-30 seconds the SUV/truck made a u-turn and sped off south on Dryden and pulled into a side street about two blocks south … then remained parked for about a minute.
View Larger Map
An Arlington Heights police officer arrived in the area and took a report from the woman. Arlington Heights police also put out a local bulletin to area police officers.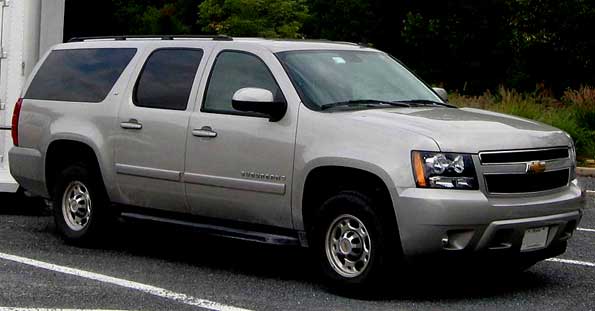 Late Model Chevrolet Suburban file photo similar to a black SUV reported as a suspicious vehicle Wednesday night (file photo).
Possible vehicle types associated with this suspicious vehicle report …
Chevrolet Suburban (Wikipedia)
Chevrolet Tahoe (Wikipedia)
Chevrolet Silverado Pickup Truck with a cap (Wikipedia)
Cadillac Escalade (Wikipedia)
GM Yukon
GM Denali
Less likely vehicle make matches …
Chevrolet Avalanche (Wikipedia)
Ford Expedition (Wikipedia)
Ford Pickup Truck with cap

Chevrolet Silverado with cap (file photo).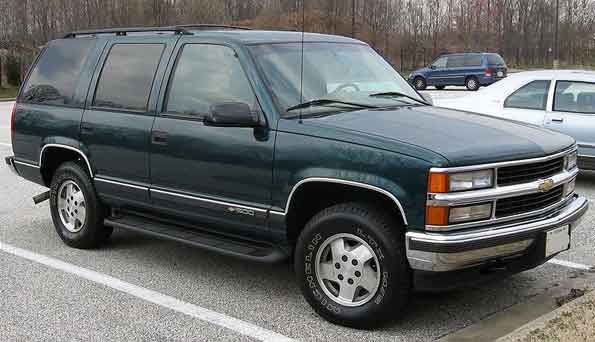 Older model (1990's) Chevrolet Tahoe (file photo).
Proper Civilian Response and Prevention Information:
If confronted with a similar situation the best course of action is to drive directly to the nearest police station and call 9-1-1. If you are unsure where the police department is located drive to an open business or highly populated area. If the vehicle leaves the area, get a good description and last direction of travel.
Anyone having information about this crime, or any other serious crime should use the CitizenObserver anonymous tip feature or call the Arlington Heights Crime Stoppers @ (847) 590-STOP. Callers are guaranteed anonymity and may qualify for a cash reward of up to $1,000.
Photos from this article are licensed under the Creative Commons Attribution ShareAlike 3.0 License. In short: you are free to share and make derivative works of the file under the conditions that you appropriately attribute it, and that you distribute it only under a license identical to this one. Official license …