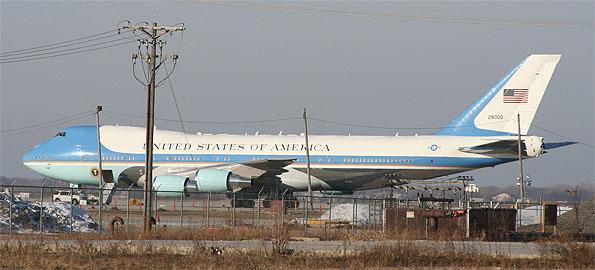 Air Force One sits on a tarmac at O'Hare International Airport Sunday morning after Valentine's Day during President Barack Obama's first trip back to Chicago since his inauguration.
Barack Obama arrived at his home in Chicago on Friday, and treated first lady Michelle to a Valentine's Day dinner downtown Saturday night. The couple was spotted leaving upscale Table Fifty-Two at 52 West Elm Street in Chicago, which specializes in Southern cuisine. Friday's flight on Air Force One from Washington D.C. was the first flight of the whole family and included Barack Obama's mother-in-law.
After the family landed, they boarded Marine One for a short trip to the south side of Chicago.
Saturday morning, Obama worked out in Hyde Park — a west side neighborhood — at Attack Athletics.
$787 Billion Economic Stimulus Plan & Bill
Some political pundits are saying Obama is a winner for getting the bill passed on his schedule. Proponents say the bill will bring more jobs to the economy.
Others — pundits and politicians — are critical of the rush to pass the bill with little chance to read the 1000-plus page bill. Some say its ironic that Obama has time to relax for a three-day weekend after rushing the bill. Obama has no public schedule, and is planning to relax in Chicago until he leaves for Denver on Tuesday to discuss his economic plan and where he plans to sign the $787 billion economic stimulus plan. Charles Krauthammer calls the stimulus bill a fraud because many of the project are not shovel-ready, even though projects in the bill were "sold" as urgent projects that could be underway in a short time. According to the White House, the bill was so "urgent" it had to be passed Friday afternoon, but then it won't be signed by Obama until Tuesday. Many are asking why legislators weren't allowed to read the stimulus bill over the three-day President's Day holiday weekend.
Next, President Barack Obama is scheduled to arrive in Phoenix on Wednesday to announce plans for reducing the number of housing foreclosures.
See also …
whitehouse.gov
tablefifty-two.com
attackathletics.com
en.wikipedia.org/wiki/Airforce_one
en.wikipedia.org/wiki/Boeing_VC-25 (description of the current aircraft -— the VC-25 military version of the Boeing 747)