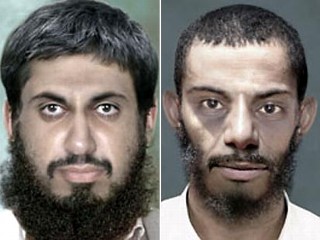 Fahid Mohammed Ali Msalam (left)
Sheikh Ahmed Salem Swedan (right).
New Year's Day drone attack killed two top terrorists from the FBI's Most Wanted list on January 1, 2009 in northern Pakistan. There were $5 million rewards offered for information leading to either's capture or conviction. Both were believed to be involved in the September 2008 Marriot attack in Islamabad. They were suspects in the assassination of Benazir Bhutto.