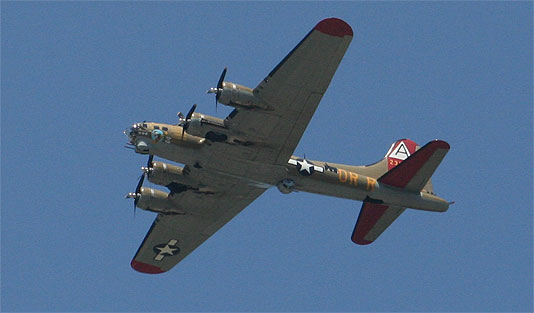 Boeing B-17 Flying Fortress 'Nine-O-Nine' passes westward over Arlington Heights at 1:42 p.m. on Monday, July 30 2007.
Following a weekend open house at Chicago Executive Airport, formerly Palwaukee Airport, the 'Nine-O-Nine' B-17 departs the area as it heads West. This 'Nine-O-Nine' is historically marked after the real Nine-O-Nine, a B-17G-30-BO, 42-31909, of the 91st Bomb Group, 323rd Bomb Squadron, which completed 140 missions without an abort or loss of a crewman, an 8th Air Force record. Assigned to combat on 25 February 1944 Nine-O-Nine made 18 trips to Berlin, dropped 562,000 pounds of bombs, and flew 1,129 hours. Nine-O-Nine had 21 engine changes, four wing panel changes, 15 main fuel tank changes, and 18 "Tokyo" tank changes (long-range fuel tanks). M/Sgt. Rollin L. Davis, a maintenance line chief in charge of this plane, received the Bronze Star for his part in this. Nine-O-Nine wound up at the RFC facility at Kingman, Arizona on 7 December 1945, and was scrapped. The Collings Foundation, Stow, Massachusetts, have B-17G-85-DL, 44-83575, civil register N93012, which currently appears at airshows marked as the historic Nine-O-Nine.
The Boeing B-17 Flying Fortress is an American four-engine heavy bomber aircraft developed for the US Army Air Corps (USAAC). Competing against Douglas and Martin for a contract to build 200 planes, the Boeing entry outperformed both the other competitors and more than met the Air Corps' expectations. Although Boeing lost the contract due to the prototype's crash, the Air Corps was so impressed with Boeing's design that they ordered 13 B-17s. The B-17 Flying Fortress went on to enter full-scale production and was considered the first truly mass-produced large aircraft, eventually evolving through numerous design advancements, from B-17A to G.
The B-17 was primarily employed in the daylight precision strategic bombing campaign of World War II against German industrial and civilian targets. The United States Eighth Air Force based in England and the Fifteenth Air Force based in Italy complemented the RAF Bomber Command's nighttime area bombing in Operation Pointblank, to help secure air superiority over the cities, factories and battlefields of Western Europe in preparation for Operation Overlord. The B-17 also participated, to a lesser extent, in the War in the Pacific.
From its pre-war inception, the USAAC touted the aircraft as a strategic weapon; it was a potent, high-flying, long-ranging bomber capable of unleashing great destruction yet able to defend itself. With the ability to return home despite extensive battle damage, its durability, especially in belly-landings and ditchings, brought a miraculous reputation. Stories and photos of B-17s surviving battle damage widely circulated, boosting its iconic status. Despite an inferior range and bombload compared to the more numerous B-24 Liberator, a survey of Eighth Air Force crews showed a much higher rate of satisfaction in the B-17. With a service ceiling greater than any of its Allied contemporaries, the B-17 established itself as a superb weapons system, dropping more bombs than any other US aircraft in World War II. Of the 1.5 million tonnes of bombs dropped on Germany, 500,000 were dropped from B-17s.

Design and Development
On August 8, 1934, the U.S. Army Air Corps (USAAC) tendered a proposal for a multi-engined bomber to replace the Martin B-10. Requirements were that it would carry a "useful bombload" at an altitude of 10,000 feet (3 km) for ten hours with a top speed of at least 200 mph (322 km/h). They also desired, but did not require, a range of 2,000 miles (3200 km) and a speed of 250 mph (400 km/h). The Air Corps were looking for a bomber capable of reinforcing the air forces in Hawaii, Panama, and Alaska. The competition would be decided by a "fly-off" at Wright Field in Dayton, Ohio. Boeing competed with the Douglas DB-1 and Martin Model 146 for the Air Corps contract.
The prototype B-17, designated Model 299, was designed by a team of engineers led by E. Gifford Emery and Edward Curtis Wells and built at Boeing's own expense. It combined features of the experimental Boeing XB-15 bomber with the Boeing 247 transport airplane. The B-17 was armed with bombs (up to 4,800 pounds (2180 kg) on two racks in the bomb bay behind the cockpit) and five 0.30 inch (7.62 mm) caliber machine guns, and was powered by Pratt & Whitney R-1690 radial engines each producing 750 horsepower (600 kW) at 7,000 feet (2130 m).
The first flight of the Model 299 was on July 28, 1935, with Boeing chief test-pilot Les Tower at the controls. Richard Williams, a reporter for the Seattle Times coined the name "Flying Fortress" when the Model 299 was rolled out, bristling with multiple machine gun installations. Boeing was quick to see the value of the name and had it trademarked for use. On August 20, the prototype flew from Seattle to Wright Field in nine hours and three minutes at an average speed of 235 mph (378 km/h), much faster than the competition.
At the fly-off, the four-engine Boeing design displayed superior performance over the twin-engine DB-1 and Model 146, and General Frank Maxwell Andrews of the GHQ Air Force believed that the long-range capabilities of four-engine large aircraft were more efficient than shorter-ranged twin-engined airplanes. His opinions were shared by the Air Corps procurement officers and, even before the competition was finished, they suggested buying 65 B-17s.
Development continued on the Boeing Model 299, and on October 30, 1935, the Army Air Corps test-pilots Ployer, Hill, and Tower, took the Model 299 on a second evaluation flight. The crew forgot to disengage the airplane's "gust lock," a device that held the bomber's movable control surfaces in place while the plane was parked on the ground, and having taken off, the aircraft entered a steep climb, stalled, nosed over and crashed, killing the crew. The crashed Model 299 could not finish the evaluation, and while the Air Corps was still enthusiastic about the aircraft's potential, Army officials were daunted by the much greater expense per aircraft. Army Chief of Staff Malin Craig canceled the order for 67 B-17s, and ordered 133 of the twin-engine Douglas B-18 Bolo instead.
Regardless, the USAAC had been impressed by the prototype's performance and, on January 17, 1936, the Air Corps ordered, through a legal loophole, 13 YB-17s for service testing. The YB-17 incorporated a number of significant changes from the Model 299, including more powerful Wright R-1820-39 Cyclone engines replacing the original Pratt & Whitneys.
On March 1, 1937, 12 of the 13 YB-17s were delivered to the 2nd Bombardment Group at Langley Field in Virginia, and used to help develop heavy bomber techniques and work out other bugs. One suggestion was the use of a checklist, to avoid accidents such as the Model 299's. In one of their first missions, three B-17s, following lead navigator Lt. Curtis LeMay, were sent by General Andrews to "intercept" the Italian ocean liner Rex 800 miles (1290 km) off the Atlantic coast and take photographs. The successful mission was widely publicized.
The 13th YB-17 was delivered to the Material Division at Wright Field, Ohio, to be used for flight testing.
A 14th YB-17 (37-369), originally constructed for ground testing of the airframe's strength, was upgraded and fitted with exhaust-driven turbochargers. Scheduled to fly in 1937, it encountered problems with the turbochargers and its first flight was delayed until April 29, 1938. Modifications cost Boeing USD $100,000 and took until spring 1939 to complete, but resulted in an increased service ceiling and maximum speed. The aircraft was delivered to the Army on 31 January 1939 and was redesignated B-17A to signify the first operational variant.
In late 1937, the Air Corps ordered ten more planes, designated B-17B a
nd, soon after, another 29. Improved with larger flaps, rudder and Plexiglas nose, the B-17Bs were delivered between July 1939 and March 1940. They equipped two bombardment groups, one on each US coast.
Prior to the attack on Pearl Harbor, fewer than 200 B-17s were in service with the Army, but production quickly accelerated, and the B-17 became the first truly mass-produced large aircraft. The aircraft went on to serve in every World War II combat zone, and by the time production ended in May 1945, 12,731 aircraft had been built by Boeing, Douglas and Vega (a subsidiary of Lockheed).
Operations
The B-17 began operations in World War II with the RAF in 1941, USAAF Eighth Air Force and Fifteenth Air Force units in 1942, and was primarily involved in the daylight precision strategic bombing campaign against German industrial targets. Operation Pointblank guided attacks in preparation for a ground assault.
During World War II, the B-17 equipped 32 overseas combat groups, inventory peaking in August 1944 at 4,574 USAAF planes worldwide, and dropped 640,036 tons (580,630 tonnes) of bombs on European targets (compared to 452,508 tons (410,508 tonnes) dropped by the Liberator and 463,544 tons (420,520 tonnes) dropped by all other U.S. aircraft). Approximately 4750, or one third, of B-17s built were lost in combat.
The USAAF
For the Air Corps (renamed United States Army Air Force or USAAF in 1941), the B-17 and other bombers were able to accurately bomb from high altitudes by the use of the then-secret Norden Bombsight, which was an optical electro-mechanical gyro-stabilized computer. During daylight bombing missions and sorties, the device was able to determine, from variables input by the bombardier, the point in space at which the bomber's ordnance type should be released to hit the target. The bombardier essentially took over flight control of the aircraft during the bomb run, maintaining a level attitude during the final moments.
The USAAF began building up its air forces in Europe using B-17Es soon after entering the war. The first Eighth Air Force units arrived in High Wycombe, England on May 12, 1942, to form the 97th Bomb Group. On August 17, 1942, 18 B-17Es of the 97th, including Yankee Doodle, flown by Major Paul Tibbets and Brigadier General Ira Eaker, were escorted by RAF Spitfires on the first USAAF raid over Europe, against railroad marshalling yards at Rouen-Sotteville in France. The operation was a success, with only minor damage to two aircraft.

RAF
The Royal Air Force (RAF) entered World War II with no heavy bomber of its own and while by 1941, the Short Stirling and Handley Page Halifax had become its primary bombers, in early 1940, the RAF entered into an agreement with the US Army Air Corps to be provided with 20 B-17Cs, redesignated Fortress I. Their first operation was against Wilhelmshaven on July 8, 1941. At the time, the Air Corps considered high-altitude flight to be 20,000 feet (6 km) but, to avoid being intercepted by fighter planes, the RAF bombed the naval barracks from 30,000 feet (9 km). They were unable to hit their targets and temperatures were so low that the machine guns froze up. On 24 July, they tried another target, Brest in France, but again missed completely.
By September, after the RAF had lost eight B-17Cs in combat or to accidents, Bomber Command had abandoned daylight bombing raids due to the Fortress I's poor performance. The remaining aircraft were transferred to different commands for deployment to various duties including coastal defence. The experience had showed both the RAF and USAAF that the B-17C was not ready for combat, and that improved defenses, larger bombloads and more accurate bombing methods were required, which would be incorporated in later variations. Moreover, even with these improvements, it was the USAAF and not the RAF that was willing to remain faithful to using the B-17 as a "day" bomber.
The RAF transferred its remaining Fortress I aircraft to Coastal Command for use as very long range patrol aircraft. These were later augmented in August 1942 by 19 Fortress Mk II and 45 Fortress Mk IIA (B-17F and B-17E, respectively).[39] A Fortress from No. 206 Squadron RAF sank U-627 on October 27, 1942: the first of 11 U-boat kills credited to RAF Fortress bombers during the war.
The two different strategies of the American and British Bomber commands were organized at the Casablanca Conference in January 1943. The resulting Operation Pointblank described a "Combined Bomber Offensive" that would weaken the Nazi Wehrmacht and establish air superiority in preparation of a ground offensive.
Operation Pointblank opened with attacks on targets in Western Europe. General Ira C. Eaker and the Eighth Air Force placed highest priority on attacks on the German aircraft industry, especially fighter assembly plants, engine factories and ball-bearing manufacturers.
On April 17, 1943, an attack on the Focke-Wulf plant at Bremen by 115 Fortresses met with little success. Sixteen aircraft were shot down, and 48 others were damaged.[43] The attacks did succeed, however, in diverting about half the Luftwaffe's fighter force to anti-bomber operations.
Since the airfield bombings were not appreciably reducing German fighter strength, as additional B-17 groups were formed, Eaker ordered major missions deeper into Germany against important industrial targets. The 8th Air Force then targeted the ball-bearing factories in Schweinfurt, hoping to cripple the war effort there. The first raid on August 17, 1943 did not result in critical damage to the factories, with the 230 attacking B-17s being intercepted by an estimated 300 Luftwaffe fighters. Thirty-six aircraft were shot down with the loss of 200 men, and coupled with a raid earlier in the day against Regensburg, a total of 60 B-17s were lost that day.
A second attempt on 14 October 1943 would later come to be known as "Black Thursday". Of the 291 attacking Fortresses, 59 were shot down over Germany, one ditched in the English Channel, five crashed in England, and 12 more were scrapped due to battle damage or crash-landings (more by AA guns than the Luftwaffe), a total loss of 77 B-17s. One hundred and twenty-two bombers were damaged to some degree and needed repairs before their next flight. Out of 2,900 men in the crews, about 650 men did not return, although some survived as POWs. Five were killed and 43 wounded in the damaged aircraft that made it home, and 594 were listed as Missing in Action. Only 33 bombers landed without damage. These losses of air crews could not be sustained, and the USAAF, recognizing the vulnerability of heavy bombers against interceptors, suspended daylight bomber raids deep into Germany until the development of an escort fighter that could protect the bombers all the way from the United Kingdom to Germany and back.
A third raid on Schweinfurt on 24 February 1944 highlighted what came to be known as "Big Week". With P-51 Mustang and P-47 Thunderbolt fighters (equipped with improved drop tanks to extend their range) escorting the American heavies all the way to and from the targets, only 11 of 231 B-17s were lost. The escort fighters reduced the loss rate to below seven percent, with only 244 B-17s lost in 3500 sorties while taking part in the Big Week raids.
By September 1944, 27 of the 40 bomb groups of the Eighth Air Force and six of the 21 groups of the Fifteenth Air Force utilized B-17s. Losses to flak continued to take a high toll of heavy bombers through 1944, but by 27 April 1945, (two days after the last heavy bombing mission in Europe) the rate of aircraft loss was so low that replacement aircraft were no longer arriving and the number of planes per bomb group was reduced. The Combined Bomber Offensive was effectively complete.