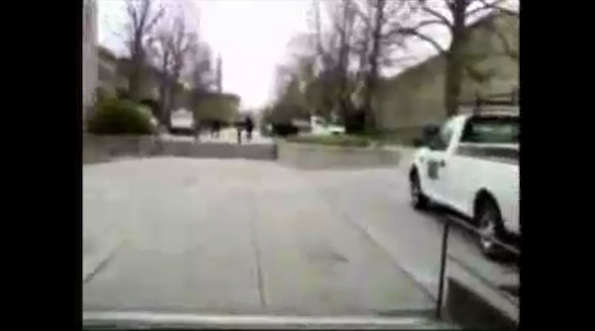 [STILL FRAME (UPDATED DEC 9 2011)] Video captured from a cell phone camera, shows direction where gunman Seung-Hui Cho and police are firing at Norris Hall on the campus of Virginia Tech. Video shows police surrounding building and audio contains multiple gunshots. Video does not show victims. The video has been age-restricted based on YouTube's Community Guidelines.
[The Virginia Tech cell phone video during the shooting from outside of Norris Hall uploaded by YouTube user 'AcePuppers' has been removed by the user (AcePuppers).]
Public criticism of the media regarding coverage of the Virginia Tech incident in 2007 was prevalent. The wrong suspect was originally named, the actual suspect was incorrectly connected with violent video games, and the media camps at the campus had worn out their welcome in the days following the mass murder.
Reported 32 killed, 15 injured and one suicide (total 33 dead). Shootings occurred at two locations on the campus of Virginia Tech shootings at opposite sides of the 2,600-acre campus at West Ambler Johnston Hall [MAP/SAT], a co-ed residence hall that houses 895 people, and Norris Hall [MAP/SAT], an engineering building.
Police response to the first incident at West Ambler Johnston caught on video by student (ntcoolfool)
The first report was a 911 call from West Ambler Johnston Hall at about 7:15 a.m. Monday morning where at least two people were shot and killed.
A shooter in Norris Hall has been killed or committed suicide after apparently killing and injuring multiple people in classrooms and hallways, possibly after about a two hour delay from the first incident. Investigation to confirm if the incidents are related.
High winds prevented medical evacuation helicopters from rescuing injured people.
At least one extra person that was detained for a short time was reported to be a journalist that might have been considered interfering with the scene.
Questions arising about timeline and implementation of student notification, lockdown, evacuation or shelter of students and staff.
More Info:
CNN | FOXNEWS
CollegiateTimes.com – an independent student-run newspaper serving the Virginia Tech community since 1903.
Roanoke Times