The Zigman Courier is a tribute to George Zigman. News feeds for the Zigman Courier attempt to represent his interests in news, sports and life.
Coach Zigman gained fame as a coach in District 214, where he took two teams to the Sweet Sixteen round of the state basketball tournament and two teams to the Elite Eight. Zigman was a member of the Illinois High School Basketball Coaches Hall of Fame. He taught at two high schools in District 214 — Arlington High School.
Zigman loved basketball, At Taylorville High School, he was a senior when he played on a basketball team that made it to the Elite Eight in 1950.
Zigman's teaching career spanned 35 years. George Zigman was born and raised in Taylorville in Central Illinois. In his history classes, he often referred to his life growing up Taylorvile. He received his bachelor`s degree in U.S. history in 1954 from Illinois State University, Normal, and his master`s degree in education in 1957 from the University of Illinois at Urbana-Champaign.
Zigman taught at Taylorville High School and Delavan High School in Wisconsin before accepting a teaching assignment at Glenbard East High School, Lombard, in 1960. He was also athletic director for a year at Glenbard East High School.
George Zigman joined the faculty of Arlington High School in 1968 and led the Arlington Cardinals to the Elite Eight in 1982 and the Sweet Sixteen in 1983. When Arlington High School closed in 1984, Zigman taught history and coached basketball at John Hersey High School. The Hersey Huskies reached the Elite Eight in 1985, and to the Sweet Sixteen in 1990.
George Zigman died following heart surgery in 1991.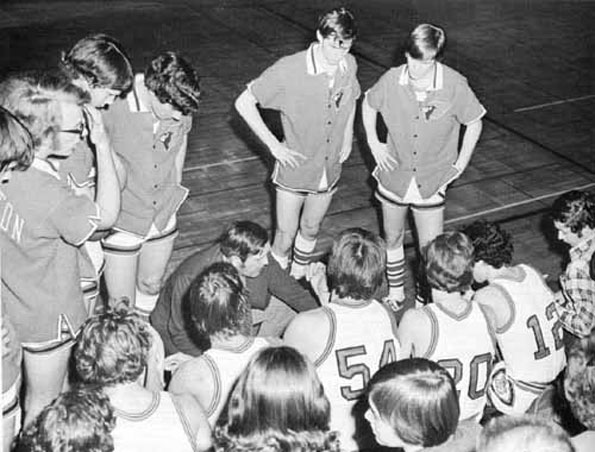 George Zigman coaching basketball in the mid-1970s.
* In addition to providing general news service for a general audience, Arlington Cardinal designs custom online newspapers papers for families, individuals, businesses and organizations. You choose your own sections to install, and what media sources to feed into your sections. The custom online newspapers are also available as tributes and memorials to loved ones.
See more …
Arlingtoncardinal.com/yournewspaper
THIS PAGE IS A DRAFT; MORE INFORMATION COMING SOON.