847-749-4212
Yelp Planet Fitness Arlington Heights
Tweets by PlanetFitness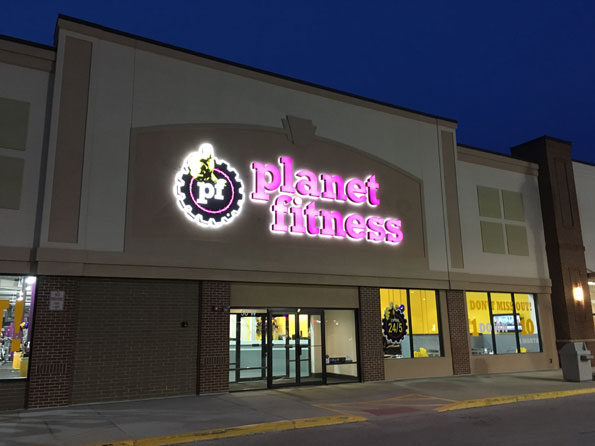 Planet Fitness at 50 West Rand Road, Arlington Heights.

Planet Fitness (PFIP LLC) is an American franchisor and operator of fitness centers based in Hampton, New Hampshire. Planet Fitness has one location in Arlington Heights, which took over a Zip Fitness facility in April 2018. Planet Fitness reports that it has 1,500 clubs, making it one of the largest fitness club franchises by number of members and locations. There are locations in the United States, Canada, Puerto Rico, Dominican Republic, Panama, and Mexico. Planet Fitness markets itself as a "Judgement Free Zone" that caters to novice and casual gym users and is reported to be the nation's fastest growing fitness center franchise. Most Planet Fitness locations do not have heavy duty free weight machines, and limit the maximum dumbbell weight compared to full-service fitness centers.
Planet Fitness was founded in 1992, in Dover, New Hampshire, when brothers Michael and Marc Grondahl acquired a financially struggling gym and dramatically reduced prices to compete against better-known brands. Their low-cost business model focused on the needs of occasional or first-time health club members, rather than more experienced members.
In 1993, the Grondahl brothers hired Chris Rondeau, Planet Fitness' current CEO, to work the front desk. Rondeau and the Grondahls recognized that there was a greater opportunity to serve a much larger segment of the population if they changed the gym environment, both in attitude and format, by creating a non-intimidating, low-cost model. Planet Fitness then became known as the "Judgement Free Zone," aimed more at the average user than more aggressive bodybuilder type of personalities.
In 2003, Planet Fitness opened its first franchised location in Altamonte Springs, Florida, with Eric Dore and Shane McGuiness. In 2017 Planet Fitness reported that as of 2017, there were 58 corporate-owned gyms, and the rest independently owned and operated fitness center totaling about 1500.