Access Denied: You don't have permission to view this weather.gov page on this server Reference # (28-digit number).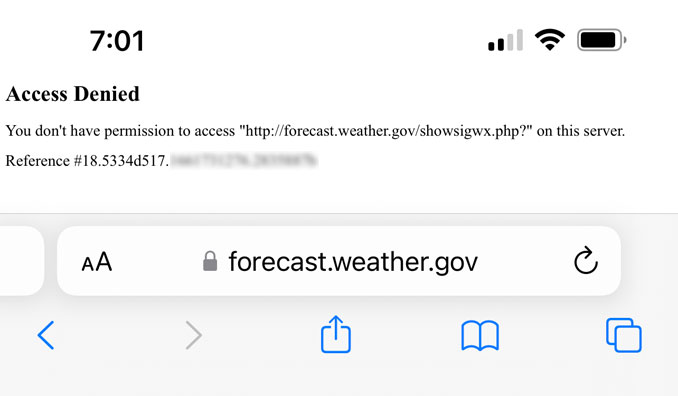 Some weather.gov pages can be a little finicky, and might prohibit users from viewing certain pages. You might get a very user unfriendly message such as, "You don't have permission to view this page on this server" (with a reference number).
A useful fix involves clearing cookies or, better yet, just clearing the data stored in your browser for weather.gov.
==============================
Here is the way to clear data for weather.gov that is stored on your Safari browser on an Apple iPhone.
Go to …
iOS Settings : Safari: Advanced
Look for Website Data, and select it.
At the top, search "weather.gov" or just ".gov" (don't use the quotes).
The search result should include "weather.gov" with a number that represents the size of data stored (the size of the data might range from about 187K to 2.5MB).
Delete this weather data by …
1) swiping the weather.gov listing left so it disappears
or
2) partially left-swiping the listing until a red "delete" button appears. Select the delete button to delete the weather.gov data.
YOU SHOULD THEN BE ABLE TO VIEW THE WEATHER.GOV PAGE CAUSING TROUBLE — at least until your browser again stores some data that the page doesn't like. If you still can't get access to the weather.gov page, you might have to repeat the data-deleting procedure and reset your router and/or cable modem before visiting the troubled weather.gov page.
NOTE: Browsers on desktop computers and Android OS have similar methods to clear browser data for specific websites. CARDINAL NEWS chose Apple iOS as an example because most viewers access CARDINAL NEWS with an Apple iPhone.
==============================
According to an email reply from the National Weather Service inquiring and describing the error, the NWS had this to say regarding obstructed access …
"The error you supplied seems to be similar to one we've seen when our website is having issues (so the problem would not be on your side)."