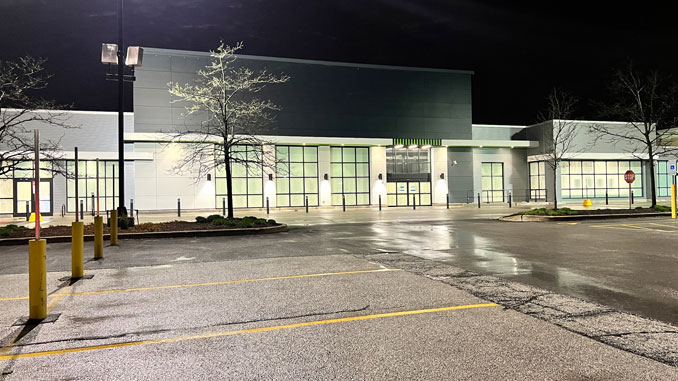 The Amazon Fresh sign at the anticipated location of a future Arlington Heights Amazon Fresh store was removed this April 2023, and you might predict that the plans for an Amazon Fresh store are no more. But you might be only half correct. The location might not be an Amazon Fresh store, but it might be a new unannounced Amazon grocery store. There is speculation that a new format store exists or is developing as the company is fine tuning it's grocery category and/or developing a broader physical store footprint.
According to My Ballard, a news site in the Ballard region in North Seattle, Amazon has filed plans for a business using the name "Amazon Market" in the former New Seasons grocery store location at 951 Ballard Way. Amazon Market would be something new … not Amazon Fresh, and not Amazon Go. In February 2023 Amazon revealed that the company is working to develop a grocery format that is differentiated from competitors and resonates with shoppers. Apparently, Amazon Fresh has not found that sweet spot in grocery retail in the scale that Amazon desires.
Seattle is the home city of Amazon Corporate Headquarters. The Ballard Way address is the former location of a New Seasons Market grocery store that was in a medium-sized building for a grocery store in Seattle. A boiler inspection certificate from the City of Seattle indicates the name "Amazon Market" as the name for a new business occupying the space for the former New Seasons Market (about 23,000 square feet). Whether "Amazon Market" is a code name, or the name of a new grocery format for Amazon is anybody's guess.
The web address AmazonMarket.com resolves to the front page of Amazon.com
It's not clear if "Amazon Market" is a holdover from a strategy since abandoned, a sign of a new retail format still to come, or a meaningless clerical designation that we're blowing out of proportion, all of which are possible.
There already exists an Amazon Market in Eugene, Oregon — a convenience store at 1815 West 11th Avenue (Google Street View Image Capture Aug 2022) that apparently has no connection to Amazon.
Whole Foods Market, which Amazon acquired six years ago, serves a premium format with customers that are less likely to shop at an Aldi, and might even snub their nose at an Amazon Fresh store.
Additionally, it seems that the premium sector in Whole Foods is too small for Amazon. In a 2022 letter to Amazon shareholders written April 13, 2023, CEO Andy Jassy wrote, "Whole Foods is on an encouraging path, but to have a larger impact on physical grocery, we must find a mass grocery format that we believe is worth expanding broadly. Amazon Fresh is the brand we've been experimenting with for a few years, and we're working hard to identify and build the right mass grocery format for Amazon scale. Grocery is a big growth opportunity for Amazon." One would argue that Amazon Fresh has not achieved the right mass grocery format for Amazon scale either.
Jassy wrote that Amazon aspires "to serve more of our customers' grocery needs than we do today. To do so, we need a broader physical store footprint given that most of the grocery shopping still happens in physical venues."
Jassy explained that grocery is an $800B market segment in the US alone, and that Amazon "has built a somewhat unusual, but significant grocery business over nearly 20 years."
According to Jassy, Amazon offers more than three million items compared to a typical supermarket, which offers 30K items for the same categories, such as paper products, canned and boxed food, candy and snacks, pet care, health and personal care, and beauty.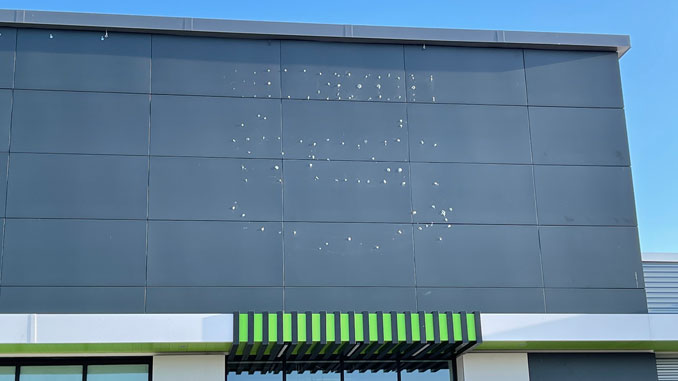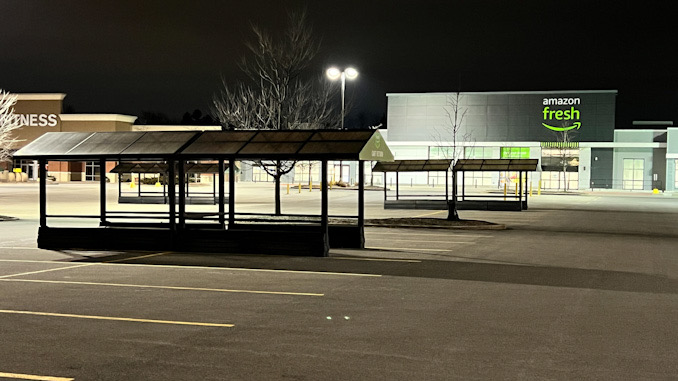 The Amazon Fresh store location at 325 East Palatine Road in Arlington Heights at Town & Country Center is not the only Amazon grocery store that has sat empty in the past several months. New openings for the Amazon Fresh stores in the United States were paused as Amazon decided to tweak factors such as selection, checkout formats, assortment, and price points (see Financial Times) before pushing forward with new stores in 2023. There are almost 40 Amazon Fresh stores operating in the United States.
Logistically, if there were a first choice robust location for a grocery store delivering in big way by Amazon, it would probably be Arlington Heights — located near two Amazon Delivery warehouses (on Cellular Drive in Arlington Heights and on Hicks Road in Palatine near the border with Arlington Heights). However, the grocery market is saturated with grocery stores in Arlington Heights.
The main signs for the Amazon Fresh Arlington Heights store were installed on June 15, 2022 — finally confirming unofficial reports that an Amazon Fresh store was the new grocery store being developed at the location. The store sat empty in the ten months that have passed since the signs went up in June 2022.
According to a Forbes article by Walter Loeb published February 10, 2023, "Amazon plans to close a number of Amazon Fresh grocery and Amazon Go convenience stores and pause new openings. According to some critics, Amazon's focus on tech rather than retail experience has put off shoppers. At this time, there are about 38 Amazon Fresh and 28 Amazon Go stores in the U.S."
Articles in Forbes, diginomica and Financial Times indicated in February 2023 that Amazon CEO Andy Jassy had confidence that Amazon has a very significant opportunity in the grocery segment, but that Amazon is "experimenting with these stores to find a format that is differentiated from competitors and resonates with shoppers."
In a Financial Times article written by Dave Lee Amazon chief vows to 'go big' on physical stores, the article content offers a brighter outlook (regarding 2023 intentions) for Amazon Fresh stores.
The February 2023 news among various business news sources offers optimism that wasn't expressed in Company News from Amazon in November 2022 that reported that there will be reductions impacting employee roles in Stores and the PXT (People, Experience, and Technology) organization.
Optimism wasn't expressed in early January 2023 either.
After an employee leaked information about role reductions, Amazon CEO Andy Jassy publicly updated information about role reductions on January 4, 2023 — ahead of his preferred plan to communicate first with the people who were directly impacted by role reductions …
"Between the reductions we made in November and the ones we're sharing today, we plan to eliminate just over 18,000 roles. Several teams are impacted; however, the majority of role eliminations are in our Amazon Stores and PXT organizations.

S-team (i.e., Amazon's senior leadership team) and I are deeply aware that these role eliminations are difficult for people, and we don't take these decisions lightly or underestimate how much they might affect the lives of those who are impacted. We are working to support those who are affected and are providing packages that include a separation payment, transitional health insurance benefits, and external job placement support.

We typically wait to communicate about these outcomes until we can speak with the people who are directly impacted. However, because one of our teammates leaked this information externally, we decided it was better to share this news earlier so you can hear the details directly from me. We intend on communicating with impacted employees (or where applicable in Europe, with employee representative bodies) starting on January 18."

— Andy Jassy, CEO at Amazon/Jan. 4, 2023
Google Listing for Amazon Fresh Arlington Heights Store Removed
A status change was recognized Thursday, February 16, 2023 for the Google listing for the Amazon Fresh Arlington Heights store (Google search) recently developed over the past two years. The store that has not yet opened, and is apparently one of the stores that was paused by Amazon, showed a Google search result listing status as "Permanently Closed" early Thursday, February 16, 2023. After an inquiry by CARDINAL NEWS to Amazon and the Town & Country Center management, the store status changed to "Temporarily Closed" Thursday evening, February 16, 2023. Then Friday, February 17, 2023, the Google search result for Amazon Fresh Arlington Heights did not include a listing for the Arlington Heights store at 345 East Palatine Road at all — for a period Friday there was no listing. Then, later Friday, the Google search result instead referred to the Amazon Fresh Schaumburg store listing at Golf Road and Roselle Road in Schaumburg.
Village of Arlington Heights Business Development Manager Michael Mertes on Wednesday, stated that the Village of Arlington Heights is monitoring the progress of the Amazon Fresh store location in Arlington Heights, and has been informed that Amazon is still committed to opening the Amazon Fresh store in Arlington Heights.
Amazon Fresh "Permanently Closed"
early morning Thursday, February 16, 2023
(SOURCE: Google) …
Amazon Fresh "Temporarily Closed"
late evening Thursday, February 16, 2023
(SOURCE: Google) …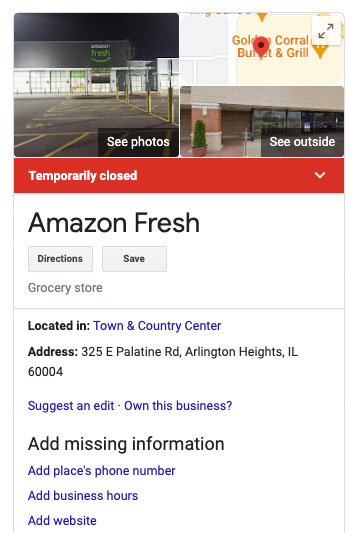 RELATED NEWS …
Forbes | Amazon Is Closing Some Amazon Fresh And Amazon Go Stores – Are Groceries Profitable?
diginomica | Why Amazon's omni-channel retail ambitions in the grocery sector aren't looking so Fresh
CARDINAL NEWS | Amazon Fresh Main Sign Installed at Town & Country Shopping Center in Arlington Heights
Get updates from The Cardinal ALL NEWS FEEDS on Facebook. Just 'LIKE' the 'Arlington Cardinal Page (become a fan of our page). The updates cover all posts and sub-category posts from The Cardinal — Arlingtoncardinal.com. You can also limit feeds to specific categories. See all of The Cardinal Facebook fan pages at Arlingtoncardinal.com/about/facebook …

Help fund The Cardinal

Arlingtoncardinal.com/sponsor