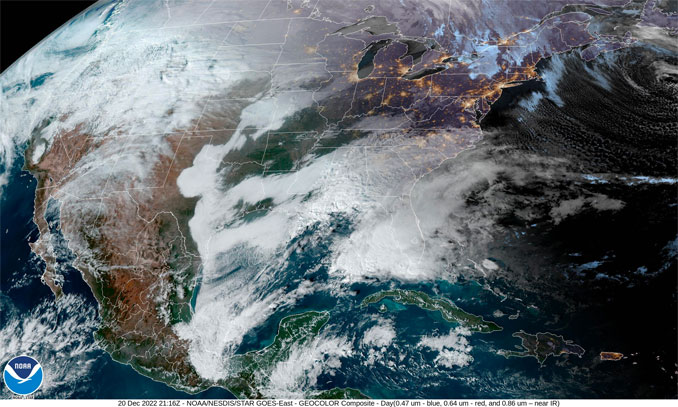 A winter storm system that will be moving west to east across the United States just before Christmas may become a bomb cyclone — a weather condition usually defined as a drop of central pressure in a low pressure system by 24 mbar (hPa) or more in 24 hours. Technically this 24 mbar figure is for regions at 60° latitude (north in Canada). At lower latitudes, a bomb cyclone is defined by a lesser drop in pressure, and at higher latitudes toward the north pole, a bomb cyclone is defined by a pressure drop greater than 24 mbar. (hPa). A bomb cyclone or bombogenesis occurs outside of tropical zones.
Most residents of the United States in the path of winter storm conditions need to be prepared for hazards related to flash freezing of roads, rapid drops of temperatures, severe wind chills, high winds with blowing snow, and high winds that may cause power failures — and not be distracted by snow accumulation concerns. Deep snow hazards will probably affect a smaller percentage of the population compared to the other hazards. The hazard risks are severe enough that travel on rural roads beyond local travel may need to be re-scheduled.
…Heavy snow likely across parts of the Pacific Northwest and northern Rockies through midweek…
…Bitter cold and dangerous wind chills over the northern Plains to surge southward into the central U.S. through Thursday…
…Significant winter storm to develop in the Midwest early Thursday, with heavy snowfall rates and strong winds leading to blizzard conditions at times…
…Chicagoland could see wind chills bottom out at 25 to 30 degrees below zero around 9:00 AM Friday, December 23, 2022 — right about when the significant snowfall rates are about to end.
…Moderate to heavy rainfall expected along the East Coast through Friday, as warm, moist air surges northward…
A significant and disruptive storm system is forecast to produce a multitude of weather hazards through midweek, as heavy snowfall, strong winds, and dangerously cold temperatures span from the Northwest through the Plains, the Great Lakes, and the central Appalachians. A strong arctic high-pressure system extending from western Canada to the northern Plains will continue to lead to very cold air over the region, extending into much of the Pacific Northwest. As this cold airmass gradually sinks into Washington State, an approaching storm system and a surge of moisture will lead to widespread snow impacting northern and western portions of The Evergreen State. Snow is likely to fall across the lowlands as well and could be heavy at times, leading to dangerous travel conditions. The heaviest snowfall amounts are expected in the higher terrain of the Cascades and into northern Idaho, northwest Montana, and western Wyoming. These regions will have the best chances for over a foot of snow. Winter Storm Warnings and Winter Weather Advisories are in effect. The next wave of potential winter weather is forecast to enter the Pacific Northwest on Thursday, with additional lowland snow and/or ice possible.
National High and Low Temperature (CONUS)
NWS Weather Prediction Center, College Park, MD
Issued 1 pm EST Tuesday, December 20, 2022
High Temperature for Monday, December 19, 2022
(as received by 1 pm EST December 20)
81 at Key West, FL
81 at Marathon, FL
81 at 17 miles east southeast of Ochopee, FL
81 at Key Biscyne, FL
81 at Bahia Honda Key, FL
Low Temperature for Tuesday, December 20, 2022
(as received by 1 pm EST December 20)
-35 at 13 miles northeast of Poplar, MT
-35 at Bottieau, ND
Disclaimer: These data are considered PRELIMINARY. While qualitative quality control methods were utilized to scrutinize the temperature data, erroneous, late arriving and/or missed reports are possible. As such, the data have not undergone final quality control by the National Centers for Environmental Information (NCEI) . Therefore, these data are subject to revision. Final and certified climate data can be accessed at NCEI.
Please continue reading …
As the system continues to push southward, the arctic air building across the region will surge behind the advancing cold front on Wednesday, leaving dangerously cold wind chills and air temperatures in its wake. Arctic air will arrive quickly behind the front, with temperatures dropping 25 -35 degrees F in only a few hours. Subzero readings with minimum values nearing minus 20 and minus 30 degrees over the northern tier will enter the northern Great Basin, the northern Rockies, and much of the Great Plains by Thursday. This, combined with widespread sustained winds of 20 – 30 mph and higher wind gusts of up to 60 mph, will lead to wind chills as low as minus 40 degrees across a large swath of the Intermountain West and northern/central Plains, with more localized areas of minus 50 to minus 70 possible through the end of the week. Wind chills of this magnitude can cause frostbite in less than 5 minutes if precautions are not taken, with hypothermia also possible from prolonged exposure to the cold. Subsequently, Wind Chill Warnings and Watches have been issued for areas spanning from Washington State through the Intermountain West and across much of the Plains. As the arctic front pushes southward, temperatures will also plummet across the southern Plains and Gulf Coast, with nighttime temperatures dropping to the teens as far south as the Texas Gulf Coast on Thursday evening.
As the frontal boundary pushes southeastward on Wednesday, snow will develop across the northern Plains, though snowfall amounts are expected to remain light until an area of low pressure forms along the front, rapidly strengthens, and tracks eastward across the Midwest early Thursday. Heavy snowfall rates of 1-2″ per hour, combined with wind gusts of up to 50 mph, will lead to blizzard conditions across the Midwest, with the heaviest accumulations focused across states near Lake Michigan, where snowfall totals of 8″ or more are possible. Along with the snowfall, very strong winds are expected to impact nearly the entire eastern half of the U.S. as this large system becomes fully mature by Thursday night. Winds will create blizzard conditions throughout the central/northern Plains, the Upper Midwest, and the Great Lakes, as well as blowing and drifting snow over locations with fresh snow cover. Low visibility will create even more dangerous travel conditions on top of snow-covered roadways. Additionally, the strong winds could lead to potential power outages from the Midwest to the Northeast. With such a large and powerful storm system impacting a majority of the nation during one of the busiest travel weeks of the year, it is imperative that travelers check the latest forecast before venturing out.
Further east, ahead of the developing storm system, moisture surging northward ahead of a center of low-pressure and associated coastal boundary situated off the Southeast coast will lead to moderate to heavy rainfall across the Southeast and Mid-Atlantic on Wednesday, with rainfall totals of 1-3″ possible. As the low-pressure system tracks northward Thursday evening, rain and gusty winds will then spread throughout the Northeast and New England, accompanied by temperatures 10-20 degrees above average as a result of warm, moist southerly flow.
Snell/Russell/NWS (slightly modified arrangement of text and addition of NWS Chicago messages by CARDINAL NEWS)
FAA National Airspace
NWS Forecast Charts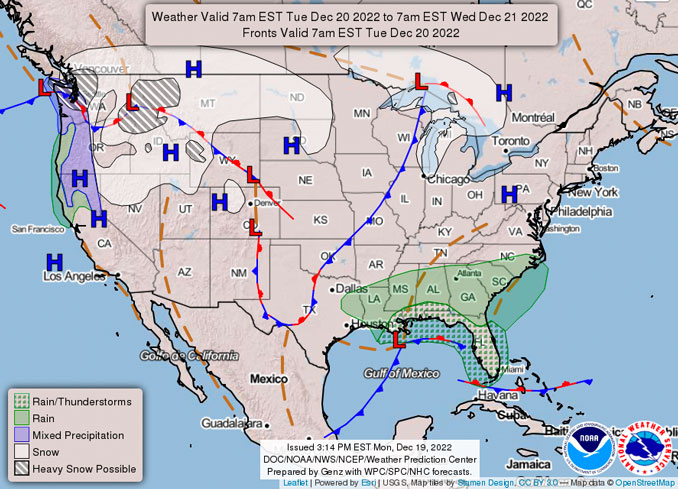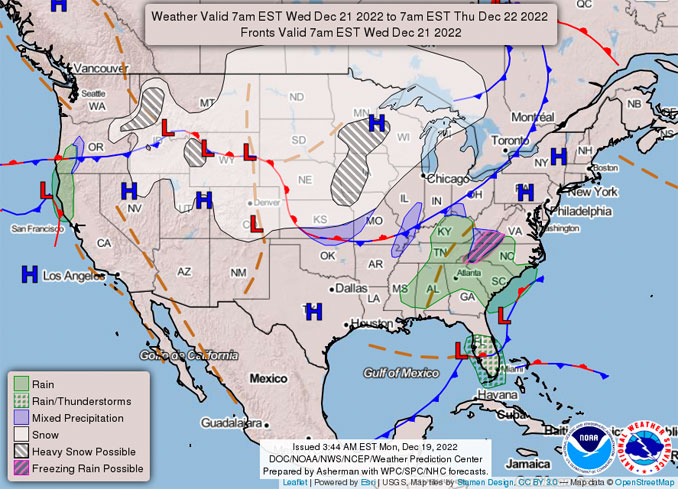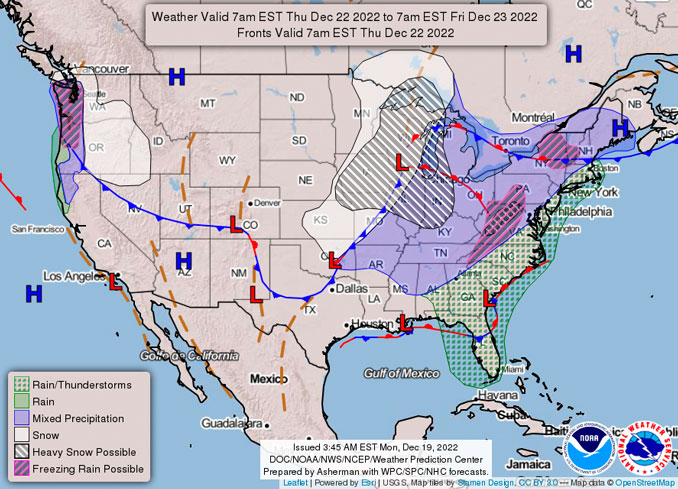 +++++++++++++++++
CONUS = Continental United States
SOURCES:
Short Range Forecast Discussion NWS Weather Prediction Center College Park MD
SEARCH: NWS Weather Prediction Center College Park MD
NOAA/NWS Weather Prediction Center
Storm Prediction Center – www.spc.noaa.gov
AIR PRESSURE MAP SOURCE: Windy.com (air pressure)
Get updates from The Cardinal ALL NEWS FEEDS on Facebook. Just 'LIKE' the 'Arlington Cardinal Page (become a fan of our page). The updates cover all posts and sub-category posts from The Cardinal — Arlingtoncardinal.com. You can also limit feeds to specific categories. See all of The Cardinal Facebook fan pages at Arlingtoncardinal.com/about/facebook …

Help fund The Cardinal

Arlingtoncardinal.com/sponsor
Google Maps
The Maritimes — New Brunswick, Nova Scotia, and Prince Edward Island
Pacific Northwest — approximately U.S. states of Oregon, Washington, and Idaho, and the Canadian province of British Columbia
The Southwest — Southwestern United States (Arizona, New Mexico and adjacent regions of California, Colorado, Nevada, Oklahoma, Texas and Utah)
Tennessee Valley — from southwest Kentucky to north Alabama and from northeast Mississippi to the mountains of Virginia and North Carolina







FAA National Airspace