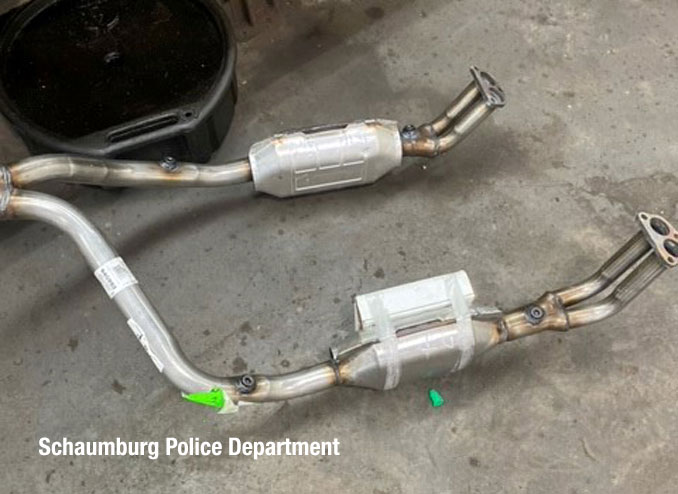 The Schaumburg Police Department is partnering with Firestone Complete Auto Care at 1755 East Golf Road in Schaumburg to provide a FREE catalytic converter theft deterrent event. We will spray paint the catalytic converter on your vehicle to make thieves less likely to take it. The spray paint can negatively affect the resale value of the catalytic converter. This event is to raise awareness about catalytic converter thefts occurring in our area and to bring awareness to theft prevention measures. A Firestone technician will take a citizens car into the automotive bay area and onto the lift to apply high heat automotive spray paint on the converter.
Saturday, April 23, 2022
10 a.m. to 2 p.m.
Firestone Complete Auto Care
1755 E. Golf Road
Schaumburg, IL
Police officers will be at Firestone during the event to answer questions and distribute complimentary "Theft Prevention" vehicle window stickers.
"The Schaumburg Police Department is working hard to combat these thefts which are plaguing the entire nation. However, taking simple steps to help prevent these incidents is the best way to address the problem" said Chief of Police Bill Wolf.
Crime prevention tips to protect your vehicle:
Mark your catalytic with high heat paint to make it more difficult for thieves to sell the catalytic converter
Park your vehicle in a secure garage
Park in well-lit areas with high visibility
Park near security cameras or motion-sensing light
Install an anti-theft device such as an alarm, steel shield, or cable locking device
Engrave your license plate or Vehicle Identification Number (VIN) onto the catalytic converter
SCHAUMBURG POLICE DEPARTMENT REMINDER: If you see something, say something. Please report any suspicious activity by dialing 911 immediately.