Lake, McHenry Counties, Northern Tier Counties in Illinois Escape Winter Weather Advisory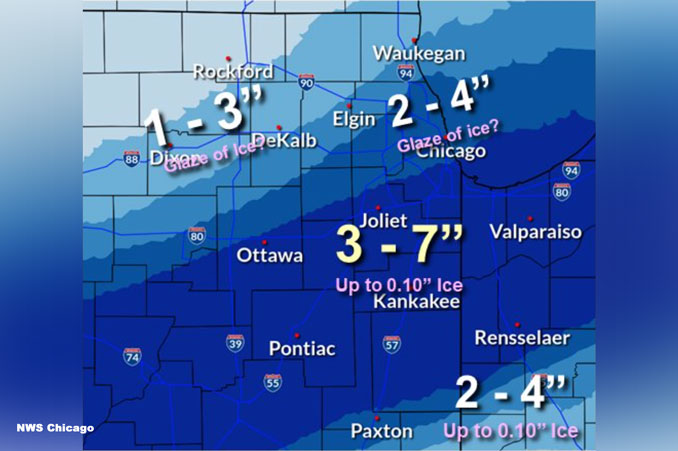 Movie spoiler: The Snow Track forecast has moved south, and that's the reason Arlington Heights and surrounding northwest suburbs have transformed from a Winter Storm Watch to a Winter Weather Advisory, and not a Winter Storm Warning. However, Bolingbrook, Plainfield, Joliet and areas south in Chicagoland have been upgraded to a Winter Storm Warning.
Arlington Heights/Nearby

0.70 inches of rain from noon Wednesday until 3 AM Thursday,

0.01 or less inches of freezing rain from 3 AM to 4 AM Thursday, and

3.60 inches of snow from 3 AM to 8 PM Thursday.
Nice Spring-like southwest breeze this morning, but you know we're going to pay for that in February. First, strong warm air advection is well underway and temps early this morning are already mostly warmer than the top end of guidance from last night. Most guidance continues to exhibit a low bias for current temps, adding confidence in going with the upper echelon of guidance for temps today. Satellite imagery early this morning shows stratus far to the south, just now crossing into southern Missouri. Even with a 70kt low level jet, that stratus probably won't arrive most areas until mid-late morning. That should allow for mainly high cloudiness this morning with some mixed sunshine aiding the temp rise a bit.
High Winds Today
High Pressure over Canada will shift winds from southwest to north around 10:00 p.m. — pushing the southerly winds south of most of Chicagoland and causing a lull in wind gusts from about 8:00 p.m. to midnight (Wednesday/Thursday).
The highest winds are forecast for central and south Chicagoland compared to north Chicagoland. The warmer temps should allow for better mixing than depicted in the GFS and NAM forecast soundings. The HRRR soundings appear more reasonable with depth of boundary layer and anticipated momentum transfer. Forecast soundings from the High-Resolution Rapid Refresh (HRRR) support at least occasional gusts to around 45 mph from mid morning through early to mid afternoon, with fairly regular gusts of 35-40 mph. While not a slam dunk, after collaboration with NWS Central Illinois and NWS Northern Indiana, NWS Chicago opted to hoist a wind advisory. Even though confidence in 45 mph gusts is only about 50-60%, there's probably 30-40% chance of at least isolated gusts 50+ mph, so an advisory felt like course of least regret.
Wintry Mix Late Wednesday Night into Thursday Morning
Strong cold front will move across the County Warning Area (CWA) tonight. For the northern CWA, the trend in guidance has been toward a lesser duration of freezing rain and sleet and more and more recently trending to an all wintry precipitation behind the front. Much of the measurable precipitations might end prior to surface temperatures dropping below freezing tonight in areas roughly north of I-80. Since we had a winter storm watch in effect along the I-88/209 corridor starting tonight, NWS Chicago opted to start the advisory there late tonight for the potential for a brief period of freezing rain, sleet, or snow before what looks to be a sizable break in precipitation Thursday morning. The anticipated break in measurable wintry precipitation Thursday morning should allow road crews to get a good handle on things before any afternoon snow. That, plus the anticipated light nature of any wintry precipitation, NWS Chicago favored going with an Winter Weather Advisory vs Winter Storm Warning for this north corridor.
Wisconsin border counties could also see a brief period of freezing rain, sleet, and/or snow before precipitation ends late tonight, but thinking amounts and duration (combined with above freezing pavement temps initially at least) could mitigate (lessen) the need for a Winter Weather Advisory. Certainly the day shift at NWS Chicago will take another look at this later today once the next round of guidance arrives.
ICE SOUTH
Approximately at the I-80 corridor and points south, there appears to be a shorter duration break in wintry precipitation, if any break at all. Duration of freezing rain and sleet may be several hours Thursday morning before changing to snow. The greater potential for ice accumulation combined with near warning snowfall amounts favored upgrading to a warning for the majority of the watch.
Map shows snow cover and GFS data. Tap an area to get forecast model inches of snow depth (new snow) for specific areas. The 3:30 p.m. Tuesday look at the GFS showed about 5.6″ accumulation of snow for Arlington Heights for the upcoming storm Wednesday (rain) and Thursday (snow). The hourly forecast around Arlington Heights indicates about 3.6 inches of snow.
SNOW/WIND Thursday afternoon/evening
GFS/NAM have trended a bit farther south of the moderate-heavy snow with the secondary wave Thursday afternoon and evening and is now closer to what has been a pretty consistent solution from the ECMWF. The Weather Prediction Center and Weather Forecast Offices agreed that a blended solution between the ECMWF/GFS/NAM was best forecast and that results in a modest southward shift in the forecasted heaviest snowfall. The NWS Chicago office is still expecting a swath of 4-7″, much of which will fall in a 6 hour period with rates of at or above 1 inch per hour at times. Travel within the band of heavier snow will be very difficult Thursday afternoon, including during the afternoon rush hour.
Strong/gusty winds will accompany the moderate-heavy snow Thursday afternoon. Anticipating a lower ratio, wetter snowfall, which should tend to limit the severity of blowing and drifting despite winds gusting between 30-35 mph at times. Strongest winds should be near Lake Michigan where gusts over 40 mph should result in a wind whipped snow with greatly reduced visibilities and difficult travel conditions.
Lakeshore Flooding
Finally, ice currently near the shore should melt and/or be blown well offshore today. This should result in largely ice free waters near the shore Thursday afternoon and evening when NNE winds increase to 40 kt gales over the lake. Waves of 10-14 ft with occasional 18 footers will result in at least advisory worthy lakeshore flooding Thursday afternoon and evening. If later guidance trends any higher with winds, we could be nearing the need for a lakeshore flood warning for Cook County and Lake County, Indiana.
Weather Radar in northeast Illinois was clear at 7:30 a.m.
See also Arlingtoncardinal.com/clouds
[6:45 AM 2/16] Here's a look at the latest for Thurs: Confidence is increasing in the location of an axis of heavier snowfall, although small shifts N & S may continue. Wind gusts to 40 mph may also lead to blowing snow. Plan for greatly increased travel times Thurs PM! pic.twitter.com/AOoxcF3u0J

— NWS Chicago (@NWSChicago) February 16, 2022
Here's information on heavy rain & flooding risk tonight, especially for east central IL & south of Kankakee River in NW Indiana where a Flood Watch is in effect. #ilwx #inwx pic.twitter.com/0m0IGKt66F

— NWS Chicago (@NWSChicago) February 16, 2022
Secure loose objects outside – it's going to be a windy day! Expect strong gusts from south up to 40-45 mph. Sporadic gusts up to 45-50 mph most favored in Wind Advisory counties (shaded in light brown). Difficult driving for high profile vehicles on E-W roads. #ilwx #inwx pic.twitter.com/CWTqkQT7U0

— NWS Chicago (@NWSChicago) February 16, 2022
Here's some further information regarding the precipitation type timeline from this afternoon through Thursday: pic.twitter.com/28gLS2Mgeg

— NWS Chicago (@NWSChicago) February 16, 2022
Winter Weather Advisory URGENT – WINTER WEATHER MESSAGE National Weather Service Chicago IL 355 AM CST Wed Feb 16 2022
(Winter Storm Warning from about Bolingbrook, Plainfield, Joliet and south in Chicagoland)
ILZ013-103-104-161800- /O.UPG.KLOT.WS.A.0005.220217T0900Z-220218T0300Z/ /O.NEW.KLOT.WW.Y.0010.220217T0900Z-220218T0300Z/ DuPage-Northern Cook-Central Cook- Including the cities of Naperville, Wheaton, Downers Grove, Lombard, Carol Stream, Evanston, Des Plaines, Schaumburg, Palatine, Northbrook, Chicago, Cicero, Oak Lawn, Oak Park, and La Grange 355 AM CST Wed Feb 16 2022
…WINTER WEATHER ADVISORY IN EFFECT FROM 3 AM TO 9 PM CST THURSDAY…
* WHAT…A brief period of freezing rain, sleet, and snow is possible late tonight. A break in the accumulating wintry precipitation is expected for a time Thursday morning. Wind driven snow is expected Thursday afternoon and early evening. Total snow accumulations of 2 to 4 inches. Winds gusting as high as 45 mph, mainly near the lake.
* WHERE…DuPage, Northern Cook and Central Cook Counties.
* WHEN…From 3 AM to 9 PM CST Thursday.
* IMPACTS…Plan on slippery road conditions. Wind driven snow will accumulate on roadways and result in hazardous travel conditions for the Thursday evening commute.
* ADDITIONAL DETAILS…The heavy wet nature of the snow could also put strain on tree limbs and power lines which may result in some power outages.
PRECAUTIONARY/PREPAREDNESS ACTIONS…
Slow down and use caution while traveling.
The latest road conditions for Illinois can be obtained on the internet at www.gettingaroundillinois.com.
O'HARE FORECAST …
Today: Showers likely, mainly after 3pm. Mostly cloudy, with a high near 54. Breezy, with a south southwest wind 20 to 25 mph, with gusts as high as 45 mph. Chance of precipitation is 70%. New precipitation amounts of less than a tenth of an inch possible.
Tonight: Rain showers before 3am, then rain showers and sleet, possibly mixed with snow between 3am and 4am, then a chance of snow after 4am. Low around 28. Breezy, with a south southwest wind 15 to 20 mph becoming west southwest 10 to 15 mph in the evening. Winds could gust as high as 35 mph. Chance of precipitation is 100%. New snow and sleet accumulation of less than a half inch possible.
Thursday: Snow, mainly after noon. Temperature falling to around 23 by 5pm. Blustery, with a north northeast wind 15 to 25 mph, with gusts as high as 40 mph. Chance of precipitation is 100%. New snow accumulation of 2 to 4 inches possible.
Thursday Night: Snow likely before 9pm. Cloudy during the early evening, then gradual clearing, with a low around 11. Wind chill values as low as zero. Blustery, with a north northwest wind 15 to 20 mph decreasing to 5 to 10 mph after midnight. Winds could gust as high as 30 mph. Chance of precipitation is 70%. New snow accumulation of less than a half inch possible.
Friday: Mostly sunny, with a high near 29. Breezy, with a west northwest wind 5 to 10 mph becoming south southwest 15 to 20 mph in the morning. Winds could gust as high as 30 mph.
Friday Night: Partly cloudy, with a low around 14. Breezy.
Saturday: Sunny, with a high near 27.
Saturday Night: Mostly clear, with a low around 22.
Sunday: Mostly sunny, with a high near 46.
Sunday Night: Mostly cloudy, with a low around 35.
Washington's Birthday: A slight chance of rain. Mostly cloudy, with a high near 42.
Monday Night: Rain. Cloudy, with a low around 38.
Tuesday: A chance of rain. Cloudy, with a high near 41.
LAKE TEMPS …
SOUTHERN LAKE MICHIGAN WATER TEMPERATURES
NATIONAL WEATHER SERVICE CHICAGO/ROMEOVILLE IL
900 AM CST Tue Feb 15 2022
LAKE MICHIGAN WATER TEMPERATURES…
CHICAGO SHORE………33.
CHICAGO CRIB……….33.
MICHIGAN CITY……….33.
&&
M IS FOR MISSING DATA THAT IS NORMALLY AVAILABLE.
THE MICHIGAN CITY WATER TEMPERATURE SENSOR IS LOCATED AT A WATER
INTAKE ONE MILE OFFSHORE AND 60 FEET BELOW WATER SURFACE. IT IS READ
EVERY DAY OF THE YEAR.
february.chicagoweatherstation.com
Chicago Weather Forecast for your MAC/PC/TABLET includes surrounding suburbs.
THANKS FOR READING CARDINAL NEWS …


^^ MOBILE? USE VOICE MIC ^^
facebook …
Please 'LIKE' the 'Arlington Cardinal Page. See all of The Cardinal Facebook fan pages at Arlingtoncardinal.com/about/facebook …

Help fund The Cardinal

Arlingtoncardinal.com/sponsor