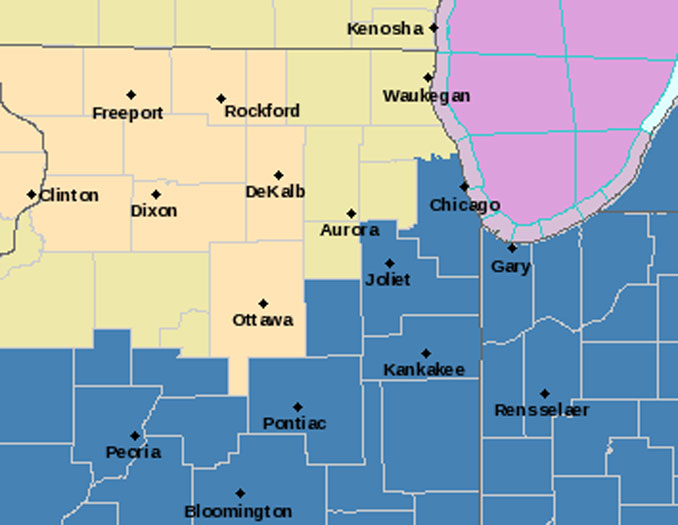 According to the National Weather Service Chicago, the potential continues to increase for a prolonged and significant early February 2022 snowfall event Tuesday night through Thursday. Current models indicated the highest snow accumulation is likely in the southeastern half of the forecast area, approximately I-55 and southeast (with the Winter Storm striking all the way south to Springfield and Champaign, Illinois. NWS Chicago, in collaboration with neighboring offices, has opted to issue a Winter Storm Watch for the Chicagoland area approximately south of I-55 from Tuesday evening February 1, 2022 through Wednesday and through the day Thursday.
The forecast is too early to have confidence in the precise winter storm track, but currently the main track is near Champaign, Illinois where 15 inches or more are forecast.
Both the European Model (ECMWF) and the Global Forecast System (GFS) run by the United States National Weather Service show the main track of highest snow accumulation on a northeast track through Central Illinois around Champaign, Illinois to the east.
There are actually two snow systems in line to hit Chicagoland … one on Tuesday night/Wednesday and one on Thursday. The systems could blend together with continuous snowfall for the entire period Tuesday night through Thursday.
While confidence in heavy snow amounts and high travel impacts are greatest across the watch area, especially Tuesday night and Wednesday, there continues to be questions with the extent of snow that falls over this area with the second impulse on Thursday.
The NWS Forecast for O'Hare International Airport indicates a total of 8.6 inches of snow accumulation from 6PM Tuesday to 4PM Thursday.

The NWS Forecast for far south Arlington Heights at Lake Briarwood indicates a total of 8.3 inches of snow accumulation from 6PM Tuesday to 4PM Thursday.

The NWS Forecast for central Arlington Heights indicates a total of 7.6 inches of snow accumulation from 6PM Tuesday to 4PM Thursday.

NWS Forecast 7:30 AM MON JAN 31 2022
According to NWS Chicago, for the area north of the watch area (Arlington Heights, communities nearby and east to Lake Michigan, Lake County IL, and McHenry County) it continues to be somewhat unclear as to the exact location and the sharpness of the falloff of snowfall gradient likely to set up. Guidance continues to waver a bit with its location, but with this potentially ending up somewhere across the Chicago metro area, snowfall amounts and the associated travel impacts may end up varying widely from north to south across the metro area. Exact snowfall amounts north of the watch area thus continue to be in question. A winter weather headline may be needed in the future for some areas north of the current Winter Storm Watch as confidence in the placement and sharpness of the snowfall gradient becomes more clear. We are currently about 34 hours away from the forecast for the first snowfall hour Tuesday evening.
The snowfall Tuesday night into Wednesday morning, will likely have rates moderate to heavy at times (1″+ per hour). During this period, forecast guidance continues to develop a strong and rather persistent low-to-mid level frontogenetic circulation over the area in association with a strengthening baroclinic zone and beneath the favorable entrance region of an Upper Great Lakes jet streak. Together, this should produce deep and strong forced ascent through the dendritic growth zone, and through an elevated layer of rather steep lapse rates (around 6.5C per KM). Moisture should also become plentiful, especially in the watch area, where a feed of deeper Gulf Moisture is expected. Significant snow accumulations and dangerous travel conditions are thus possible in the watch area Tuesday night through Wednesday.
The main limiting factor for high snow amounts north of the watch area Tuesday night and Wednesday is the increasing threat of drier air shifting southward out of the Northern Plains Arctic high. Cross sections and forecast soundings across much of far northern Illinois indicate that this dry layer will be centered around 850 mb, and could be deep enough to limit the amount of snow reaching the surface due to evaporation and sublimation. The exact area where this layer of dry air remains strong enough to overcome the moistening effects of the heavy falling precipitation into it will be the area in which we see the sharp northward gradient set up.
The snow rates should become lighter for a period Wednesday afternoon before possibly ramping up again with the second snow system Wednesday night and Thursday.
Wednesday Night through Thursday
According to NWS Chicago, forecast and ensemble guidance continues to struggle simulating the actual evolution and track of the main Desert Southwest trough as it ejects out over the Plains Wednesday night into Thursday. There remains a couple of scenarios with how this may play out. First, the disturbance could shift out across the central Mississippi Valley and support a more organized surface low shifting northeastward through the Ohio Valley late Thursday. This evolution would support a better threat for another period of significant accumulating snow in parts of our area through Thursday. However, another possible outcome is that the northern stream splits off from this wave, which would result in little if any additional snow (outside of lake effect) over the area on Thursday. The second scenario would be a weaker, less organized surface trough of low pressure farther removed from the Chicagoland area.
Regardless of which scenario above plays out for Thursday, there is still the potential for lake effect/enhancement snow over northeastern IL/northwestern IN late Wednesday and Thursday as cold northerly flow sets up over Lake Michigan.
NWS Chicago expects temperatures to turn cold again for a period late in the week as the large arctic surface high to our northwest shifts southeastward into our area. Overnight lows will likely fall below zero, with highs in the teens for Friday. Temperatures are expect to be back in the 20s next weekend.
— NWS Chicago with CARDINAL NEWS edits
Weather Radar in northeast Illinois was clear at 6:50 a.m..
See also Arlingtoncardinal.com/clouds
A second round of snow is possible Wednesday night through Thursday. Snow-covered roads are likely especially in the orange and red-shaded areas. Again, a sharp northwest gradient is likely, and will be tighter than shown on this map. #ilwx #inwx pic.twitter.com/zBfbAu2obZ

— NWS Chicago (@NWSChicago) January 31, 2022
https://twitter.com/NWSChicago/status/1488102861040799744
Winter Storm Watch URGENT – WINTER WEATHER MESSAGE National Weather Service Chicago IL 341 AM CST Mon Jan 31 2022
ILZ021-023-032-104>108-INZ001-002-311745- /O.NEW.KLOT.WS.A.0004.220202T0200Z-220204T0000Z/ Grundy-Kankakee-Livingston-Central Cook-Southern Cook- Northern Will-Southern Will-Eastern Will-Lake IN-Porter- Including the cities of Morris, Coal City, Minooka, Kankakee, Bourbonnais, Bradley, Pontiac, Dwight, Fairbury, Chicago, Cicero, Oak Lawn, Oak Park, La Grange, Calumet City, Oak Forest, Lemont, Orland Park, Park Forest, Joliet, Bolingbrook, Plainfield, Mokena, Channahon, Manhattan, Wilmington, Crete, Peotone, Beecher, Gary, Hammond, Merrillville, Portage, Valparaiso, and Chesterton 341 AM CST Mon Jan 31 2022
…WINTER STORM WATCH IN EFFECT FROM TUESDAY EVENING THROUGH THURSDAY AFTERNOON…
* WHAT…Heavy snow and dangerous travel conditions possible. Total snow accumulations in excess of 6 inches are possible.
* WHERE…Portions of northwest Indiana and northeast Illinois.
* WHEN…From Tuesday evening through Thursday afternoon.
* IMPACTS…Travel could be very difficult to impossible. The hazardous conditions may impact the morning and evening commutes on Wednesday and Thursday.
* ADDITIONAL DETAILS…Two rounds of snow are possible, the first Tuesday night through Wednesday morning and the second Wednesday night through Thursday. A break in the heaviest snow rates may occur during the day on Wednesday.
PRECAUTIONARY/PREPAREDNESS ACTIONS…
Monitor the latest forecasts for updates on this situation.
O'HARE FORECAST …
Today: Sunny, then becoming cloudy during the afternoon, with a high near 32. Light south wind becoming south southeast 10 to 15 mph in the morning.
Tonight: Mostly cloudy, with a temperature rising to around 34 by 5am. South wind 10 to 15 mph, with gusts as high as 30 mph.
Tuesday: A 40 percent chance of rain after noon. Cloudy, with a high near 43. Breezy, with a south wind 15 to 20 mph becoming west 5 to 10 mph in the afternoon. Winds could gust as high as 30 mph.
Tuesday Night: A chance of rain and snow before 9pm, then snow. Low around 21. West wind around 10 mph becoming north after midnight. Winds could gust as high as 15 mph. Chance of precipitation is 80%. New snow accumulation of around an inch possible.
Wednesday: Snow. High near 27. North wind 10 to 15 mph, with gusts as high as 25 mph. Chance of precipitation is 80%.
Wednesday Night: Snow likely. Cloudy, with a low around 20. Blustery. Chance of precipitation is 70%.
Thursday: Snow likely, mainly before noon. Mostly cloudy, with a high near 23. Blustery. Chance of precipitation is 70%.
Thursday Night: A slight chance of snow before midnight. Mostly cloudy, with a low around 10.
Friday: Partly sunny, with a high near 21.
Friday Night: Mostly clear, with a low around 3.
Saturday: Sunny, with a high near 22.
Saturday Night: Partly cloudy, with a low around 14.
Sunday: Partly sunny, with a high near 31.
LAKE TEMPS …
SOUTHERN LAKE MICHIGAN WATER TEMPERATURES
NATIONAL WEATHER SERVICE CHICAGO/ROMEOVILLE IL
917 AM CST Sun Jan 30 2022
LAKE MICHIGAN WATER TEMPERATURES…
CHICAGO SHORE………32.
CHICAGO CRIB……….33.
MICHIGAN CITY……….33.
&&
M IS FOR MISSING DATA THAT IS NORMALLY AVAILABLE.
THE MICHIGAN CITY WATER TEMPERATURE SENSOR IS LOCATED AT A WATER
INTAKE ONE MILE OFFSHORE AND 60 FEET BELOW WATER SURFACE. IT IS READ EVERY DAY OF THE YEAR.
january.chicagoweatherstation.com
Chicago Weather Forecast for your MAC/PC/TABLET includes surrounding suburbs.
THANKS FOR READING CARDINAL NEWS …


^^ MOBILE? USE VOICE MIC ^^
facebook …
Please 'LIKE' the 'Arlington Cardinal Page. See all of The Cardinal Facebook fan pages at Arlingtoncardinal.com/about/facebook …

Help fund The Cardinal

Arlingtoncardinal.com/sponsor