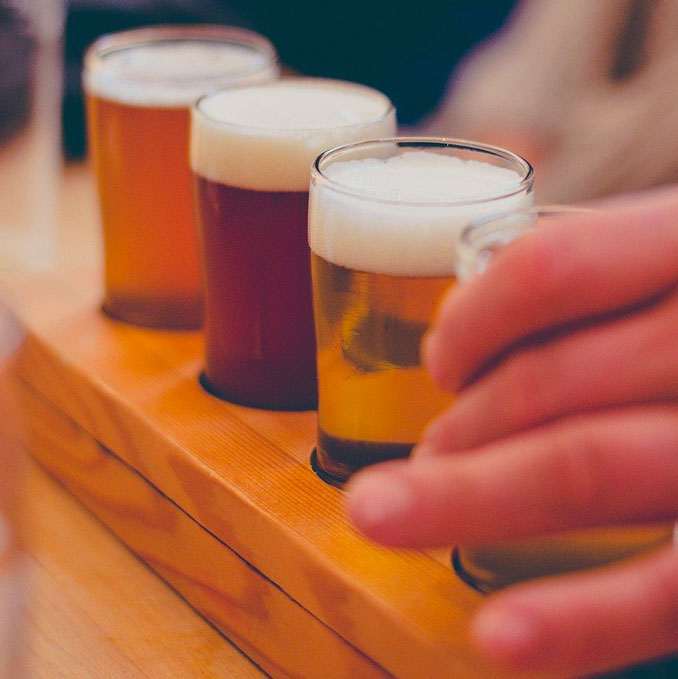 Beer brewing is an art and a science. Understanding the process will help you better enjoy your favorite brew. Homebrewing is the brewing of beer, mead, and ciders on a small scale for personal, non-commercial purposes. Mead is an alcoholic beverage created by fermenting honey with water, sometimes with various fruits, spices, grains, or hops. Our guide will walk new homebrewers through the process.
Preparing food is part art and part science, with certain dishes and beverages falling more on one side of the spectrum or the other. Beer certainly falls on the science end of the continuum, and no one knows this better than homebrewers. If you've ever thought about jumping in on the exciting science of homebrewing, our guide to understanding the beer brewing process will shed light on the process.
From Grains to Wort
All beer starts with malted grain like barley, wheat, rye, rice, or oats. In this context, "malted" means that the grain has gone through a germination process where it soaks in water to convert the starches into sugars that will get fermented later. Brewers then crush the grain and submerge it in water. This sweet liquid is called wort, which is boiled and cooled. All-grain brewing processes proceed from boiling, to cooling, pitching and fermenting.
Flavoring
From here, the wort goes into a kettle called a lauter tub. The lauter tub separates the liquid from the grains. Once brewers filter the wort, they put it into a separate kettle to be boiled. Hops are added during the boiling process. Hops add flavor to the beer and help the beer hold this flavor by increasing its surface tension.
But hops aren't the only flavoring brewers can add to beer during this step. Depending on the type of beer, brewers may also add:
Fresh fruits
Dried fruits
Spices
Vanilla bean
Chocolate
After the boil, brewers separate the hops and other ingredients and cool the wort to prepare it for fermentation.
Fermentation
After putting the wort into the fermenting tank, brewers add yeast to the mixture. The yeast consumes the sugars from the starch and produces CO2 for carbonation and alcohol. Once the wort has cooled to a temperature that is viable for living yeast, the yeast is "pitched" into the wort for fermentation. This is when the 'wort" becomes "beer." This is a potentially delicate process requiring temperature control to keep the yeast from going dormant or dying. The entire process of converting the wort to beer will take about two weeks.
Primary fermentation in homebrewing takes place in large glass or plastic carboys or food-grade plastic buckets, which are nearly always sealed. When sealed, the fermenter is stoppered with a fermentation lock which allows the carbon dioxide gas produced to vent, while preventing other gasses and particles from entering the container. Recent innovations in nanotechnology have enabled a fermentation lock called the Sterilock to prevent bacteria, wild yeasts and other potential harmful fungi reaching the fermenting solution. However, some beer styles known as Sour Beer, bacteria or wild yeasts are desirable to obtain the sour characteristics.
Acetaldehyde: a toxic byproduct. Much of the research on alcohol metabolism has focused on an intermediate byproduct that occurs early in the breakdown process—acetaldehyde. Although acetaldehyde is short lived, usually existing in the body only for a brief time before it is further broken down into acetate, it has the potential to cause significant damage. This is particularly evident in the liver, where the bulk of alcohol metabolism takes place. Some alcohol metabolism also occurs in other tissues, including the pancreas and the brain, causing damage to cells and tissues. Additionally, small amounts of alcohol are metabolized to acetaldehyde in the gastrointestinal tract, exposing these tissues to acetaldehyde's damaging effects.

— Alcohol Metabolism: An Update (US Department of Health and Human Services)
Maturation
After fermentation, you'll have a "green beer." Some people consume this green beer, but it's usually cloudy and contains unwanted byproducts like diacetyl and acetaldehyde, which is not recommended because it is highly toxic and is a known carcinogen. Because of this, it goes through an additional process called maturation. This usually takes anywhere from two weeks to several months, depending on the type of beer. Some facilities may carry out additional filtration at this stage as well.
You don't have to be a home or commercial brewer to know how beer brewing works. Understanding the beer brewing process will help anyone who enjoys beer deepen their appreciation of their favorite brew.
Be sure to check local laws worldwide regarding brewing, sharing and distributing homebrewed beer. Restrictions vary.
THANKS FOR READING CARDINAL NEWS …


^^ MOBILE? USE VOICE MIC ^^
facebook …
Please 'LIKE' the 'Arlington Cardinal Page. See all of The Cardinal Facebook fan pages at Arlingtoncardinal.com/about/facebook …

Help fund The Cardinal

Arlingtoncardinal.com/sponsor
THANKS FOR READING CARDINAL NEWS