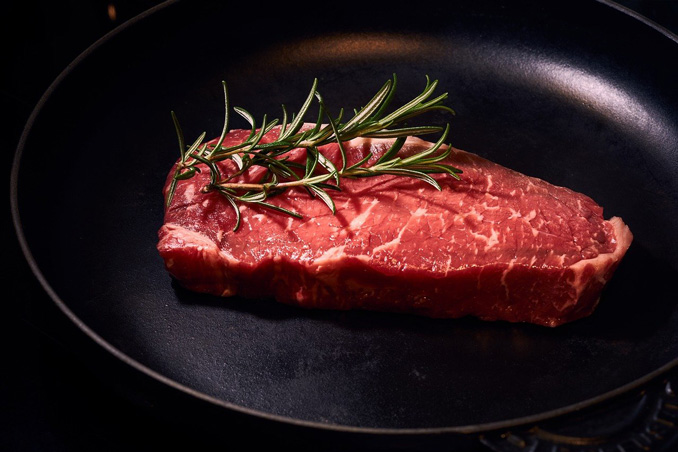 Fueling your body with healthy choices includes choosing foods that help you acquire essential vitamins and minerals.
As we all know, nutrition is key, and people will often talk about "eating the rainbow" or "making every meal count." While this advice is encouraging, many don't necessarily know where to start. In other words, they're unsure which foods to add to their grocery lists so that they can cook up healthy, balanced meals. We're offering a few of the best foods for acquiring essential vitamins and minerals.
Red Meat
While red meat gets a bad rap, there are nutritional benefits that promote consumption — even if you consider limiting red meat to once or twice per week. Of course, red meat is a protein source, so it promotes muscle growth and strength, satisfies hunger, and encourages weight loss. Plus, red meat can give you a boost of Vitamin B12, iron, selenium, and zinc. Popular red meat choices include beef, pork, lamb, veal, and venison. Pork. "The Other White Meat" was part of an ad campaign that began on March 2, 1987 and included some subsequent Super Bowl ads.
By the way, some consider red meat is is defined as meat that is red when raw and that darkens when it cooks. In comparison, white meat is light in appearance and whitens when it is cooked. By this definition pork is a white meat. However, the USDA classifies red meat as meat that comes from a mammal, and by this definition pork is red meat. In nutritional science analysis, red meat has more of the protein myoglobin than found in white meat. Myoglobin stores oxygen in muscles, and is a protein that contains heme pigment — similar to hemoglobin, which transports oxygen in the blood. Incidentally, dark meat in chicken contains more myoglobin that white meat in chicken.
Whole-Wheat Bread
Whether you want to make avocado toast or assemble a delicious sandwich, consider using whole-wheat bread. Whole grains are beneficial for a variety of reasons. For instance, you likely already know whole grains can help improve your fiber intake, which keeps you satisfied longer than white meat. Additionally, whole grains are packed with antioxidants and magnesium, and may help decrease inflammation.
Vitamins and Minerals

Vitamins and minerals are essential substances that our bodies need to develop and function normally. The known vitamins include A, C, D, E, and K, and the B vitamins: thiamin (B1), riboflavin (B2), niacin (B3), pantothenic acid (B5), pyridoxal (B6), cobalamin (B12), biotin, and folate/folic acid. A number of minerals are essential for health: calcium, phosphorus, potassium, sodium, chloride, magnesium, iron, zinc, iodine, sulfur, cobalt, copper, fluoride, manganese, and selenium.

— NIH National Center for Complementary and Integrative Health
Eggs
Eggs are incredibly versatile; you can hard-boil, poach, or scramble them and they'll taste amazing. However, they're more than tasty — they contain calcium, vitamins A, D, E, K, and more. Note: Vitamins A, D, E and K are found in egg yolk not egg white. Eggs are a great source of omega-3s—which keep your heart healthy—and improve good cholesterol levels. Omega-3s are also found in the egg yolk, not egg white. If you love including eggs in your daily breakfast plans, keep on eating them!
Spinach
Spinach is a popular green for good reason. It's full of vitamins A and C, and it boasts potassium as well. Further, you can incorporate spinach into your diet in many ways. You can sauté spinach and have it as a side dish, blend it in a smoothie, or add it to a salad. Keep in mind, though, that you shouldn't just have spinach if you're going the salad route—strive to make your salads more appealing.
Fatty Fish
If you love mackerel, salmon, tuna, and trout, then good news: they're good for you! Just a few benefits of these fatty fish include iodine, which aids in proper thyroid function, as well as omega-3s and vitamin D. Eating these fish can even support better brain health. Make your dinners scrumptious meals with nutrient-packed seafood!
Now that we've covered some of the best foods for acquiring essential vitamins and minerals, we hope you feel inspired to add these to your next grocery list. Your body will be thankful, and your taste buds will enjoy it, too.
See also …
The Best Stop Supermarket | How Pork Became The Other White Meat
THANKS FOR READING CARDINAL NEWS …


^^ MOBILE? USE VOICE MIC ^^
facebook …
Please 'LIKE' the 'Arlington Cardinal Page. See all of The Cardinal Facebook fan pages at Arlingtoncardinal.com/about/facebook …

Help fund The Cardinal

Arlingtoncardinal.com/sponsor
THANKS FOR READING CARDINAL NEWS
Image by Felix Wolf from Pixabay