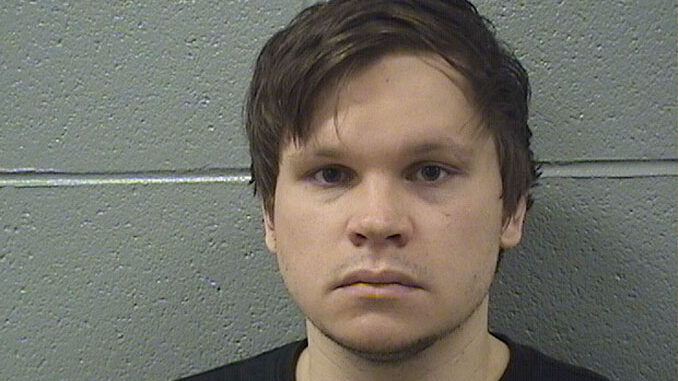 Mount Prospect police on Thursday, April 8, 2021 charged Garrett M. Kowalski, 25, of the block of 500 North Third Avenue in Des Plaines with three felony counts of reckless homicide, three felony counts of aggravated driving under the influence, and one felony count of possession of a controlled substance.
The charges followed the investigation of a fatal crash that killed three people at Rand Road and Mount Prospect Road about 7:45 a.m. Sunday, March 7, 2021; Mount Prospect; and lab test analysis of a blood sample taken from Kawalski shortly after the crash and a substance found in his apartment.
Following a wait of over one month for test results, Mount Prospect police say Kowalski was under the influence of an anesthetic known as ketamine when his gold Ford Escape SUV slammed into a white Honda sedan at approximately 108 mph, killing all three of the Honda's occupants.
Assistant State's Attorney Nicole Murphy told Judge Ellen Beth Mandeltort during a bond hearing Friday, April 9, 2021 at the Rolling Meadows courthouse that Garrett M. Kowalski left his home at 7:40 a.m. and started driving at about 7:42 a.m. northwest bound on Rand Road (US Route 12), accelerating to a high rate of speed.
Police said crash scene evidence, witness statements, and security camera images from businesses near the crash scene determined that Kowalski ran a red light at Wolf Road, then ran a red light at Mount Prospect Road (less than a mile west of Wolf Road), and struck the driver's side of the white Honda Accord at 7:43 a.m. at a speed of 108 mph in a 40 mph zone. The three crash victims in the Honda were killed instantly and entrapped in the wreckage after the driver of the Honda entered the intersection (southbound from the Mount Prospect Plaza) on a green light. The driveway of Mount Prospect Plaza is aligned with Mount Prospect Road.
The lives lost were family members — Francisco Flores Rodriguez, Georgina Perez Gomez and Francisco Javier Flores Perez — all of the block of 7500 Elmhurst Road, Des Plaines. The entrapment was so severe that the Mount Prospect Fire Department decided to transport the bodies in the Honda on a flatbed tow truck to another location for extrication of the bodies.
A search warrant was executed to download the vehicle data from the onboard crash data recorder Kowalski's gold Ford Escape. Assistant State's Attorney Nicole Murphy said that at the time of the impact, data showed that Kowalski made no attempt to slow down before the crash occurred.
At the time of the crash, Kowalski was injured. Murphy said Kowalski was not wearing his seatbelt. He was transported by Mount Prospect Fire Department paramedics, and hospitalized with his injuries. According to Kowalski's attorney — former Village of Arlington Heights prosecutor Ernest Blomquist — Kowalski suffered a broken leg, a crushed hip, and was treated with multiple stitches, and two surgical procedures. Blomquist added that Kowalski was released from the hospital just prior to his arrest.
KETAMINE FACTS

Who uses ketamine?
Teenagers and young adults represent the majority of ketamine users. According to the Drug Abuse Warning Network, individuals aged 12 to 25 accounted for 74 percent of the ketamine emergency department mentions in the United States in 2000.

Ketamine use among high school students is a particular concern. Nearly 3 percent of high school seniors in the United States used the drug at least once in the past year, according to the University of Michigan's Monitoring the Future Survey.

What are the risks?
Ketamine causes users to have distorted perceptions of sight and sound and to feel disconnected and out of control. Use of the drug can impair an individual's senses, judgment, and coordination for up to 24 hours after the drug is taken even though the drug's hallucinogenic effects usually last for only 45 to 90 minutes.

Use of ketamine has been associated with serious problems–both mental and physical. Ketamine can cause depression, delirium, amnesia, impaired motor function, high blood pressure, and potentially fatal respiratory problems.

In addition to the risks associated with ketamine itself, individuals who use the drug may put themselves at risk of sexual assault. Sexual predators reportedly have used ketamine to incapacitate their intended victims — either by lacing unsuspecting victims' drinks with the drug or by offering ketamine to victims who consume the drug without understanding the effects it will produce (date rape drug).

What is ketamine called?
The most common names for ketamine are K, special K, cat valium, and vitamin K. Additional street names are Green K, Honey oil, Jet, Ket, Kit kat, Purple, Special la coke, Super acid, Super C
After the lab results that tested positive for ketamine were obtained, Mount Prospect police requested Kowalski surrender, and Kowalski complied on Thursday evening, April 8, 2021. Evidence collected prior to the positive ketamine results included a substance collected in Kowalski's apartment, and a blood sample collected from Kowalski at the hospital.
After the crash, Des Plaines police responded to a 9-1-1 check for well-being at Kowalski's apartment for an unsecured front door. Police officers said they observed narcotics in plain view. Mount Prospect police obtained a search warrant for the apartment, and located a straw-like mechanism with a white powdery substance "laid out in a manner to suggest recent use," according to the Mount Prospect Police Department.
According to Assistant State's Attorney Nicole Murphy, police collected about one gram of the ketamine at Kowalski's apartment. The white powder found in Kowalski's apartment was sent to the Northeastern Illinois Regional Crime Lab and tested positive for the presence of ketamine — a US Schedule III controlled substance. Ketamine is classified as a general anesthetic, a dissociative anesthetic, and a dissociative hallucinogen. Ketamine is used in medical anesthesia, and illegally as a recreational drug that detaches a drug user from reality and sometimes causes their own accidental death. Ketamine is known to impair a person's ability to safely operate a motor vehicle.
At the hospital, shortly after the crash, a search warrant was used to retrieve a blood sample from Kowalski. Assistant State's Attorney Nicole Murphy told Judge Ellen Beth Mandeltort during the bond hearing that Kowalski had "1,100 nanograms per milliliter" of ketamine in his blood at the time of the crash. Murphy also stated "he should have never been operating a vehicle."
Murphy stated that Kowalski has a history of offenses related to speeding violations and other traffic violations, and two battery incidents. Kowalski is considered a "real risk to the public's safety and well-being," according to Murphy.
Bond was set at $750,000 and $50,000 Friday, April 9, 2021 by Judge Ellen Beth Mandeltort. After bond was set, Judge Mandeltort told Kowalski that if he does post bail, he will be required to surrender his passport, subject to electronic monitoring, be prohibited from driving, and that he must submit to random drug testing.
Defense Attorney Ernest Blomquist requested that his client be placed in the county jail hospital for further treatment instead of a jail cell, which was granted. Kowalski remains in Cook County Jail.
Kowalski's next court date is set for April 23, 2021. Blomquist stated he will enter a "not guilty" plea for his client on April 23, 2021, since it is up to the prosecution to prove Kowalski is guilty.
RELATED NEWS …
CARDINAL NEWS | Three Killed, 1 Injured in High-Speed Crash with Rollover at Rand Rd and Mount Prospect Rd in Mount Prospect
Get updates from The Cardinal ALL NEWS FEEDS on Facebook. Just 'LIKE' the 'Arlington Cardinal Page (become a fan of our page). The updates cover all posts and sub-category posts from The Cardinal — Arlingtoncardinal.com. You can also limit feeds to specific categories. See all of The Cardinal Facebook fan pages at Arlingtoncardinal.com/about/facebook …

Help fund The Cardinal

Arlingtoncardinal.com/sponsor