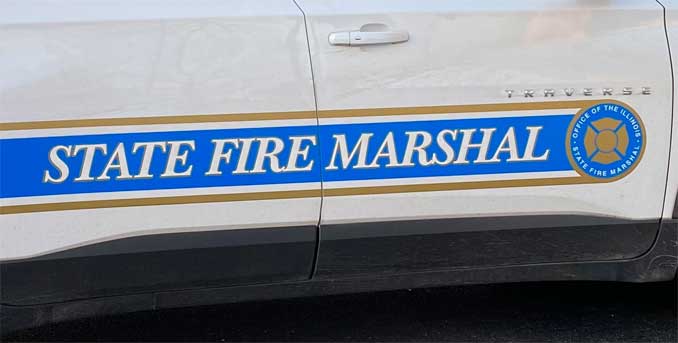 McHenry County Sheriff's deputies and firefighters and paramedics from Wonder Lake Fire Protection District responded about 10:13 p.m. Saturday, January 16, 2020 to a report from several passersby of a house fire in the block of 8000 West Route 120 in Wonder Lake with a Woodstock address. No calls for help originated from the house.
A McHenry County Sheriff's deputy first on the scene reported the house was fully-engulfed with fire on one side and that the house was located on a long driveway.
Firefighters on arrival reported the house was fully engulfed with fire on the east side of the house.
Fire extension was reported from the first floor to the second floor, and firefighters fought the fire initially with defensive operations. The gas meter was also burned off at the scene with free flowing natural gas at the scene. Nicor was dispatched to the scene to stop the gas flow.
An occupant was found dead inside a home following an extra-alarm fire Saturday evening near Wonder Lake, authorities said. https://t.co/I0795quiJ5

— Alex Vucha (@alexvucha) January 18, 2021
A homeowner is unaccounted for after a house fire near Wonder Lake late Saturday night. The home was partially engulfed on arrival and is considered a total loss. @ILFireMarshal and is assisting with the investigation. pic.twitter.com/Dm7Mb8TpvR

— Alex Vucha (@alexvucha) January 17, 2021
A MABAS Division 5 Box Alarm #5-1640 was activated at 10:23 p.m. on orders of Wonder Lake Fire Protection District. Firefighters and command officers from Crystal Lake, Fox Lake, Harvard, Huntley, Nunda, Twin Lakes (Wisconsin), Wauconda, and Woodstock.
Firefighters and command officers from Antioch, Cary, and Marengo were assigned at a Wonder Lake fire station to stand by for additional calls.
A special request for a firefighter rehab unit was requested at 10:58 p.m. for firefighters working at the scene of the fire.
The MABAS Box Alarm was upgraded to a Second Alarm at 11:05 p.m. Firefighters and/or command officers from Algonquin, Linn (Zenda Township, Wisconsin), Round Lake, Woodstock, McHenry and Fox River Grove, and Fox Lake were assigned to the scene.
A fire victim was discovered after firefighters transitioned to an interior attack, and the State Fire Marshal was requested to the scene. The house fire is under investigation with the State Fire Marshal, Wonder Lake Fire Protection District and the McHenry County Sheriff's Office while an autopsy is scheduled with the McHenry County Coroner's Office.