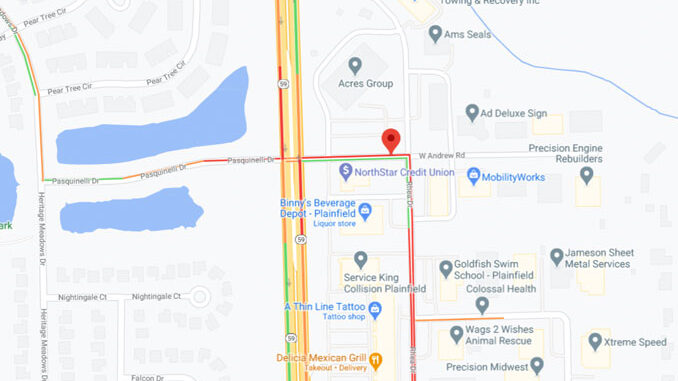 Police fired shots at an armed suspect as he tried to get away from police in Romeoville, and nobody was injured until a crash ended the police pursuit in Plainfield (CBS 2's Charlie De Mar reports).
Police officers with the Will County Cooperative Police Assistance Team at about 1:55 p.m. Monday, November 9, 2020 attempted to take a male suspect into custody at which point the individual crashed his vehicle into officers' vehicles and drove toward officers on scene, police officials said in a news release.
Police officers then fired shots; however, no one was struck by gunfire. Police at one point reported that there were four or five subjects associated with the vehicle, and that at least one of the suspects was reported to have fired shots with an AK-47 type weapon.
Police radio messages stated there was a pursuit of a Dodge Charger in a case involving shots fired at the police. However, the suspects' blue sedan at the scene captured on video was not a Dodge Charger.
A marked Plainfield Police Department SUV was crashed into a tree, and at least two other unmarked police vehicles were damaged.
Officers had been aware that the suspect, who was under surveillance as part of a "covert operation," could be in possession of weapons, according to police.
The police pursuit began after an encounter with an armed male suspect at a Comfort Inn on Weber Road in Romeoville. Police shot at the suspect in Romeoville when he crashed into several police vehicles. A pursuit began with a police helicopter keeping track of the suspect's vehicle from above.
The suspect led officers through Woodridge and Bolingbrook and ended up crashing and stopping in Plainfield. He was then arrested and guns were recovered, according to a statement from the Major Crimes Task Force. The suspect was in custody by 2:30 p.m. One suspect was described as 5'10" 130 LB with dreadlocks, wearing a black shirt and black pants.
Witnesses reported SWAT vehicles in the area, and that several police officers with their weapons drawn had surrounded a suspect.
Initially police reported one person in custody, and one at large. The details or any confirmation on other suspects were not initially available, but the Plainfield Police Department advised that there was no threat to the community at 2:49 p.m. via Twitter. Police initially had warned residents to stay away from Heritage Meadows Drive and also Pasquinelli Drive near Route 59.
EMERGENCY ALERT

Those in the area of Pasquinelli and Heritage Meadows, please stay inside and shelter in place.

There is police activity in the area.

— Plainfield,IL Police (@PlainfieldILPD) November 9, 2020
THERE IS NO LONGER A THREAT TO THE COMMUNITY.

THE SUSPECT IS IN CUSTODY.

Please stay away from the area, as the investigation continues and numerous roadways are closed.

— Plainfield,IL Police (@PlainfieldILPD) November 9, 2020
Three Plainfield police officers suffered injuries initially believed to be non-life threatening injuries. No police or civilians suffered gunshot injuries.
As a result of the incident, an area of Plainfield was under an emergency "shelter in place" order for approximately 30 minutes. Several roads were closed while police investigated the crash. The range of police activity at the end of the active incident was approximately from Hickory Meadows Drive, along Pasquinelli Drive east to Route 59, and across Route 59 on Andrew Road.
The Will/Grundy Major Crimes Task Force, the Will County Sheriff's Office and Plainfield Fire Department paramedics were also on the scene.
For a list of all of The Cardinal Facebook fan pages, go to Arlingtoncardinal.com/about/facebook …

Help fund The Cardinal

Arlingtoncardinal.com/sponsor