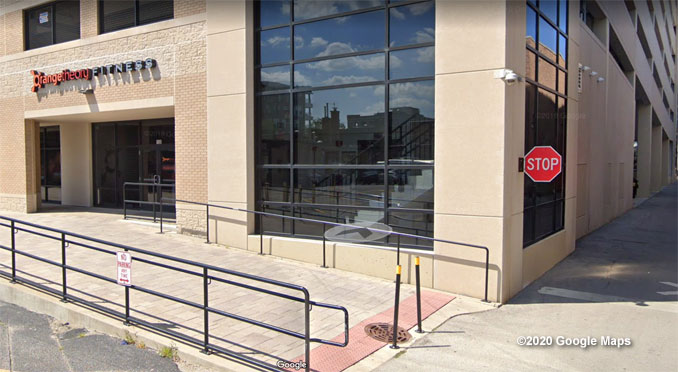 Orangetheory Fitness in Elmhurst at 135 North Addison Avenue reported Monday, September 28, 2020, an outbreak of confirmed Coronavirus COVID-19 cases in recent days. The Orangetheory Elmhurst fitness center reported 18 positive COVID-19 cases, according to an article in the Elmhurst Patch. Initially it was unknown how the fitness center became aware of the confirmed cases.
The number of cases may exceed 18 positive cases, and another athletic-related group in Elmhurst may be affected confirmed cases or by quarantine due to possible exposure at Orangetheory in Elmhurst.
The Orangetheory in Elmhurst is reported to have closed from Thursday, September 24, 2020 to Sunday, September 27, 2020 as the business investigated the outbreak and conducted additional deep cleaning and checked additional safety training procedures. According to health authorities in DuPage County, contact tracing is also underway.
The DuPage County Health Department did not initially post a public notice about the outbreak on their official website.
In an e-mail, spokesperson Stephanie Calvillo with the DuPage County Health Department replied to a Cardinal News inquiry with the following statement …

DuPage County Health Department has received multiple reports of COVID-19 cases from Orange Theory and community members since last week. In our communication with Orange Theory, we have provided public health guidance and resources, and we are conducting case and contact investigations to help determine if exposure may have occurred onsite as well as the extent of that exposure. We have also provided risk mitigation recommendations to prevent ongoing COVID-19 spread in the community. The best strategies for preventing COVID-19 infection in youth and adults are to wear a mask in public places, stay at least 6 feet away from other people, frequently wash your hands, and avoid crowds and confined or poorly ventilated spaces.
The DuPage County Health Department did not initially reply to the following inquiries:
1. Are you able to confirm whether instructors are quarantined (14 days, for example) and whether new instructors were brought in for opening (re-opening).
2. Is there an authority that would make sure those instructors are replaced temporarily with unexposed or unquarantined instructors, and if yes, can you reply what authority that would be?
CDC Quarantine Guidelines for Coronavirus Disease 2019 (COVID-19)

WHO NEEDS TO QUARANTINE?

People who have been in close contact with someone who has COVID-19—excluding people who have had COVID-19 within the past 3 months.

People who have tested positive for COVID-19 do not need to quarantine or get tested again for up to 3 months as long as they do not develop symptoms again. People who develop symptoms again within 3 months of their first bout of COVID-19 may need to be tested again if there is no other cause identified for their symptoms.

What counts as close contact?

You were within 6 feet of someone who has COVID-19 for a total of 15 minutes or more

You provided care at home to someone who is sick with COVID-19

You had direct physical contact with the person (hugged or kissed them)

You shared eating or drinking utensils

They sneezed, coughed, or somehow got respiratory droplets on you

WHAT STEPS TO TAKE?

Stay home and monitor your health

Stay home for 14 days after your last contact with a person who has COVID-19

Watch for fever (100.4◦F), cough, shortness of breath, or other symptoms of COVID-19

If possible, stay away from others, especially people who are at higher risk for getting very sick from COVID-19
On their official website, Florida-based Orangetheory, states that "with over 1,000 studios open, we're excited to welcome you back and are doing so with new health and safety protocols that would make the CDC proud." There is no mention of the COVID-19 outbreak or any scheduling change on the Orangetheory Elmhurst Facebook page or on their Elmhurst location page on the official Orangetheory website.
Orangetheory on the front page of their official website recommends members check the status of their local fitness center …
❝ Find the studio closest to you for its current status.
Learn how we're keeping you safe.
Additionally, stay fit and healthy at home with our daily Orangetheory At Home Workouts.❞

— Orangetheory Official Website (observed Mon. 9/28/2020 and Tues. 9/29/2020
Additionally, there is no specific mention of the Orangetheory coronavirus outbreak on the City of Elmhurst website.
On their official website, Orangetheory appears to have a strong safety program for preventing the spread of Coronavirus COVID-19 illness. See their 8-point outline below …
Health and Safety: The Orangetheory Difference
As Orangetheory begins to reopen studios and slowly get back to a new normal, it's incredibly important we do so with an abundance of caution and a high level of confidence in our safety and disinfection policy changes, which align with CDC recommendations. The Orangetheory studio design, structured class schedule, block interval training and tight-knit community of franchisees enables us to have a more controlled environment in comparison to other fitness gyms. Below is what we're doing to ensure the health and safety of our members and staff.
01
Medical Advisory Board
Our Medical Advisory Board has been instrumental in developing our policy changes, cleaning and disinfecting protocols, coach reopening education, and staff and member safety protocols.
02
Continuous Heart Rate Monitoring
Members receive real-time feedback from coaches on when to pull back, or when to push a little harder. This technology allows us to monitor members' performance, maximize members' safety and customize workout intensity.
03
Workouts Designed to Minimize Cross-Contamination
Thanks to our Fitness Design Team, we can control what equipment members use during class via verbal instructions from our coaches. Furthermore, our members are assigned to certain stations during the workouts to minimize both sharing of equipment and cross-contamination.
04
Reduced Class Capacity & Member Registration
We have required our studios to open with a significantly reduced class capacity to minimize congestion in the lobby spaces and to maintain social distancing/physical distancing recommendations set forth by the CDC. Since members are required to register for classes online ahead of time, we are able to control the number of members and staff present at the studio at any given time.
05
Class Scheduling Modifications to Allow for Disinfecting Protocols
Our Fitness Design Team has created 45- or 60-minute classes with a full 15 minutes of cleaning between each class. Notably, our studio will be completely emptied of members between classes to enable staff to clean and disinfect with CDC- and EPA-approved agents. Our staff will receive education on proper use of PPE while cleaning and disinfecting, and cleaning protocols are already established as part of employees' responsibilities.
06
Member & Brand Culture
Our staff and members are health-conscious individuals who are eager to participate in social distancing and cleaning protocols. It has always been a part of our studio experience to provide members with disinfecting wipes between interval blocks and to encourage members to wipe down every piece of exercise equipment they've used before rotating to the next station.
07
Coach Supervision
Our workouts are coach-led by certified fitness professionals trained in CPR/AED. Orangetheory coaches maintain the flow of the workout, provide verbal instructions regarding member safety and cleaning protocols, and continuously monitor members' physiological data.
08
Staff PPE
Our Medical Advisory Board has advised all staff to wear face masks while in the studio. Furthermore, staff should wear latex-free disposable gloves any time they engage in cleaning and/or disinfecting protocols. Coaches are required to wear protective eye covering while coaching, and we recommend that each coach uses their own microphone headset. Lastly, the importance of regular and effective hand-washing, as well as use of hand sanitizer, is integrated into our coaching protocols and checklists.
In an article posted in the Washington Post ("The fitness industry is trying to lure gym members back — but experts say it's using flawed data"), writer Allyson Chiu quoted Stephanie Bagwell, a longtime Orangetheory member in Michigan, who said she was outraged when she received an email last month from chief executive Dave Long, who linked to an IHRSA news release ("National Study Confirms It's Safe To Work Out At The Gym: Current Data Shows No Evidence of COVID-19 Spread in Gyms") that included some data from the study conducted by MXM (a member experience management company for health clubs) and IHRSA (International Health, Racquet & Sportsclub Association) and wrote: "There's no evidence to support the fact that gyms are contributing to the community spread of COVID-19 above any other types of businesses."
"Obviously Orangetheory is struggling, and they want people to come back, but by doing it in that way, it turned me off a lot, and it really made me just not want to go back at all," said Bagwell, 30. "If I can't trust them to use appropriate science, how can I trust them to protect my safety?"
Orangetheory and other gyms that promoted the IHRSA study have emphasized that they are prioritizing safety. "A strict adherence to science has always been the bedrock of the Orangetheory experience," Long said in an emailed statement. "That hasn't changed."
❝ At least three large fitness companies have filed for bankruptcy during the pandemic, including 24 Hour Fitness, Gold's Gym and Town Sports International, which operates New York Sports Clubs and Boston Sports Clubs, among others. And although gyms have been trying to promote their improved safety measures, getting members back indoors has been challenging.❞
IHRSA, the International Health, Racquet & Sportsclub Association, is a not-for-profit trade association representing the global fitness industry of over 200,000 health and fitness facilities and their suppliers. An expert in the Washington Post article — Paul J. Lavrakas, a research psychologist who reviewed MXM's data and methodology calls out the study as "unfounded, unsupported, irresponsible." The news release sub-headline for the study claimed "More than 49.4 Million Health Club Visits, Only 0.0023 Percent Tested Positive for COVID-19 – More than 500 Times Less than the Current Estimated U.S. National Average."
Flashback
Orangetheory® Fitness announced on Monday, March 16, 2020 the closure of all corporate-owned studios, effective Tuesday, March 17, 2020, to ensure the safety of all staff and members during the rapidly evolving COVID-19 pandemic, and encouraged all franchisees to follow suit.
Fitness centers among a variety of fitness business re-opened carefully nationwide as state Governors eased Coronavirus pandemic-related restrictions.
See also …
Get updates from The Cardinal ALL NEWS FEEDS on Facebook. Just 'LIKE' the 'Arlington Cardinal Page (become a fan of our page). The updates cover all posts and sub-category posts from The Cardinal — Arlingtoncardinal.com. You can also limit feeds to specific categories. See all of The Cardinal Facebook fan pages at Arlingtoncardinal.com/about/facebook …

Help fund The Cardinal

Arlingtoncardinal.com/sponsor