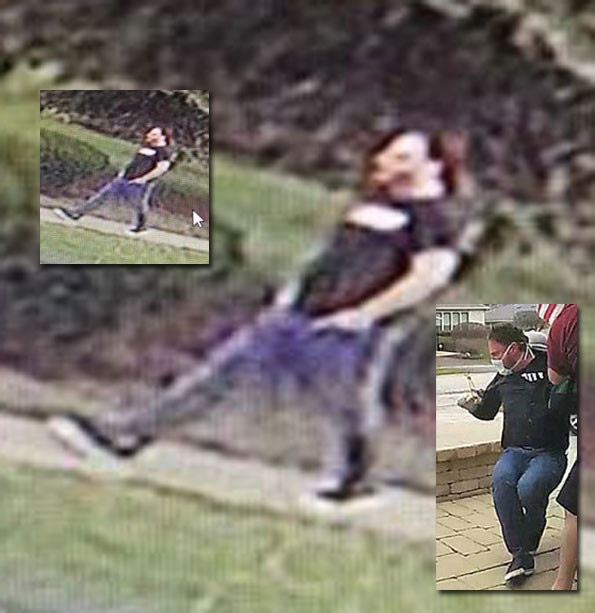 Cook County prosecutors in Cook County Court on Tuesday April 7, 2020 said Bradley J. Finnan, 39, of Chattanooga, Tennessee and Larry D. Brodacz, 58, of Buffalo Grove, who was shot and killed by the homeowner, pushed their way into a home in the 2400 block of North Evergreen Avenue Saturday, April 4, 2020 just before 2:00 p.m. Both male offenders, who were wearing medical masks and medical gloves threatened mom, dad and two minor children at gunpoint, in what police are calling a home invasion and robbery attempt.
Arlington Heights police released the identity of the second of two offenders, Bradley J. Finnan on Tuesday, announcing Finnan was charged with one count of Felony Murder and two counts of Felony Home Invasion. The Felony Murder charge is appropriate because one offender died while the surviving accomplice was committing the crime with him.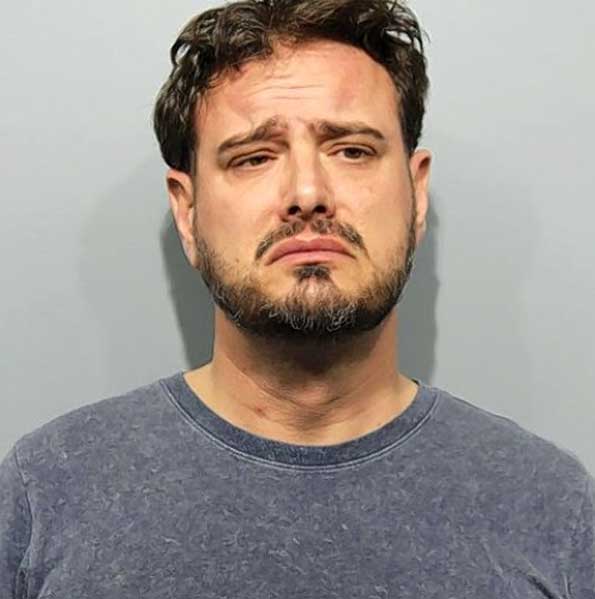 Finnan was arrested at 5:30 a.m. Sunday, April 5, 2020 in the block of 4900 Brookview Road in Rockford. Finnan told investigators that Brodacz claimed to have seen $200,000 cash in boxes in the home 20 years ago and believed the cash was still there, according to Cook County prosecutors. The family said they did not know either of the male offenders, police investigators said.
A video of intruders Finnan and Brodacz from a Ring doorbell security camera was posted to the public showing the two intruders as they approached the two-story, single-family home in the block of 2400 North Evergreen Avenue at about 1:55 p.m. Saturday.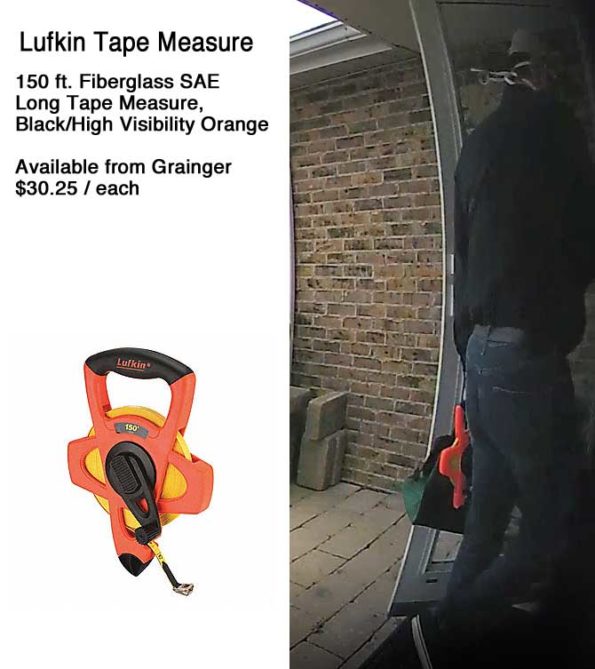 Police said Finnan carried a bag containing zip-ties and a blowtorch. He was seen on the Ring video carrying a large 150-foot tape measure and a black bag. Brodacz inneffectively blocked the Ring camera with his gloved hand, and pointed out the camera to Finnan. Brodacz rang the doorbell, and when a male homeowner answered, he forced his way inside with Finnan following, prosecutors said.
The male homeowner told police he opened the door expecting to greet landscapers; but the intruders pushed their way in and pulled guns from their pockets. The male homeowner, later affirmed his identity as Sebastian Maniscalco, when he expressed his gratitude to the community, to law enforcement and to firefighter/paramedics in a Facebook post on his personal Facebook page. Sebastian Maniscalco, of Arlington Heights, is the cousin of famous comedian Sebastian Maniscalo, a former resident of Arlington Heights, who now lives in California.
After the intruders entered the home, there was yelling captured on audio from the Ring video with demands to get out of the house. The video shows Sebastian Maniscalco chasing Finnan out of the house and punching him, while calling out "Help!" to neighbors and landscapers across the street. The landscapers appear to freeze in shock at what they're seeing. Finnan did not fight back and fled toward the street. Before reaching the street, Finnan tripped on the curb and fell onto the middle of the street. Prosecutors said Finnan's medical mask slipped, revealing his identity.
Meanwhile, Maniscalco's wife screamed, and ran with the couple's minor children to an upstairs bedroom to shelter behind the door. While Sebastian Maniscalco fought with Finnan on the front porch sidewalk, Brodacz broke through the second floor bedroom door, pushed the children onto the bed, and pointed a gun at Maniscalco's wife, who pleaded with him not to shoot, according to Cook County prosecutors.
After ousting Finnan, Sebastian Maniscalco returned inside the home. He was retrieving a handgun from the home's master bedroom when he was struck in the back of the head. While there was a struggle between Broadacz and Maniscalco, the two men bit each other and Broadacz pulled a knife from his waistband and approached Maniscalco. Prosecutors said that Maniscalco feared for his life and his family, and fatally shot Brodacz in the abdomen.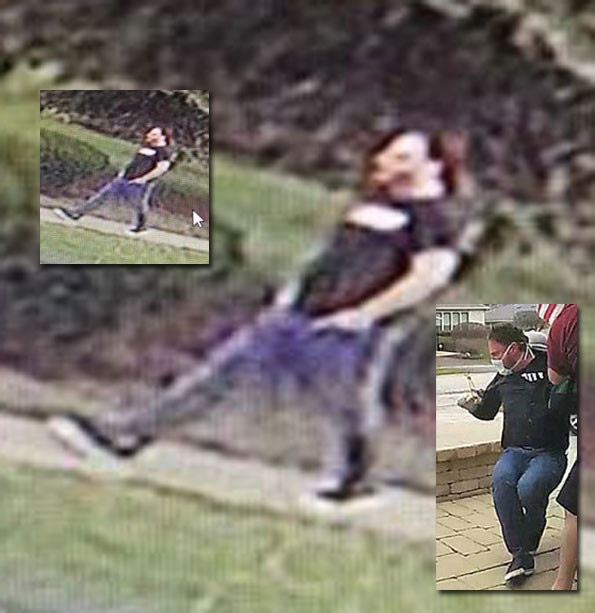 Police told Cardinal News that Finnan was not familiar with the Arlington Heights area, but walked back to Brodacz's car, which was parked somewhere near the Circle Hill Drive area, just north of Northpoint Shopping Center and less than one-half mile south of the Evergreen Avenue crime scene location.
Police said they have several videos showing Finnan walking in the area. A security image was submitted to Cardinal News by a resident in the area that apparently shows Finnan walking northbound on Brighton Place near Camelot Park. The security video shows an image that matches the dark shoes with white soles that were worn by Finnan — visible from the Ring camera video. The security video image also shows a matching dark T-shirt with white letters across the chest that is briefly visible on Finnan, when Finnan's button down shirt was pulled down while Maniscalco and Finnan struggled on the porch sidewalk — also visible on the Ring video.
Arlington Heights police did not confirm whether the image was actually Finnan, but if it is an image of Finnan, he may have been lost temporarily because the Brighton Place location is a significant distance east and north of the Circle Hill Drive area.
Brodacz's identity was confirmed after his family reported him missing, and police recognized the similarity of family-provided photos and the dead male offender at the crime scene.
Stay informed with news from The Cardinal's Emergencies Behind the Scenes Facebook page — Facebook.com/CardinalEmergencies. For a list of all of The Cardinal Facebook fan pages, go to Arlingtoncardinal.com/about/facebook …

Help fund The Cardinal

Arlingtoncardinal.com/sponsor
Neighborhood street (Brookview Road in northeast Rockford) where Bradley Finnan was arrested at 5:30 a.m. Sunday, April 5, 2020 — less than 24 hours after he is suspected of being an accomplice in a home invasion that resulted in the death of his accomplice — Larry D. Brodacz.
RELATED NEWS …
CARDINAL NEWS | Sebastian Maniscalco, Heroic Home Invasion Defender, Thanks Community and Offers True Words of Appreciation for Police and Fire "Incredible People"
CARDINAL NEWS | Arlington Heights Police Release Identity of 2nd Home Invasion Suspect on Evergreen Ave, Announce Charges of Felony Home Invasion and Murder
CARDINAL NEWS | Arlington Heights Police Investigate Homicide; Release Identity of Home Invasion Offender Found Shot Dead on 2nd Floor at House on Evergreen Ave, Arlington Heights
CARDINAL NEWS | Ring Camera Captures Home Invaders Approach House and Homeowner Defending Himself Against One Offender on Evergreen Ave, Arlington Heights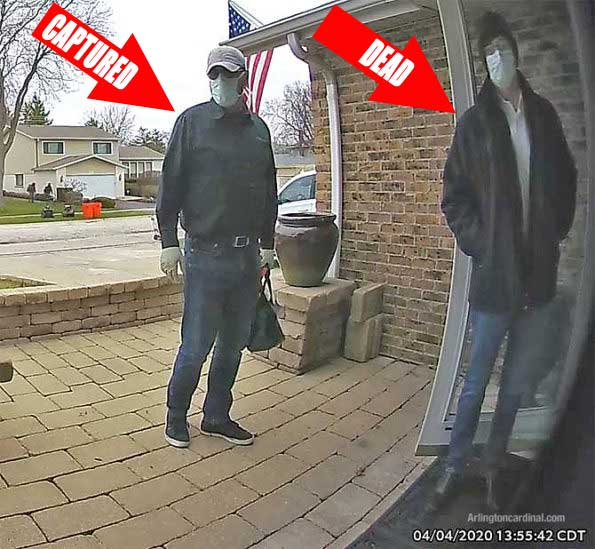 NIPAS response including images after scene was secured on Evergreen Avenue just south of Chicago Futabakai Japanese School in Arlington Heights (school was not in session).