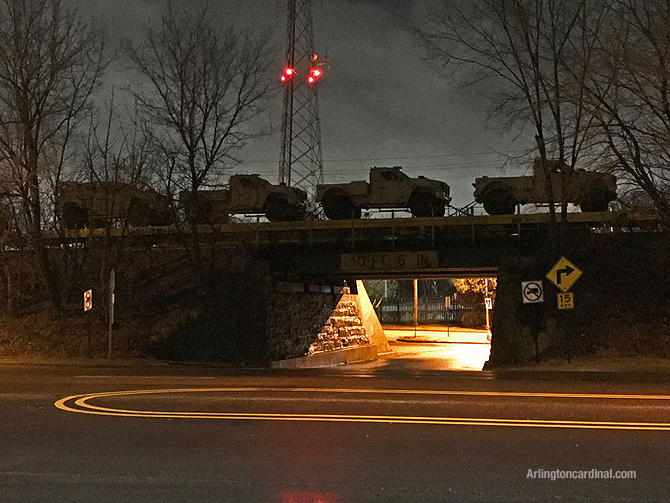 Hopefully people are tough enough to avoid letting a little freight train video freak them out, but stay motivated to listen to experts and use objective truth so the SARS-CoV-2 "coronavirus" dies in the wind without causing much more death or destruction.
Now more than any other time in the existence of CARDINAL NEWS, are facts so important to or readers and our business. News comes from many sources, and lately, there have been many rumors about Coronavirus COVID-19 that have turned out to be false, but fortunately were never published. There is also another layer of information that really always exists where bits of data are sorted out to determine which ones are true after those bits of information are assembled like a puzzle. There is also news information that involves relaying official releases from government or company officials.
Thursday night, March 19, 2020, there was a freight train hauling military vehicles parked at the border of Arlington Heights and Mount Prospect. CARDINAL NEWS documented the train with video and wrote an article about the incident with the only objective truth offered stating that a Union Pacific train hauling military vehicles was parked at the border of Arlington Heights and Mount Prospect.
The article did NOT state that the vehicles were National Guard vehicles. The article also did NOT state that the vehicles were going to be used to lock down Chicagoland.
In the first paragraph CARDINAL NEWS declared that the Illinois National Guard stated the vehicles weren't their vehicles. The article did NOT state any reason to disbelieve the Illinois National Guard, but did mention that some people were suspicious that the military freight was related to the Illinois National Guard activation responding to the Coronavirus pandemic. Many people expressed concern all day Thursday well before the CARDINAL NEWS article was posted on Friday afternoon.
One woman at the train scene Thursday night was near tears wondering what the military vehicles were all about. Other people at the scene were saying things like, "It's happening," or "they're here." It was sort of an eerie night anyway. The air temperature rose into a balmy mid-60s at night after a cold day. Low-lying clouds were pushing fast to the north in humid gulf air. Although the crowd at the scene wasn't huge, the atmosphere was a little like the crowd after a Fourth of July fireworks show — a little rowdy with people honking their horns as they drove by, and hooting and hollering.
The sight of the train was impressive — probably a trainspotter's dream. The portion of the freight train that was flatcars carrying the military vehicles was 4,300 feet long — the length from the railroad overpass at Davis Street in Arlington Heights to Fairview Avenue in Mount Prospect. The TTX flatcars carrying the military vehicles were estimated to be 60 feet long with approximately two, three or four vehicles on each flatcar. If there was an average three vehicles per flatcar, that would calculate to 215 military vehicles. If there was an average four vehicles per flatcar, that would calculate to about 287 military vehicles.
Many people were concerned Thursday and Friday long before CARDINAL NEWS posted an article about the vehicles at 3:00 p.m. Friday, March 20, 2020. Nobody, expressed concern or said they were panicked or afraid because of the article. However, one person said the article was a false story, and that research should have been done before the article was published. Another person said some things shouldn't be written because they cause panic.
Readers should know that CARDINAL NEWS articles and the posts on this Facebook page aren't written for children. The articles are written for adults that apply critical thinking on their own — not adults that only look at pictures, or adults that don't read beyond Facebook headlines. There was not a single person that expressed fear or panic about the military train article. The only fear and panic that was expressed in the thread was the sentiment from these two individuals regarding the pursuit of truth as a risk factor causing fear and panic.
Research was done before the article was published, and that's why the article stated that the military vehicles could be a routine shipment from Oshkosh Defense in Wisconsin, where the vehicles are manufactured. There WAS research done about the vehicles and Oshkosh Defense. However, since there was no official word from "the military" that the Illinois National Guard referred to, the article added that it was UNKNOWN whether the military vehicles were destined for a Coronavirus pandemic response, or were destined as new vehicles for a US military unit, or even a foreign military unit, such as military for the United Kingdom.
The vehicles had no armaments (e.g., no machine guns) on them, no radio antennas, and no other obvious accessories that would represent a vehicle that was ready to be deployed.
"The Union Pacific train's freight looked more like a shipment than a convoy or a task force assembly, which would probably have had a variety of other vehicles with the freight train shipment. The vehicles did not appear to have any official identifiable markings or external accessories installed, such as armaments. Oshkosh Defense is located in Wisconsin, so shipment of new vehicles could go through Chicagoland. The Oshkosh Defense vehicles have recently started replacing Humvees. No officials initially explained whether the military vehicles were moving for staging related to the Coronavirus pandemic response, or were being shipped 'brand new' to a US military unit, or were being shipped to another country. For example, the State Department approved a possible Foreign Military Sale to the United Kingdom for Joint Light Tactical Vehicles (JLTV) and accessories in July 2017."

— CARDINAL NEWS | Military Vehicles on Freight Train Sighted During Day Thursday; Discovered Parked Near Northwest Highway and Waterman Ave, Arlington Heights Thursday Night
Without specific confirmation from "the military," none of us really know the immediate purpose of these vehicles.
Neil deGrasse Tyson Teaches Scientific Thinking and Communication, categories of truth, confirmation bias and objective truth | Official Trailer | MasterClass (promotional video).
One of the great challenges in this world is knowing enough about a subject to think you're right, but not enough about the subject to know your wrong.

— Neil deGrasse Tyson
The good thing about science is that it's true whether or not you believe in it.

— Neil deGrasse Tyson
It's not good enough to be right. You also have to be effective. The less connected you are to what is objectively true, the less likely you will be able to make decisions that will benefit your life — your life, the life of your family, and even civilization itself.

— Neil deGrasse Tyson
The Unknown Causes More Panic than Truth
People are already panicked, but they are panicked about the economy as much as Coronavirus COVID-19. Restaurant owners, who already live on a thin margin, wonder how they will survive. Homeowners, wonder how they will pay for their mortgages if they can't work for months. There may be very good things that happen as we rebuild out of this crisis, but it may be very painful in the process.
Some are worried about stability on the streets — crime, food security, and their own security. That's fairly obvious by the hoarders that have ravaged stores, and by reports that people have purchased guns and ammunition at an increased rate.
Anyone with any common sense would wonder if those military vehicles on the freight train were being assigned to prepare to serve local hot spots, or to protect our own streets in a worst-case scenario. With FEMA already involved in this crisis, that could involve "the military" in addition to the national guard.
Here is what FEMA says in a training guide about the military's appropriateness in a national emergency …
The activities of the main U.S. Army branches, Infantry, Armor and Artillery have limited- to no-utility in a civil setting, although the personnel in those branches do provide an incredible manpower pool. The capabilities of smaller branches and other entities within the U.S. Army such as the Aviation Branch, Special Forces, Civil Affairs, and Chemical Corps would be more readily available and have direct application to an emergency situation.

— FEMA IS-75: Military Resources in Emergency Management (May 2011) SM II-8 [PDF]
The FEMA training guide also used Hurricane Katrina in 2005 as an example, explaining how it was discovered that the military had a long lead time for a useful response …
Long Lead Time for Some Military Units May Limit Their Utility
On September 5, 2005, after Hurricane Katrina had gone through the Gulf Coast, the Department of Defense mobilized the U.S. Army's 14th Combat Support Hospital (CSH) to provide a medical capability as a part of Joint Task Force Katrina, the umbrella organization in control of the responding Title 10 forces. The 14th CSH did not get set up until September 11th, after most victims of the flooding had already been evacuated, so this capacity was mostly employed to tend to the injuries suffered by the responders.

— FEMA IS-75: Military Resources in Emergency Management (May 2011) SM II-8 [PDF]
No Sugar-Coating Please
Authorities should be as clear and honest as possible. Most Americans who will be effective in building out of this crisis are tough enough to handle the hard truth. Disinformation about responses, masks, testing, etc. will create a society that doesn't trust government, and that uninformed society will become even more panicked without useful, truthful resources to solve their own problems.
As for the media? Verifying the truth is a laborious process and has many obstacles — from evasive government officials to uncontrolled social media, and biased or even nefarious sources.
Similarly, the media should independently verify truth, and while the media shouldn't sensationalize or "yell fire in a crowded theater" as the saying goes, the media shouldn't hide the truth or ignore the truth.
Stay informed with news from The Cardinal's Emergencies Behind the Scenes Facebook page — Facebook.com/CardinalEmergencies. For a list of all of The Cardinal Facebook fan pages, go to Arlingtoncardinal.com/about/facebook …

Help fund The Cardinal

Arlingtoncardinal.com/sponsor
JLTV Unrivaled from Oshkosh Defense (promotional video).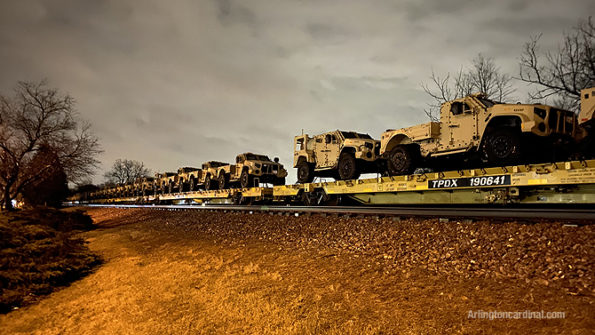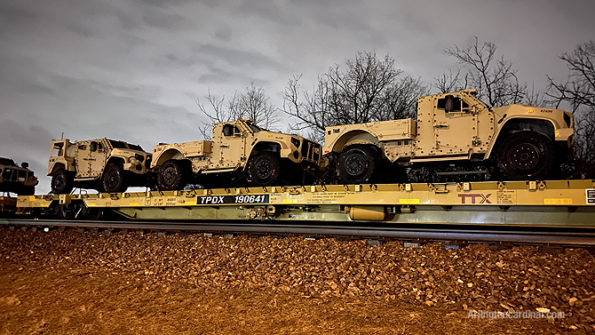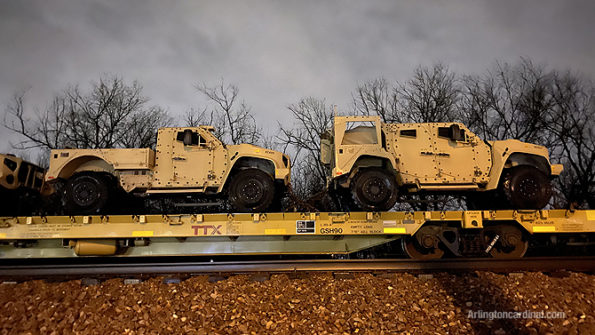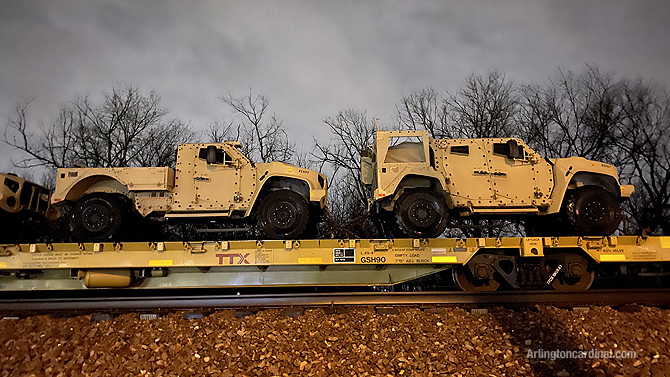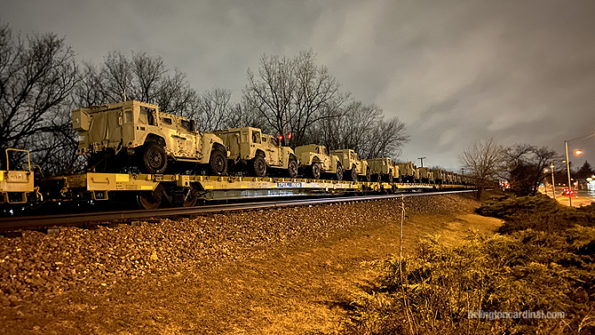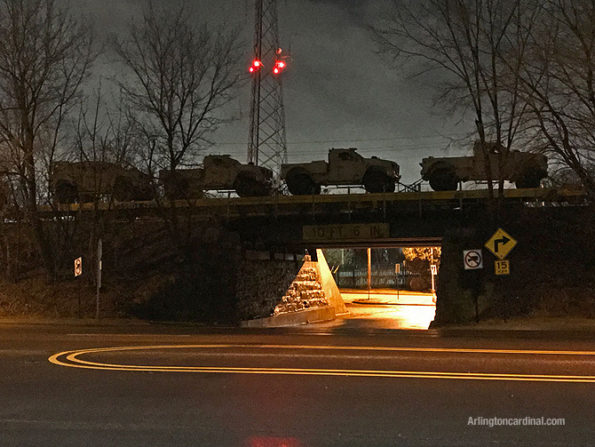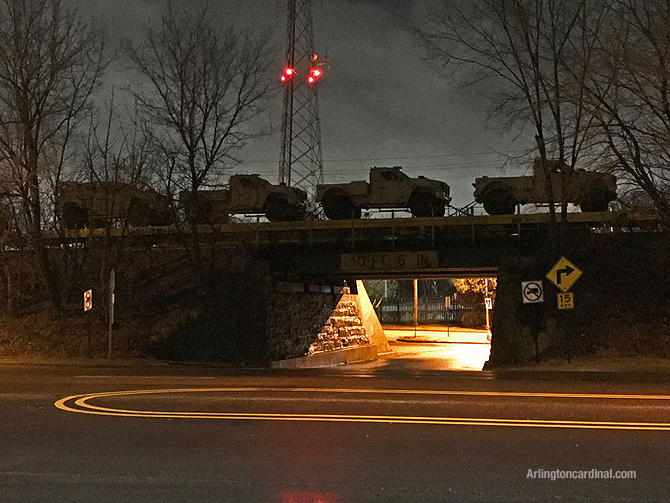 See also …
Military Surface Deployment and Distribution Command | DOD & Commercial Flatcars