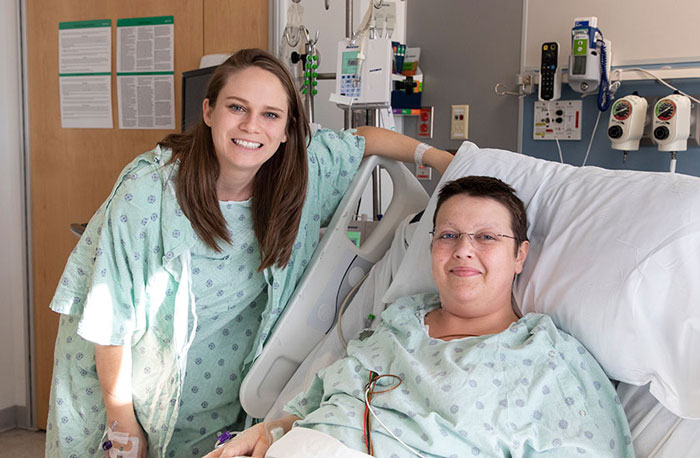 How a Facebook post inspired a Lakemoor police officer to give her kidney to a veteran she had never met.
Lakemoor, Illinois, police officer Nicole Gaborek responded to Facebook request on Rockford country music station 95.3 FM — "The Bull". The Facebook post that caught the police officer's attention in August 2019 requested a kidney from a live donor, and led her to donate a kidney on December 4, 2019 to Rachel Schultz, a 31-year-old Navy veteran who suffered from a chronic kidney disease.
Rachel Shultz is a Harvard, Illinois, native who served six years as a sonar technician on the guided missile destroyer USS Forrest Sherman "hunting submarines" before earning a degree in electronics engineering technology. She had started her career as a biomedical equipment technician and was pursuing a master's degree when her life was suddenly changed with a kidney problem.
Signs and Symptoms of IgA Nephropathy

Cola- or tea-colored urine (caused by red blood cells in the urine)

Repeated episodes of cola- or tea-colored urine, and sometimes visible blood in your urine, usually during or after an upper respiratory or other infection and sometimes after strenuous exercise

Foamy urine from protein leaking into your urine (proteinuria)

Pain in the one or both sides of your back below your ribs

Swelling (edema) in your hands and feet

High blood pressure
After noticing a rise in her blood pressure, doctors diagnosed Schultz with IgA nephropathy, also known as Berger's disease. The kidney disease causes the antibody immunoglobulin A (IgA) — a protein — to build up and clogged the tiny filters in the kidneys. Schultz was initially treated with powerful immune-suppressants. Within months, though, she needed kidney dialysis every day to replace the blood filter function that failed in her kidneys.
"Dialysis was like prison," Shultz says. "I used to travel the world, but now needed to get hooked up to a machine every day to function. I was alive, but I wasn't me." She was on a list to receive a kidney when one became available after an organ donor died.
"But that would have taken years, so I sunk myself into research and learned about living donations," Shultz says.
Her research led her to the Rush Living Donor Program at Rush University Medical Center. The Rush Living Donor Program allows healthy people with the same blood type as the kidney patient to donate one of their kidneys while they are alive.
Rush transplanted 31 living donor kidneys in 2018 and has the highest one-year kidney transplant patient survival rates in the Chicago area, according to the Scientific Registry of Transplant Recipients. The program also is designated a "Donor Care Network Center of Excellence." The registry serves as a national source for objective organ transplantation information. All organ transplant centers must provide data on program performance and make the data available to transplant patients.
The vast majority of living donors are family members or close friends of the person who receives their organ for transplant. "Most people know the person, and in many cases, they've seen the detriment to the patient from the renal (kidney) disease," says Edward Hollinger Jr., MD, PhD, a transplant surgery specialist at Rush and one of Schultz's doctors.
When no family members of close friends proved to be a match, Schultz and her friends began what she calls "the very strange process of looking for a complete stranger who would give me a kidney."
"Could you be the one to save Rachel Schultz's life?" Shultz' search included social media posts, outreach to veterans groups and blog posts. But it was a message shared by Rockford country music station 95.3 FM — "The Bull" — that led to the urgent Facebook post.
Lakemoor, Illinois, police officer Nicole Gaborek — embodying her professional role as an emergency first responder — responded to the Facebook message. Gaborek grew up in Arlington Heights and also served in the Des Plaines Police Explorer Post #142 for seven years. Gaborek graduated from John Hersey High School.
"My dad is a fireman and I'm a police officer. I've been around (first responders) my whole life. The ones who really love the job seem to have this deep drive to help people — to the point of risking their lives daily," Gaborek says in explaining why she is among the few who fully followed through with match testing.
After Rush confirmed she was a donor match, Gaborek was firmly on the path to providing a healthy kidney to someone who still was a complete stranger. To protect privacy, transplant coordinators only put living organ donors and recipients in touch if both of them give their consent, and wait to make the connection until the transplant process is completed.
'I told myself I wouldn't cry'

— Rachel Schultz
The transplantation was a success, and the newly tethered donor and recipient met for the first time.
"When I met Nicole for the first time, I told myself I wouldn't cry," Shultz says. "But that someone you don't even know would donate a kidney — it's mind boggling. Just awesome."
Both women were out of the hospital within days and are doing extremely well. They also now have a bond and friendship they say will last a lifetime. "A very long lifetime," Schultz adds.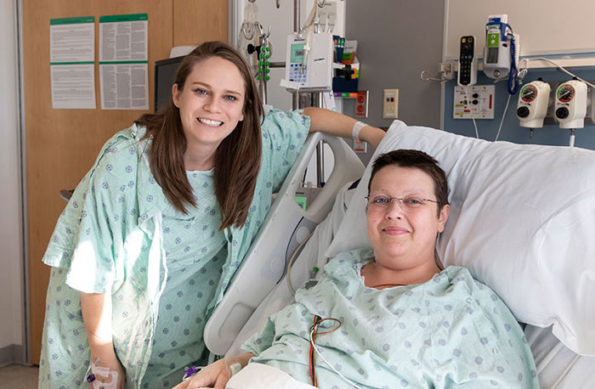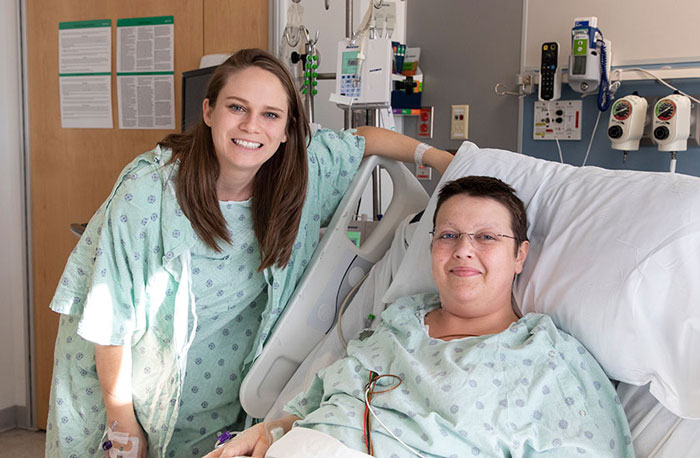 Another bond the women share is mutual hope that their experience convinces more people to consider donating a healthy kidney. Living organ donation not only helps meet the great need for donor organs, but also produces more rapid and lasting improvement in transplant recipients than organs donated after death.
"Living donor kidneys usually work right away, they work well, and they have the longest expected function," Hollinger says.
New law will make it easier to donate organs
A new Illinois law taking effect on Jan. 1, 2020 — the Living Donor Protection Act — should make it even easier for those willing to donate to do so.
Prior to the new law, many people willing to be organ donors were prevented from doing so because of fear of taking time off work or concerns over imperiling future insurance coverage. The new law prohibits employers from retaliating against employees who request to take leave of absence related to organ donation and amends the Illinois Insurance Code to make it unlawful to refuse to insure or limit coverage for life, disability, or long-term care insurance, or to charge a different rate for the same coverage solely because the insured is a living organ donor.
The law was sponsored by Illinois state representative Deb Conroy (D- Villa Park), who donated a kidney at Rush in 2018. "I would encourage anyone (to donate), if you have someone you care about," Conroy says. "Don't hesitate for a second, because it's an awesome experience."
MORE INFO BELOW ADS …


^^ MOBILE? USE VOICE MIC ^^
facebook …
Please 'LIKE' the 'Arlington Cardinal Page. See all of The Cardinal Facebook fan pages at Arlingtoncardinal.com/about/facebook …

Help fund The Cardinal

Arlingtoncardinal.com/sponsor
THANKS FOR READING CARDINAL NEWS