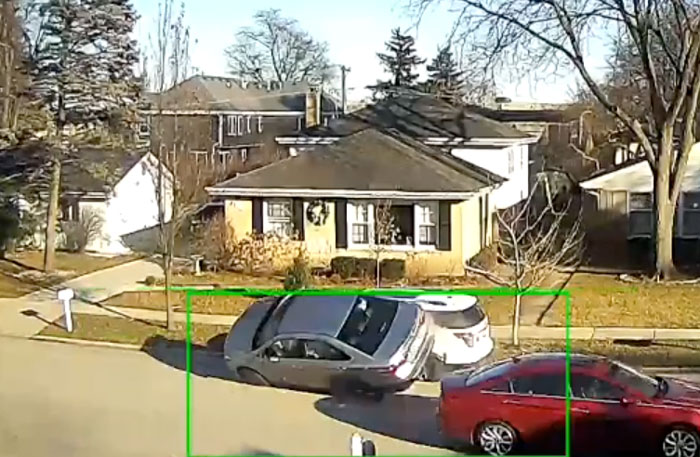 Rollover Crash captured on WYZE security camera on Cleveland Avenue Arlington Heights.
A rollover crash Tuesday December 10, 2019 about 2:13 p.m. is causing anxiety for neighbors in the middle southeast section of the village, where close-knit neighbors with a high number of child residents live on Cleveland Avenue. After the crash, a neighbor posted the security video (above) on Facebook, saying "for years we have been expressing our concerns with the Village of Arlington Heights and Arlington Heights Police Department about the distracted drivers that speed up and down Cleveland Ave." The crash occurred about an hour before children would have been walking home from school, and that has neighbors especially concerned. Only the driver of a rolled over Toyota sedan was injured in the crash.
There was one parked vehicle at the curb on each side of the block of 800 Cleveland Avenue when a northbound and southbound vehicle met head-on at the parked vehicles. The driver of a red southbound vehicle took the center of the street and began to take the path between the two parked vehicles first, but the driver of the northbound Toyota sedan decided to squeeze through instead of stopping. As the northbound driver squeezed through, a Ford Explorer parked on the north side curb was hit, pushing it partially onto the parkway. The northbound Toyota then rolled and landed upside down on the vehicle roof.
A long narrow municipality with only one major four lane roadway that runs the length of the village (Arlington Heights Road) is one drawback of the Village of Arlington Heights. Cleveland Avenue is a residential street, but it is not always treated by motorists as a residential street … more like a secondary arterial to Arlington Heights Road. Cleveland Avenue makes a good connection from Central Road to Davis Street, but not as good as Arthur Avenue, which is a commercial street that runs parallel to Cleveland Avenue just to the east. Arthur Avenue is wider than Cleveland Avenue, there are no stop signs the entire length of Arthur Avenue (except in the condition of an occupied crosswalk near ComEd), there is no parking allowed on most of Arthur Avenue, and the Speed Limit is not posted. Therefore, the Speed Limit is 30 MPH — the City/Town area Speed Limit in Illinois when no Speed Limit sign is posted. Arthur Avenue is the better connection to Davis Street and Northwest Highway, so there must be some way for Arlington Heights traffic engineers to encourage travel on Arthur Avenue instead of Cleveland Avenue. Unless Arthur Avenue is backed up, or the passing motorists live on the north end of Cleveland Avenue, or Roosevelt Avenue or McKinley Avenue (two streets that don't connect to Central Road); it's puzzling that motorists would choose to speed north on Cleveland Avenue. If most of the motorists that are speeding northbound are frequent travelers that live at the north end of Cleveland Avenue, Roosevelt Avenue and McKinley Avenue and nearby side streets; it might make sense to create a reputation of strict enforcement for Cleveland Avenue.
Cleveland Avenue neighbors want better traffic enforcement in the area. Neighbors at the crash scene mentioned that stop signs for Cleveland Avenue at Orchard Street would be an improvement. There are stop signs for Cleveland Avenue at Rockwell Street further north, but the Rockwell Street intersection is about half way between Central Road and Davis Street — too late in the minds of some neighbors. Some people think there needs to be better traffic control immediately north of Central Road to control drivers speeding north on Cleveland Avenue from Central Road. Stop signs at Orchard Street would provide earlier control of northbound speeders.
Stop signs on Cleveland Avenue from north to south …

Stop sign to Davis Street

No stop signs for Park Street

No stop signs for Fairview Street

4-Way stop signs at Rockwell Street

No stop signs at Maple Street (T-intersection)

No stop signs at Orchard Street, but Orchard Street has 2-way stop signs for Cleveland Avenue.

Stop sign to Central Road
Neighbors at the scene of the crash on Tuesday afternoon also said they have complained to the Village of Arlington Heights about problems with drivers speeding and cutting through on Cleveland Avenue between Central Road and Davis Street. The Speed Limit is posted 25 MPH, and an electronic Speed Limit sign was recently posted for northbound Cleveland Avenue.
Another method to control speed could be more police assignments with speed radar devices positioned on the side streets, such as Orchard Street, Maple Street, Fairview Street or Park Street where there are no stop signs. Additional assignments of police traffic units could pin a reputation on Cleveland Avenue as a strictly enforced area.
The first Speed Limit sign for northbound Cleveland Avenue is just north of Central Road and includes another sign just below it with small letters: "ENTIRE SUBDIVISION UNLESS OTHERWISE POSTED." That sign could possibly be replaced with "Speed Limit Strictly Enforced" or "Speed Radar Controlled" in larger letters.
There is already a "No Thru Traffic" sign posted for northbound Cleveland Avenue, but it is only visible after westbound Central Road motorists have already committed to their northbound turn on to Cleveland Avenue.
The addition or increase in signs that say "Speed Limit Strictly Enforced" and "Slow Children" could also be considered. One resident already puts up his own lime green "Slow Children" human figure sign intermittently.
Rollover crash after driver hit a Ford Explorer SUV that was legally parked on the street on Cleveland Avenue in Arlington Heights.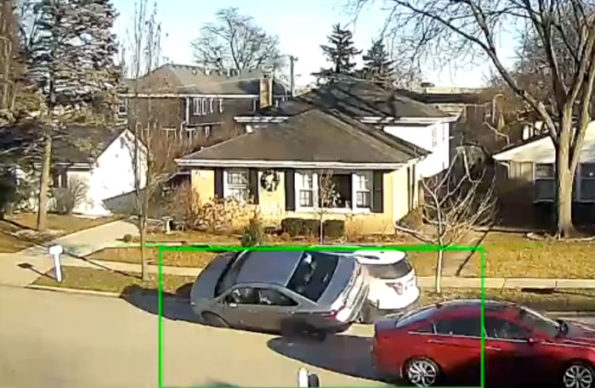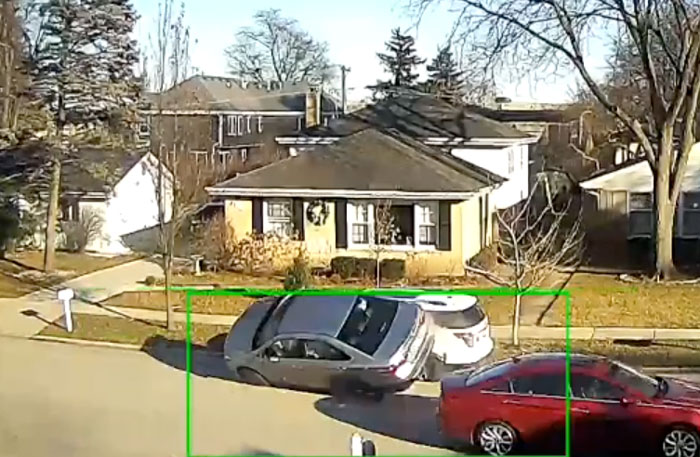 MORE INFO BELOW ADS …


^^ MOBILE? USE VOICE MIC ^^
facebook …
Please 'LIKE' the 'Arlington Cardinal Page. See all of The Cardinal Facebook fan pages at Arlingtoncardinal.com/about/facebook …

Help fund The Cardinal

Arlingtoncardinal.com/sponsor
THANKS FOR READING CARDINAL NEWS