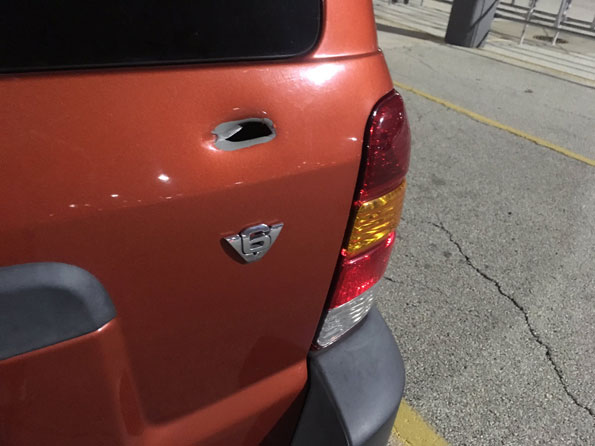 Scene immediately after shootout in Walmart parking lot, Rolling Meadows (Note: male in handcuffs is NOT confirmed as a suspect).
Rolling Meadows and Arlington Heights police and firefighter/paramedics responded about 4:39 PM Saturday June 15, 2019 to a shooting at Walmart parking lot 1460 Golf Road Rolling Meadows, IL. Police received a report that one person was shot in the abdomen. Upon arrival first responders confirmed that a male adult was shot in the abdomen.
The male patient shot in the abdomen was transported to Level I Trauma Center Advocate Lutheran General Hospital in Park Ridge by Arlington Heights firefighter/paramedics.
A second ambulance was requested to check on some children passengers that were in a black minivan. They may have been hit by flying glass. A rear driver's side door glass was shattered — likely by gunfire.
The shooting scene was in a parking lane about half way between the garden center and the main entrance to the store — on the store side of the parking lot as opposed to the distant part of the parking lot.
Rolling Meadows Police Department announced late Friday that the conflict began after a dispute involving custody exchange of a child. Rolling Meadows Police also confirmed that shots were fired by multiple individuals.
ALERT: Facebook blocked all Cardinal News pages for a 3-Day suspension (until Tuesday June 18, 2019). PLEASE share/retweet using your social media (Twitter and Facebook). PLEASE HELP CARDINAL NEWS with YOUR effort to make up for our unfair loss by Facebook's discriminatory actions.

It appears that in a latest action, Facebook has also prohibited the ability of Cardinal News to respond to messages, although messaging was working initially during the suspension … so sorry about that.

You can FOLLOW Cardinal News on Twitter.com/EarlyReport instead.
Please Note the New Status Page for CARDINAL NEWS

You can check Arlingtoncardinal.com/status to see any updates about possible future Facebook suspensions. Information about alternate ways to follow or subscribe to CARDINAL NEWS articles are included. Also included are instructions on how to file a complaint against Facebook with the Better Business Bureau and the Federal Trade Commission.
A witness, who did not want to appear on camera said he heard gunshots inside the business where he works. He looked outside and saw two armed people shooting at each other while heading eastbound on foot down the parking aisle toward him. The witness said he heard "multiple, multiple gunshots." For his safety, the witness said he retreated back into the business where he works.
No official information was initially released by police regarding the sequence of events. One or more Walmart security cameras are likely to have captured the images and sequence of events of the shooting. Here is an unverified witness account (before official clarification) of what might have happened. The witness believed that one person shot at another. The person that was shot at, returned fire, and struck the male victim that was later transported to Level I Trauma Center Advocate Lutheran General Hospital. A third person, who was also armed, "backed up his buddy that was shot" according to the witness, and that's when the exchange of gunfire occurred heading on foot eastbound down the parking aisle.
Among the involved vehicles in the shooting, it appeared that a dark sedan with a Lyft ride-sharing sign on the dashboard and a dark minivan were parked side-by-side in parking spaces facing northbound in the parking lot. The right-rear (passenger side) window was shot out. The minivan was driven out of the parking spot, and came to rest facing westbound toward the Walmart building. Apparently the children that were hit by debris or shattered glass during the shooting were passengers in the minivan. A female adult also appeared to be connected to the minivan.
In the process of the gunfire exchange, about five or six vehicles parked in the parking lot were hit by bullets. The left rear tire of a large pickup truck was struck and flattened by a bullet. The undercarriage of the pickup truck was also possibly hit. A red Ford Escape was hit twice by bullets — once in the tailgate near the right tail light, and once in the running board molding area just in front of the left rear tire and wheel well. A silver Jeep SUV was also hit in the left front fender, a dark sedan was hit, and possibly another small SUV was hit. No injuries were reported among innocent people that were not connected to the shooting.
Upon arrival, police quickly secured the scene, and one male/black subject was detained in the parking lot with handcuffs. Initially there was no confirmation whether the male subject was a suspect in the shooting or a detained witness.
A black handgun had been placed on the trunk of a car, and it appeared shell casings were marked on the pavement in the parking lot.
Investigation of vehicles of innocents hit by bullets at Walmart, Rolling Meadows
Bullet hole in innocent persons red Ford Escape at Walmart parking lot https://t.co/Q2FpTsGcD7 pic.twitter.com/E0y6Trtjff

— Cardinal News (@EarlyReport) June 16, 2019
Innocent person's pick up truck has tire shot flat at Walmart parking lot https://t.co/Q2FpTsGcD7 pic.twitter.com/ZWQKhRZjXP

— Cardinal News (@EarlyReport) June 16, 2019
IMPORTANT: The information in this article is an early report published before any information was confirmed or released by police or fire authorities.
LIVE TRAFFIC MAP of neighborhood of the incident near 1460 Golf Road Rolling Meadows, IL …
More Cardinal news Saturday June 15, 2019 …
MORE INFO BELOW ADS …


^^ MOBILE? USE VOICE MIC ^^
facebook …
GET ALERTS on Facebook.com/ArlingtonCardinal
GET ALERTS on Facebook.com/CardinalEmergencies
GET ALERTS on Facebook.com/ArlingtonHeightsCrime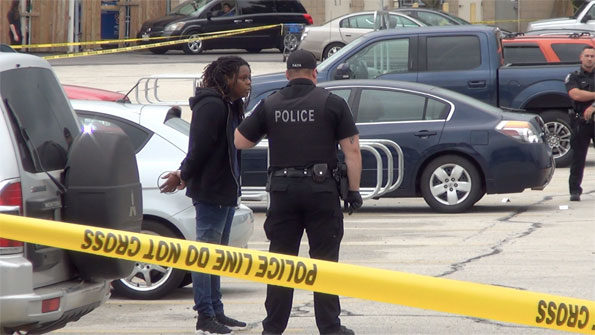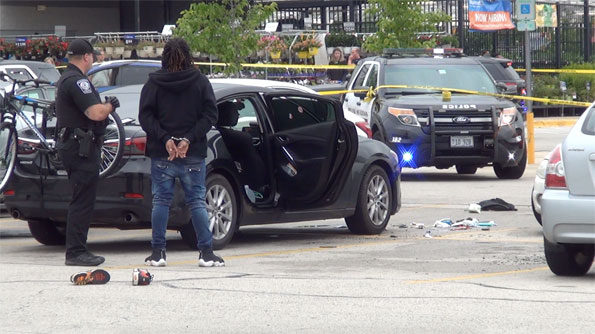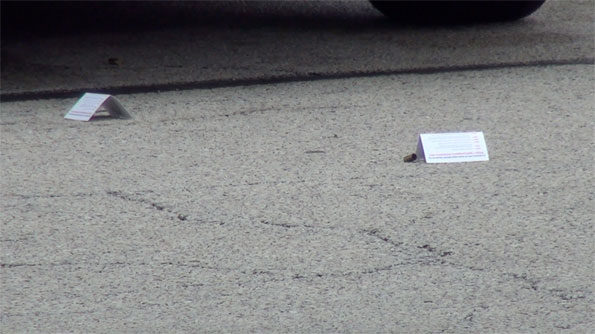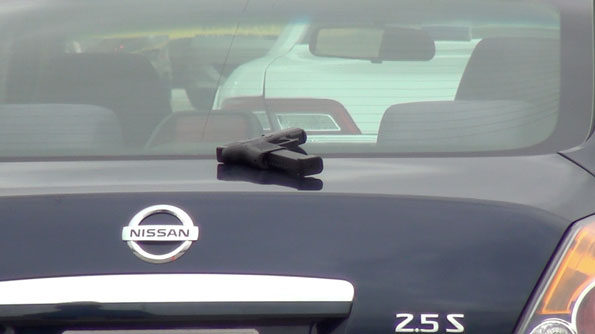 Please 'LIKE' the 'Arlington Heights Crime Page. See all of The Cardinal Facebook fan pages at Arlingtoncardinal.com/about/facebook …

Help fund The Cardinal

Arlingtoncardinal.com/sponsor
Arlingtoncardinal.com/dashcam …
Arlingtoncardinal.com/weather … …
THANKS FOR READING CARDINAL NEWS