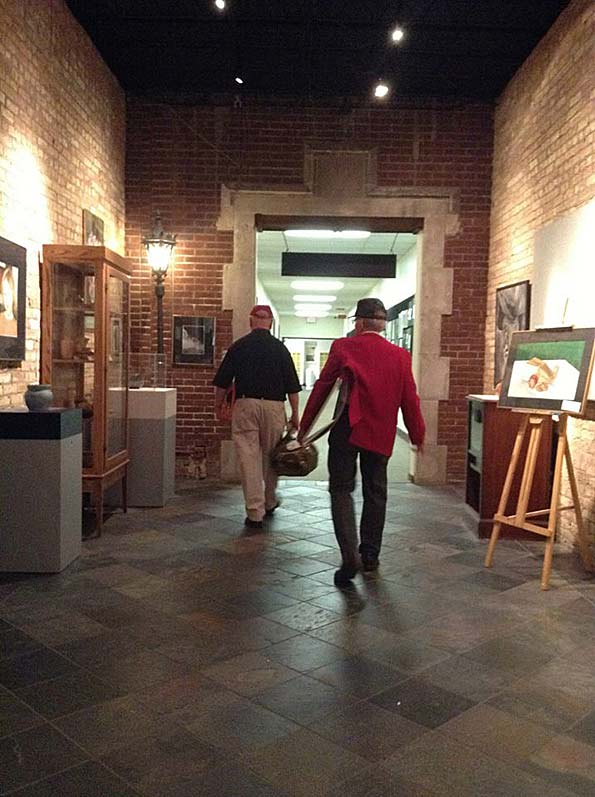 Russ Attis, the last Athletic Director to serve at Arlington High School (1922-1984), died on Saturday morning March 16, 2019 — two days after John Rowe, the last Principal to serve at Arlington High school, died on Thursday night March 14. Attis, who could do more pull-ups than most high school students, and ate oatmeal every morning, died at age 95.
Russ Attis arrived at Arlington High School as a physical education teacher and as temporary replacement for an ailing track coach. He kept the job and became Athletic Director in his later years. Attis was at Arlington for the construction of the main gym — later named Grace Gym. That gym and a corner office near the gym, and the football field to the north was his domain.
Russ Attis received his undergraduate degree in physical education in 1945 and his Masters in education in 1946 from the University of Illinois where he belonged to the Tau Kappa Epsilon fraternity. After graduating, Attis taught at the University of Illinois for one year (Urbana and Navy Pier Campus), Chicago Public Schools for two and a half years and later at Northern Illinois University.
Attis taught physical education, health and drivers education at Arlington High School, and was head coach of the Varsity boys track and cross country teams and Varsity girls track. He later became Athletic Director at Arlington High School until the school closed in 1984. He also served as an official at the Illinois Boys State Track meet for 24 years.
In 1978 Attis was named Athletic Director of the year by the Illinois Athletic Director's Association. He was a member of the Lattof International YMCA Board of Directors for 14 years. He was also a member of the Des Plaines Elks Club, Arlington Heights Optimists Club and a long time member and usher at St. James Catholic Church. He was also a Charter Member of Oak Park Ski Club.
Visitation for Russell Attis is Wednesday, March 20, 2019 from 4:00 PM until 7:00 PM at the Glueckert Funeral Home, Ltd., 1520 N. Arlington Heights Road, (4 blocks south of Palatine Road) Arlington Heights. Funeral Mass 10:00 AM, Thursday, March 21, 2019 at St. Edna Catholic Church, 2525 North Arlington Heights Road, Arlington Heights. Interment All Saints Cemetery.
VIDEO: Former Arlington High School Athletic Director Russ Attis birthday celebration.
Fans, former students, fellow teachers, former school administrators, and village leaders took time out of their day to honor Russ Attis and celebrate his 90th birthday at the former Arlington High School, and current Christian Liberty Academy.
In a large teachers' lounge, that used to be the home economics classrooms at Arlington High School, it was standing room only.
Former Daily Herald Sports Editor Bob Frisk and former Dean of Students Guy Vena introduced the former Athletic Director at Arlington High School. Attis then spoke to an admiring crowd.
See Over 180 photos on Facebook.com/ArlingtonCardinal … "CELEBRATION: Russ Attis 90! Saturday 08.10.2013" …
RELATED NEWS …
CARDINAL NEWS | Big Turnout for Birthday Celebration for Arlington High School Athletic Director Russ Attis
The Cardinal — Arlingtoncardinal.com Russ Attis Celebrates 90-Year-Old Birthday Saturday, August 10, 2013 at Former Arlington High School
RUSS ATTIS SPEECH BELOW ADS …


^^ MOBILE? USE VOICE MIC ^^
facebook …
GET ALERTS on Facebook.com/ArlingtonCardinal
GET ALERTS on Facebook.com/CardinalEmergencies
GET ALERTS on Facebook.com/ArlingtonHeightsCrime
Get updates from The Cardinal ALL NEWS FEEDS on Facebook. Just 'LIKE' the 'Arlington Cardinal Page (become a fan of our page). The updates cover all posts and sub-category posts from The Cardinal — Arlingtoncardinal.com. You can also limit feeds to specific categories. See all of The Cardinal Facebook fan pages at Arlingtoncardinal.com/about/facebook …

Help fund The Cardinal

Arlingtoncardinal.com/sponsor
Attention Cardinals: Lend me your ear.
I have a message for you to hear.

Forest Gump, world renown philosopher, said;
"Life is like a box of chocolates — you never know what you are going to get!"

In my haste, I replied:
"Stop the world — I want to get off!"
"Life is not a dress rehearsal — this is it — it's for real."

Because of our being here, we are
catalysts for hope, response, and rebirth of our once happy existence —
if for only a few precious hours.

I come before you with mixed emotions.
Sadness in my heart.
Sadness that Arlington is closed.
Sadness in what I see taking place
in schools throughout our union!

Yet, I am glad to be part of
this celebration and reunion.
We are reliving a dream.

On June 8th, 1984 District 214 Board
of Education closed Arlington High School.
Forget the name, history, and
accomplishments. Bending our spirit (not breaking it).

Like a sand castle on a sandy beach,
waiting for the tide to wash away
our creation, Arlington High School
ceased to exist.

For the past 18 years we have been mending and healing. The Glue,
our will and spirit — the real stuff
in life to cling to. Fame, when you
win it, come and goes in a minute.
So I say, make others happy, and
you will be happy too. That's our motto!

Our school is closed — but not our mind.
Memories and interaction will survive.

To all brothers and all people,
here's to the winners all of you can be.

To Boards of Education everywhere and
to Dist. 214 in particular, I offer
some advice.

Possess the serenity to accept what
you cannot and should not change.
The know-how and understanding to
change what you can, and the
wisdom to tell the difference!

Martin Luther King had a dream.
John F. Kennedy said, "Ask not what
your country can do for you — but what
you can do for your country."
President Reagan asked the Russians
to tear down the wall — the wall of separation.
General Douglas MacArthur said, "Old
soldiers never die — they just fade
away."

District 214 Board of Education asked
us all to forget our name, our history,
our memories, and our academic achievements.
Keep quiet, don't make waves,
and just ride off into the sunset.

On June 8th, 1984, I was not quite
ready to ride off into the sunset.

Today, 18 years later, I'm still not ready to ride off into the sunset.

I retired from a job — not from life.

Today on this clear and happy day —
a dream is a reality — our Homecoming
Oct. 5, 2002.

Welcome to our Field of Dreams.

But wait, I hear voices crying out
in the limitless boundaries of
space, "Where is our school??"

Arlington Alumni — here is our school —
if for only a day and a moment
in the march of time.

Yesterday is history —
tomorrow is a mystery —
today is a gift — the present!

Here is our Rock of Ages — our
monument in stone — as proof of
our existence!

All of our individual award medals
are gone.
All the trophies are gone.
All the Hall of Fame pictures of
male and female athletes are gone.
Lost forever.

But look — on this Field of Dreams —
where we spent our Blood, Sweat,
and Tears in competitive behavior —
We are reborn and re-incarnated!

This is our shining hour. We must
keep an open mind — open to
everything and attached to nothing.

This is our mission — Life is a journey —
a roadway.

If I may borrow a Yogism —
When you come to a fork in the road —
Take it.

In ending this soliloquy —
I say to the Board of Education

Your scarred our mind.
You scarred our heart.
You scarred our soul.

To all Arlington Graduates, Alumni,
athletes, teachers, and coaches
here and everywhere — on earth
and in the heavens — beyond our reach!

Turn your scars into stars!
Turn your scars into stars!
Turn your scars into stars!

Be good to yourself and thank you!

— Russ Attis, AHS Homecoming 2002