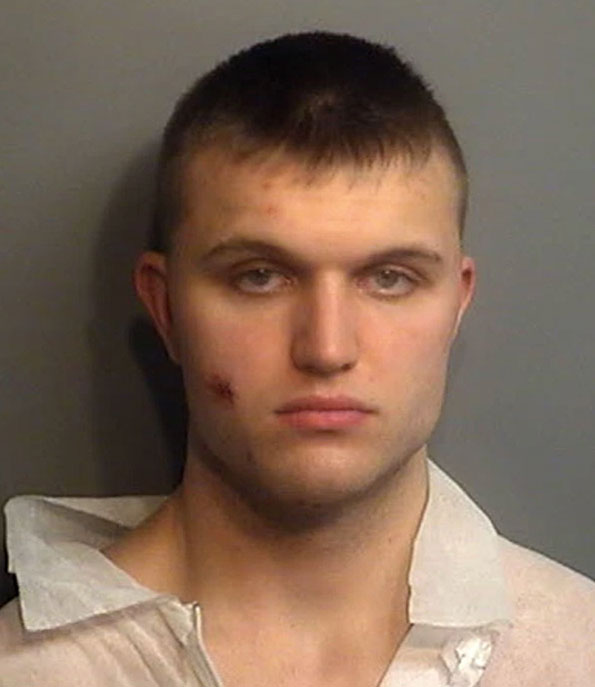 The Mount Prospect Police Department announced on Thursday February 22, 2018 the arrest of Paul A. Zalewski, 21 years old, of 2 East Berkshire Lane, Mount Prospect, for the murder of Vladimir Esquivel, following the discovery of his body in a Jeep Wrangler that was engulfed in flames in an apartment complex in the block of 1700 West Algonquin Road just after midnight on Friday February 16, 2018. The Cook County State's Attorneys Office approved charges of one count of felony First Degree Murder and one felony count of Concealment of Homicidal Death against Zalewksi in the death of Vladimir Esquivel.
On the evening of February 20, 2018, members from Cook County High Intensity Drug Trafficking Areas (HIDTA) team took Zalewski into custody in the block of 1000 Addison Court, Mount Prospect on previous drug charges. Simultaneously, Mount Prospect Police Detectives, along with members of MCAT, executed search warrants on Zalewski's home (block of 99 East Berkshire Lane, Mount Prospect), vehicle, and the location of the homicide at 1042 Addison Court. Evidence obtained during these searches were instrumental in the levying of charges against Zalewski.
Zalewski's residence on Berkshire Lane is located near Emerson Street, southwest of Lions Park. The Addison Court address is a desolate commercial and industrial location just west of the petroleum tank farm, and just northeast of I-90 and Busse Road.
After Paul A. Zalewski was charged with felony First Degree Murder and Concealment of Homicidal Death, he was transported to the Cook County 3rd District Courthouse in Rolling Meadows for a bond hearing Thursday afternoon February 22, 2018.
"Cases such as these where the location of the murder and where the body's location differs and where steps are taken to destroy evidence through means of fire are extremely difficult to solve. It was only through the collaborative efforts and tireless work of the detectives and officers involved, this case was able to clear, and a cold-blooded killer was taken off of the streets."

— Police Chief John Koziol
Vladimir Esquivel was found dead inside a burning Jeep Friday, February 16, 2018 just after midnight at a Cinnamon Cove Condominiums parking lot in Mount Prospect. Esquivel had been shot multiple times, according to the Cook County Medical Examiner's office. An autopsy was conducted Saturday morning, February 17, 2018 and the results of the autopsy determined the victim died of multiple gunshot wounds and his death was a homicide.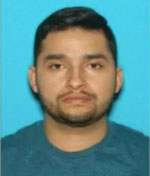 The man was identified as Vladimir Esquivel, age 29, of Arlington Heights on Saturday February 17, 2018. As of Friday night, police had a name for the deceased, but had been unable to "positively verify" the identity of the deceased. Mount Prospect police report the man was found dead inside the vehicle after the fire was extinguished by Mount Prospect firefighters. Mount Prospect police officers attempted to extinguish the vehicle fire with two fire extinguishers before firefighters arrived. Firefighters on arrival used a hose line to extinguish the fire.
Mount Prospect police and firefighter/paramedics responded about 12:03 AM Friday February 16, 2018 to a report of a vehicle fire at a Cinnamon Cove Condominiums parking lot, 1793 West Algonquin Road Mount Prospect, Il. Police and firefighter/paramedics received a report that an explosion was heard, and a witness discovered a Jeep "fully-involved" with fire at a Cinnamon Cove Condominiums parking lot.
Firefighters discovered a body inside a Jeep by 12:13 a.m. and requested Battalion Chief 3 and fire investigators respond to the scene.
The incident was immediately classified as suspicious, and police said they did not have information that connected the deceased male as the owner of the Jeep. Also, police had reported that the vehicle and the location where the vehicle was discovered are not known to be connected.
Neither Mount Prospect Police nor the Cook County Medical Examiner's Office have released the location — in the interior of the Jeep — where the body was found. Investigators were challenged with determining when and where Vladimir Esquivel was shot before the Jeep fire was ignited, including whether he was shot inside the Jeep. Police or the Cook County Medical Examiner have not released whether there is a known time frame when Esquivel was likely shot.
The Jeep was parked a distance of about 20 feet, directly in front of a condominium unit window on the first floor.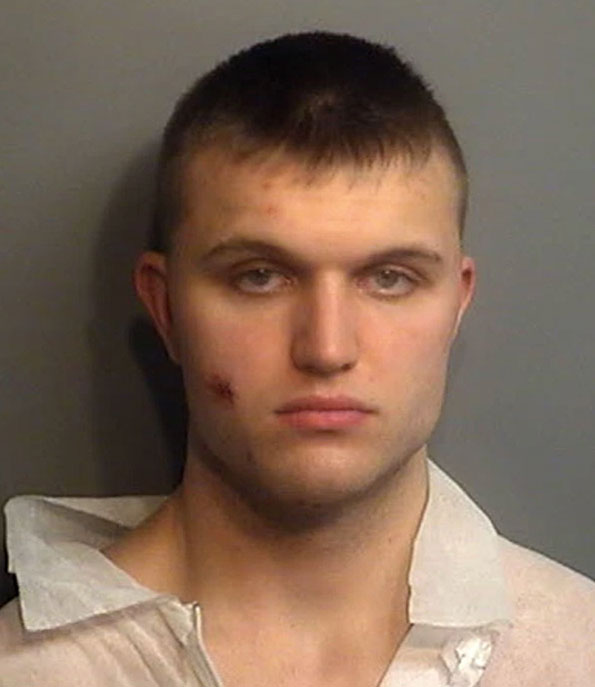 Paul A. Zalewski, homicide suspect Mount Prospect.
[MORE BELOW AD]
facebook …
GET ALERTS on Facebook.com/ArlingtonCardinal
GET ALERTS on Facebook.com/CardinalEmergencies
GET ALERTS on Facebook.com/ArlingtonHeightsCrime
Stay informed with news from PublicSafetyReporter.com's Emergencies Behind the Scenes Facebook page — Facebook.com/CardinalEmergencies. Includes links to favorite public safety and emergency rescuers and product manufacturers and safety companies that have Facebook pages. Submit your pictures or just stay up-to-date on with fire, rescue, EMS and police photo galleries. Please add your public safety photo to the timeline, or send a message to the page.
Help fund The Cardinal

Arlingtoncardinal.com/sponsor
INVESTIGATION …
Police did not release whether any surveillance video in the area has identified an arrival time or any suspect information connected to the burning Jeep and crime scene at the Cinnamon Cove parking lot.
Mount Prospect police also have not released the name of the registered owner of the Jeep, the city name for the registered owner of the Jeep, or whether or not the Jeep was reported stolen.
The Major Case Assistance Team was called in to assist Mount Prospect Police Department with the investigation of the death in the burning vehicle/homicide case. MCAT was on the scene until about 10:00 a.m. Friday. Also, the Jeep, covered by a tarp, was towed away from the scene at about 10:00 a.m. Friday. Mount Prospect police say the Jeep was towed by a flatbed tow truck to an indoor facility, where it "was forensically examined more thoroughly for trace and other evidence by the Major Case Assistance Team Forensic Unit along with MPPD Technicians."
Mount Prospect police stated that their police department and the citizens of Mount Prospect are grateful to the members of MCAT, which include investigators, forensic technicians, and the surveillance team, members of the Cook County HIDTA team, and the Cook County State's Attorneys Office, who without their assistance, the case would not have come to the resolution that it did.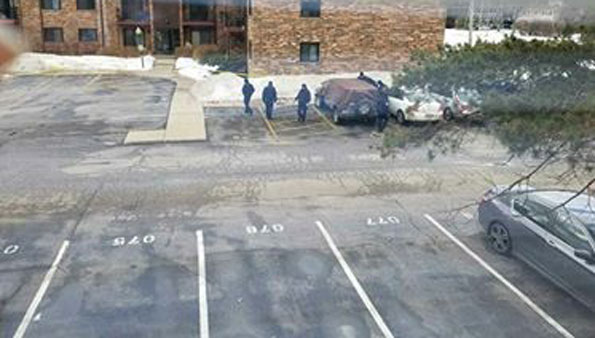 Jeep with tarp after vehicle fire at Cinnamon Cove Condos.
LIVE TRAFFIC MAP of neighborhood to a report of a vehicle fire at a Cinnamon Cove Condominiums parking lot, 1793 West Algonquin Road Mount Prospect, Il …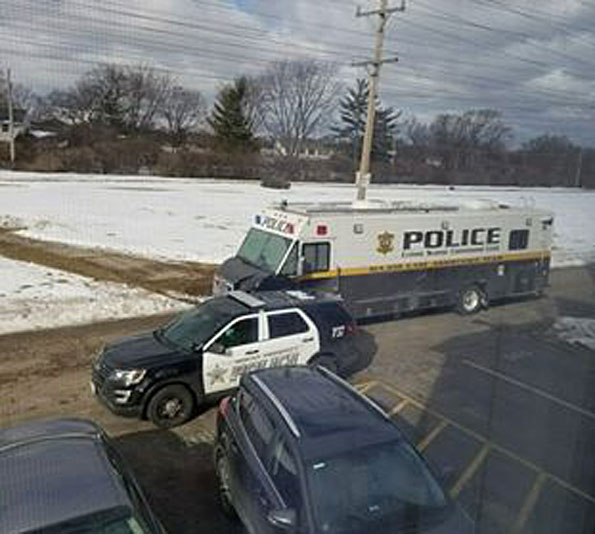 MCAT at Cinnamon Cove Condos after vehicle fire with a deceased male in the vehicle.
Arlingtoncardinal.com/dashcam …
Arlingtoncardinal.com/weather … …
More Cardinal news Friday February 16, 2018 …