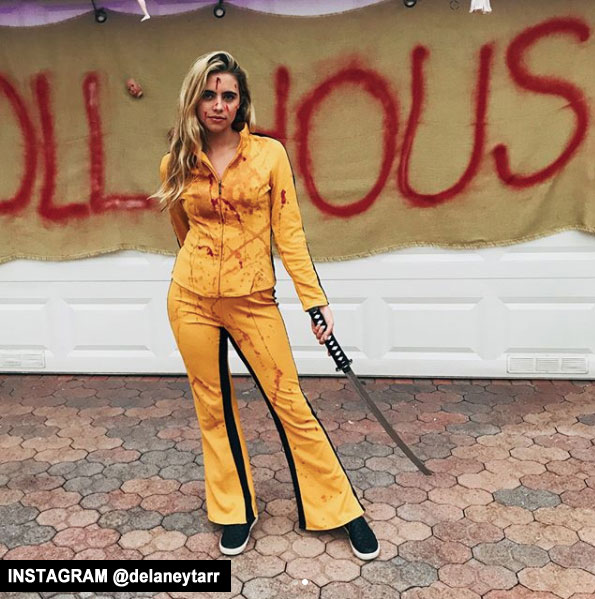 Students Carly Novell and Delaney Tarr, survivors of the high school mass shooting in Parkland, FL, discuss their call for common-sense gun control legislation in the U.S. on Comedy Central.
Delaney Tarr is a senior at Marjory Stoneman Douglas High School in Parkland, Florida. In her recent op-ed submitted to Teen Vogue magazine, she explains why she and her classmates are mobilizing in response to the mass shooting by a former classmate.
In the essay that Delaney Tarr submitted to Teen Vogue, she claims "We have just been robbed of our youth. The regular, ordinary concerns of high school students are now gone for myself and my fellow classmates."
However, a look at Delaney Tarr's Instagram account, dating back to October 31, 2017, appears to show an awareness beyond ordinary concerns of high school students. In two photos, Tarr is dressed as a character from the movie Kill Bill: Volume 1 — showing she has detailed awareness of a movie that is considered by some as the most violent movie ever released by a major American movie studio. Tarr's clothing replicates Uma Thurman's character (Code name: Black Mamba, revealed as Beatrix Kiddo in a sequel) with her face and yellow workout suit spattered with spots and streams of fake blood. She's also holding a sword.
OCTOBER 31 2017 …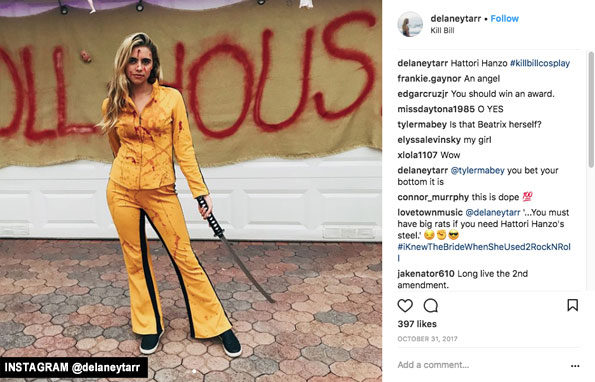 Instagram Gun activist Delaney Tarr sword down.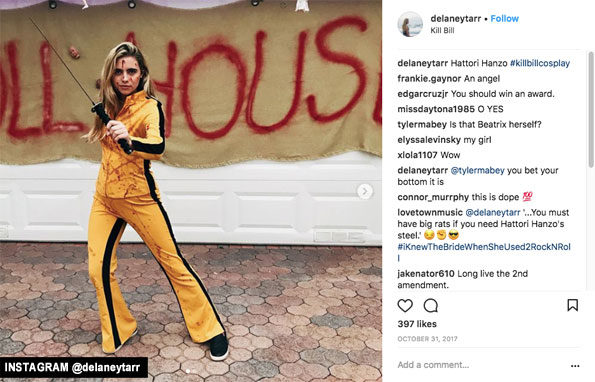 Instagram gun activist Delaney Tarr sword up.
Recently …

Our childhoods may have been stolen from us but there are so many lives that can still be protected, and saved. Just because this has happened to many before us does not mean it must continue to happen to those after. The innocent young people that deserve their youth — my 12-year-old sister or the four-year-old I babysit — shouldn't have to live in a world of code reds and shooter protocol and closet hideouts. They shouldn't live in fear. Every kid, every person, deserves to feel safe wherever they go, especially at school.
The posting of the violent depiction of a sword-wielding female from an extremely violent movie "Kill Bill" is evidence that Delaney Tarr's childhood and innocence were already stolen by Hollywood at least months before the Marjorie Douglas Stoneman High School mass shooting.
Comprehending Delaney Tarr's contrast regarding her recent statements regarding guns, mass shootings; and her previous expression in October 2017 showing her awareness and perhaps even obsession with extreme violence in film, might cause a reasonable person to wonder …
"Maybe the mass shooting problem is not so much about guns, but about Americans' obsession with violence, especially as consumers' appetite for violence is fed by Hollywood."
Extreme Example of Childhood Innocence Stolen

On June 8, 2001 a former school janitor entered the Ikeda Elementary School in Osaka, Japan with a kitchen knife and killed 8 children, and seriously injured thirteen more children and two teachers.
If a teenage girl's mind, like Delaney Tarr's, is motivated to watch or learn about a film such as "Kill Bill" (who knows if she actually watched the film), and then produce and wear a Halloween costume and take pictures that appear to glorify violence; what cultural influences affected the mind of Parkland's mass shooter Nikolas Cruz to motivate him to kill multiple classmates and teachers at the high school he once attended?
Were negative cultural influences, which caused the critical mass to kill, more relevant than the possession of an AR-15? If total gun control had been achieved before Nikolas Cruz snapped, would he have chosen another method of mass killing?
Perhaps …
Vehicular homicide of pedestrians?
Arson fire?
Mass killing with a sword?
Delaney Tarr argues, "We know the damage that organizations like the NRA do. We know the money that is flowing directly into politicians's hands in exchange for more semi-automatic rifles in circulation. We also now know that the shooter was able to legally access an AR-15."
Delaney Tarr wrote nothing about the depicted violence that is exported to the world by America's Hollywood; or the consumers — perhaps including herself — that eagerly flow money directly into the hands of Hollywood directors, like Quentin Tarantino, who has directed a long list of extremely violent movies.
Some might argue that Delaney Tarr's Halloween "Kill Bill" photos represent a healthy expression of aggression, but the truth of that concept is uncertain. Certainly a thinking person, who doesn't personally know Delaney Tarr, might be concerned whether or not Delaney Tarr has her own sword murder/revenge fantasies. What is certain? Delaney Tarr already knew a lot about violence, and she was comfortable enough with violence to splatter herself with fake blood and carry a dangerous sword or replica of a dangerous sword and share it; and she was willing to promote images of herself with a weapon capable of killing multiple people to a worldwide audience on the Internet.
KILL BILL MPAA FILM RATING
R – Restricted
Under 17 requires accompanying parent or adult guardian. Contains some adult material. Parents are urged to learn more about the film before taking their young children with them.
What Common Sense Media Says About "Kill Bill"
"They (parents) should know that the movie has the most intense, graphic, brutal, and destructive violence imaginable (at least until Tarantino thinks up something new). Body parts are sliced off and blood gushes and spurts like a geyser. Many characters are maimed and many more are killed. A mother is murdered in front of her young child. A man's head is sliced off and tossed around. A character is repeatedly raped while she is unconscious. Characters drink and smoke and use very strong language.
This is a stylish and visually striking movie, but it is also a very violent movie, possibly the most violent movie ever released by a major American movie studio. The carnage is so completely and outrageously over the top that it could trigger laughs, but some may find the endless slicing off of body parts and gallons of fake spurting blood overwhelming or even numbing. Much of the movie is one fight scene after another, yet the revenge provides a motive and a hero, giving the fight scenes enough forward momentum to feel like a story."
See also …
Teen Vogue I Survived the Parkland Shooting. This Is What I Want Everyone to Know
the Japan times Suspect may suffer from personality disorder
common sense media Kill Bill: Vol. 1
Instagram @delaneytarr
facebook …
GET ALERTS on Facebook.com/ArlingtonCardinal
GET ALERTS on Facebook.com/CardinalEmergencies
GET ALERTS on Facebook.com/ArlingtonHeightsCrime
Stay informed with news from PublicSafetyReporter.com's Emergencies Behind the Scenes Facebook page — Facebook.com/CardinalEmergencies. Includes links to favorite public safety and emergency rescuers and product manufacturers and safety companies that have Facebook pages. Submit your pictures or just stay up-to-date on with fire, rescue, EMS and police photo galleries. Please add your public safety photo to the timeline, or send a message to the page.
Help fund The Cardinal

Arlingtoncardinal.com/sponsor