Cougar sighting reported in DuPage County at the East Branch Forest Preserve near Glendale Heights.
A DuPage County county forest preserve district police officer, investigating a report made Friday by a preserve patron about a possible cougar in the woods, told officials he also saw an animal that looked like a cougar in the East Branch Forest Preserve in Glendale Heights. The forest preserve is located just north of Wheaton and Glen Ellyn.
State and forest preserve district officials were unable to find the animal after the initial sightings. Trail cameras have been set up in the DuPage County forest preserve.
DON'T EXHIBIT PREY BEHAVIOR
Animal experts advise people not to approach cougars if they are sighted. However, they also advise people not to turn their backs on a cougar in close proximity. Cougars prefer to stalk and attack from behind. People should not behave like cougar prey, and turning away and running could bring on a hunt by the cougar.
Remember Cougar Defense …
• Don't turn your back
• Don't crouch
• Don't give your back to the cougar
• Act large and threatening if cougar is attacking or about to attack
• Fight it with any weapon — or your bare hands punching, eye gouging
• Be prepared to protect your own head and neck
(The cougar's killer instinct involves skull crushing and throat holds with suffocation and severe blood loss causing the disability of prey's defense mechanisms)
Cougars often travel long distances along rivers, creeks and streams. The West Branch of the DuPage River begins in Schaumburg at Campanelli Park, and the East Branch of the DuPage River begins in Bloomingdale near Westfield Middle School. The DuPage river branches join in Naperville, and continue as the DuPage River tributary into the Des Plaines River in Channahon, Illinois. The course of the Des Plaines River tributary is short at this point as it forms the Illinois River — a tributary to the Mississippi River. The Des Plaines River rises just west of Kenosha, Wisconsin, which could provide easy access of cougars from Wisconsin into Illinois.
The Wisconsin Department of Natural Resources reported an active year for cougar sightings in 2017. Cougars are known to have travelled as far as 1800 miles, and many cougars have been traced by DNA analysis back to cougar populations in the Black Hills in South Dakota and Wyoming.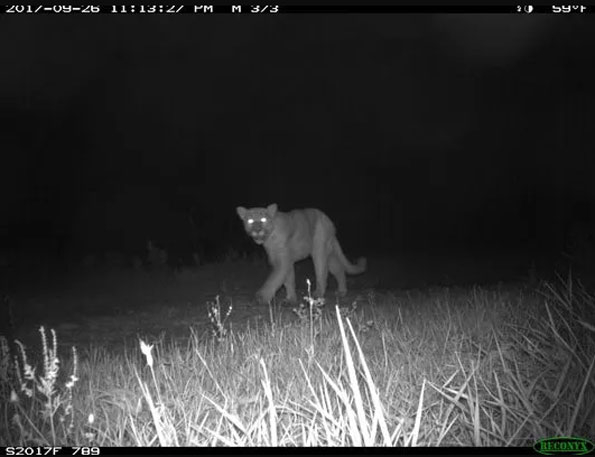 Cougar in Juneau County Wisconsin west of the Wisconsin Dells (SOURCE: Trail cam from Wisconsin Department of Natural Resources September 26, 2017 near Cutler, Wisconsin).
Although rare in Illinois, cougar sightings have been reported from Lake Forest to Chicago to Mount Prospect to Barrington.
On Monday October 29, 2012 about 5:34 a.m. Buffalo Grove police received a report of a possible cougar sighting on Buffalo Grove Road north of LaSalle Lane. Police checked the neighborhood, but were not able to confirm the sighting.
On Friday, September 7, 2012 about 10:00 am. citizens reported seeing a cougar in the area of Oak Knoll and Old Hart Roads in Barrington Hills — just northwest of Barrington High School.
On Tuesday February 8, 2012 Mount Prospect police received a single report of a large cat — "not a normal house cat" — near Elmhurst Road and Dempster Road.
In October 2011 there were several sightings of a cougar or mountain lion in the Conway Farms subdivision of Lake Forest, just east of Chicago Bears headquarters, Halas Hall. Some reports of suspicious tracks in the mud had also been reported in the Lake Forest area.
On April 14, 2008 Chicago police shot and killed a cougar on the north side of Chicago in the Roscoe Village neighborhood less than one mile west of Wrigleyville. DNA tests were consistent with cougars from the Black Hills of South Dakota.
VIDEO of animal tracks discovered on the north side of Arlington Heights on Monday, February 27, 2012 showing a large pawprint that is wider than long in a 'direct register' gait with long stride.
The video (above) shows animal tracks that were discovered Monday, February 27, 2012 about 2:00 p.m. The stride of the tracks measures a distance of over three feet. According to A Field Guide to Mammal Tracking in Western America (page 45), the stride of a mountain lion is 40 inches. The tracks might have been double tracks representing the animal's forefoot and hindfoot strike into the snow in approximately the same area (direct register gait). This gives the look of one huge pawprint. Cougars are known to walk with their hind feet directly landing inside where their front feet landed. The gait is called direct register, and is especially used by cougars when moving in deep snow. However, dogs are also known to move in a direct register gait.
The length of the pawprint or pawprints area was about 4-5 inches front-to-back and almost eight inches wide. Cougars, also known as Mountain Lions, are known to have paw prints that are wider than their length, or more round than egg-shaped like a coyote or dog. What's remarkable about the tracks in Arlington Heights in 2012 is how large the animal must have been to have a stride of over three feet without being in a run or gallop.
The stride is too long for a fox (which is only about 10 inches), and the tracks don't look like the shape that comes from a coyote. The roundness of the pawprint and the size are consistent with a cougar, mountain lion or very large dog. The pawprint also appears to have the large, possibly three-lobed heel pad that is characteristic of a cougar.
Be aware of suspicious tracks and report them to nearby forest preserve authorities, the Illinois Department of Natural Resources, or local law enforcement.
facebook …
GET ALERTS on Facebook.com/ArlingtonCardinal
GET ALERTS on Facebook.com/CardinalEmergencies
GET ALERTS on Facebook.com/ArlingtonHeightsCrime
Stay informed with news from PublicSafetyReporter.com's Emergencies Behind the Scenes Facebook page — Facebook.com/CardinalEmergencies. Includes links to favorite public safety and emergency rescuers and product manufacturers and safety companies that have Facebook pages. Submit your pictures or just stay up-to-date on with fire, rescue, EMS and police photo galleries. Please add your public safety photo to the timeline, or send a message to the page.
Help fund The Cardinal

Arlingtoncardinal.com/sponsor