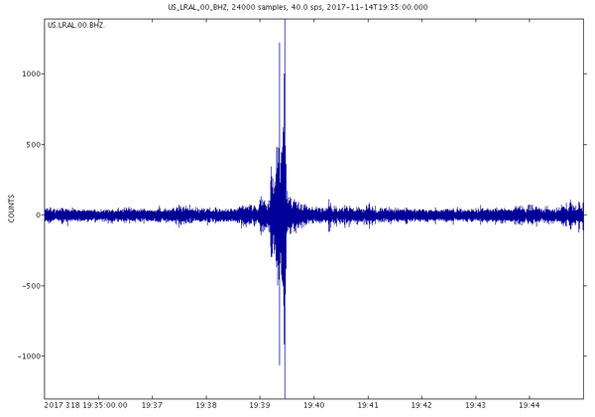 Several people reported hearing a loud boom Sunday night, October 29, 2017, just before 10:00 p.m. The boom occurred about 9:53 p.m. CT. There was a loud, short-lasting boom heard by many people in Arlington Heights, Palatine, Mount Prospect and other northwest suburbs. Area fire departments did not get any calls for any booms or explosions with any specific damage reported at any specific location.
At least 64 unexplained booms heard around the world in the past year … See also UK Mail What is causing the mysterious 'booms' heard in 64 locations around the world this year?
About 15 days after a loud boom was heard in the northwest suburbs of Chicago, a loud boom was heard near Birmingham, Alabama. Some of the areas that reported the loud boom included Arab, Oxford, Anniston, Hayden, Kimberly, Center Point, Jasper and Gardendale in Alabama.
The loud "boom" was reportedly heard shortly before 2 p.m. on Tuesday, November 14, 2017. Police scanner reports in Birmingham relayed information about concerned citizens calling for help. The boom was also recorded in a sound graph from the U.S. Geological Survey's Lakeview Retreat near Centreville, Ala. The graph displays a loud boom heard over Alabama at about 1:39 p.m. CST (1939 UTC).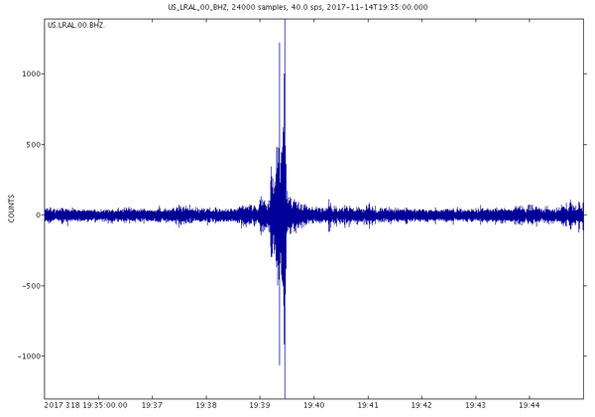 US Geological Survey boom recorded Lakeview Retreat near Centreville, Alabama on November 15, 2017 about 1:39 p.m. CST.
The St. Clair County Emergency Management Agency in Alabama posted three tweets about the mysterious boom, and a follow-up post with a referral to a Weather Channel article.
Re: loud boom heard: we do not see anything indicating large fire/smoke on radar or satellite; nothing on USGS indicating an earthquake. We don't have an answer, and can only hypothesize with you. 1) sonic boom from aircraft; 2) meteorite w/ current Leonid shower?

— NWS Birmingham (@NWSBirmingham) November 14, 2017
Reports of a loud sound coming in from various parts of the county. We will post information as soon as it becomes available.

— St. Clair County EMA (@stclairema) November 14, 2017
Possibly a meteor re-entry. Not confirmed. Will post info as available.

— St. Clair County EMA (@stclairema) November 14, 2017
Just FYI> Fireballs aren't reported in real-time, but if NASA develops a report, they will document it here and… https://t.co/TJR1eQoOeE

— St. Clair County EMA (@stclairema) November 14, 2017
An article from the Birmingham New (AL.com) reported information released from Bill Cooke, head of NASA's Meteoroid Environment Office at the Marshall Space Flight Center …
1. Seismic data from the U.S. Geological Survey's Lakeview Retreat near Centreville, Ala., show "a fairly loud boom occurring on or before 1:39 p.m. CST."
2. The Elginfield Infrasound Array in southern Ontario 600 miles from north Alabama "picked up a matching infrasound signal beginning at 2:02 p.m. and lasting around 10 minutes." NASA said the signal "could have been generated by a bolide, larger supersonic aircraft or a ground explosion." A bolide is a large meteor that explodes in the atmosphere.
3. Eyewitnesses reported a vapor trail, and NASA said that points to a meteor or aircraft.
The sound wasn't caused by a Leonid meteor, NASA said. The Leonid meteor shower is occurring this month, but Leonid meteors are small and never penetrate low enough into the atmosphere to produce sounds audible on the ground. Leonids occur during November 6 – November 30.
The Elginfield Infrasound array is a triangle of four underground antenna-like sound elements buried underground designed to detect infrasound, also known as low-frequency sound lower than 20 Hz or lower than the normal limit of human hearing..
According to the University of Western Ontario, The Elginfield infrasound array is located in the woodland region that surrounds the Elginfield Observatory. The forest was originally planted more than 40 years ago to provide a means of blocking the light produced by the city of London, located to the south, and provide the telescope a darker observing site. Today the forest has matured and is now the home of the 4 elements that make up the Elginfield infrasound array (ELFO). Designed in a traditional triangular pattern, with an off-center central element, the array uses the differences in the arrival time of an infrasonic wave at each microbarometer to determine both which direction the wave originated (back azimuth) and its apparent velocity (trace velocity) across the array. Each element is connected to a centralized data system via a steel armoured TECK cable. This cable provides both power and data connections to each vault with built-in redundancy. More than 2000 meters of TECK cable were buried 18 inches (~46 cm) below ground at the site and wind their way across the property and through the trees to each vault. The furthest section (Southern Element) was more then a kilometer long.
While the infrasound array is especially intended to detect sounds from meteors, the recordings from the ELFO have detected infrasonic airwaves from Space Shuttle Discovery launches from NASA's Kennedy Space Center in Florida. The infrasound frequency range is also used to monitor earthquakes, chart rock and petroleum formations below the earth, and also in ballistocardiography and seismocardiography to study the mechanics of the heart.
According to the Infrasonics Program at NOAA, infrasonic arrays can be used to locate avalanches in the Rocky Mountains, and to detect tornadoes on the high plains several minutes before they touch down. There are many other studies of infrasonics related animal hearing, animal navigation and natural phenomena.
The Elginfield Observatory is an astronomical observatory located in the township of Middlesex Centre, Ontario (Canada), about 16 miles north of London, Ontario and about 120 miles north of Cleveland, Ohio. The observatory is owned and operated by the University of Western Ontario, and opened in 1969. The observatory features a 47-inch Ritchey–Chrétien telescope built by Boller and Chivens which is used for spectroscopy and photometry. The telescope can be configured to feed instruments at the Cassegrain, Nasmyth, and Coudé foci (types of telescopes and mirror setups). Recent research at Elginfield Observatory includes monitoring the changing size of Cepheid variable stars (pulsating stars), estimating out-gasing of minor planets, and searching for large Perseid meteoroids (occur during July 17 – August 24).
Mystery in #Colorado: Loud booming sound frightens residents and baffles authorities: https://t.co/hNpyEZqWg7 pic.twitter.com/K9t82P08Z4

— The Weather Channel (@weatherchannel) November 24, 2017
Skyquake is the catch-all term for mysterious booms that are unexplained. Skyquakes have been documented at least back to the early 1800s.
Many explanations could be confirmed by connection with the following phenomena worldwide …
Falling meteors causing sonic booms
Gas escaping from vents in the Earth's surface
Escaping bio gas from decaying vegetation trapped beneath the bottom of a lake
Explosive release of less volatile gases generated as limestone decays in underwater caves
Supersonic military aircraft or other supersonic flights
Earthquakes
Possible resonance from solar and/or earth magnetic activity inducing sounds
Volcanic eruptions