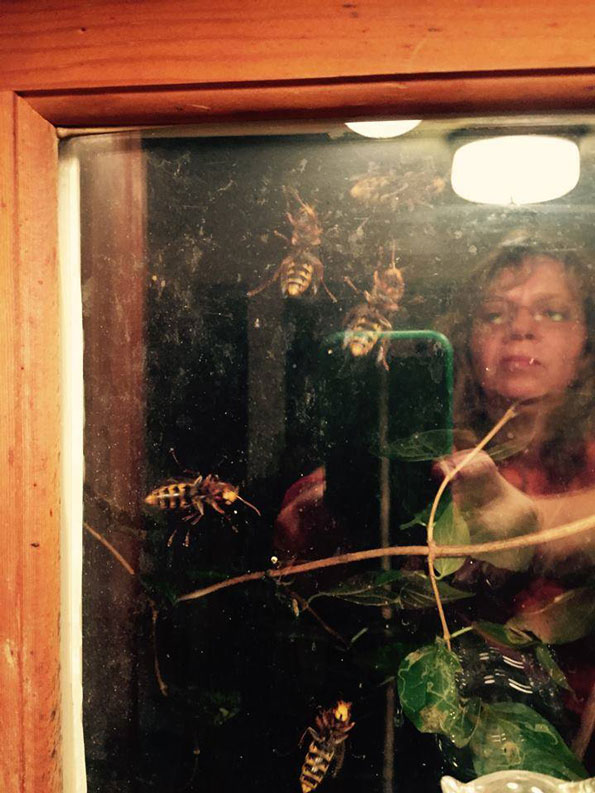 Catawba County EMS paramedics responded Tuesday night September 19, 2017 to the block of 2200 Bethany Church Road to a report of a man stung by large hornets. A paramedic was also stung when the paramedic crew arrived to treat the male hornet sting victim, who was stung after sunset, possibly about 7:45 p.m. to 8:10 p.m. EDT in Newton, North Carolina.
A second ambulance was dispatched to the scene after the paramedic was stung, and required medical treatment, according to a witness at the scene.
The witness also described the male patient and the paramedic going in and out of consciousness at the scene. However, Catawba County Emergency Management Coordinator Karyn Yaussy said both the male patient and the paramedic were treated at a hospital and were released the same night. Because of patient privacy laws, Yaussy could not give additional information about the paramedic or the male patient.
A paramedic on the scene believed the hornet was a Japanese Giant Hornet, according to Yaussy. However, Asian Giant Hornets and Japanese Giant Hornets are not proven to be established in the United States. Witnesses in Newton, North Carolina described that the three very large hornets on the scene were much larger than the 1.14-inch maximum length of European Hornet queens. Asian Giant Hornets and Japanese Giant Hornets measure a maximum of about 2 inches in length. It's possible that the Asian Giant Hornet or Japanese Giant Hornet species have arrived in the United States after being accidentally shipped to the United States on jet freighters from overseas.
There are other people in the region near the east coast that have recently been reporting that they believe there are Asian Giant Hornets in the area. Some claim they recall growing up in childhood, experiencing European Hornets, but now they're seeing hornets that are much larger. Some people are reporting learning about entire beehives being decimated, which is a behavior attributed to the Asian Giant Hornet. Night-flying European Hornets are infamous for stinging people while going after insects that are flying near porch lights, especially this time of year — late Summer and Early Fall.
A Facebook page, Facebook.com/AsianGiantHornet was established in 2013 after stings by Asian giant hornets killed 41 people and injured more than 1,600 people in Shaanxi Province, China. Also, a very large hornet, not confirmed as a European Hornet or Asian Giant Hornet — but not a Cicada Killer Wasp — was spotted in Arlington Heights in late July, 2012. So far, no photo evidence of an Asian Giant Hornet or Japanese Giant Hornet in the United States has been submitted, and numerous photos submitted are usually European Giant Hornets, and sometimes Eastern Cicada Killer wasps. The body shape of European Hornets and Asian Giant Hornets are similar with thickness about the size of an adult human thumb. Eastern Cicada Killer wasps, which are very common in Arlington Heights, are large, but more slender. Cicada Killer wasps are solitary nest builders, and rarely sting unless they are handled.
In the summer of 2017, Facebook.com/AsianGiantHornet received two reports of European Hornet sightings in Illinois — one in Arlington Heights and one in Wilmington, Illinois. In 2017, there were also reports of European Hornet sightings from Indiana. Most reports of European Hornet sightings with photo evidence are received from New York, West Virginia, Virginia, Pennsylvania, Maryland, North Carolina, South Carolina and Ohio.
One photo from Upper State New York from late August 2016 shows at least five large hornets attracted to a lit window at a house (see photo below ad below). Many sightings tend to be at homes located in rural or semi-rural settings with woods nearby. The hornets can fly at high speeds for many miles. European Hornet nests have been reported in holes in dead trees, under patio decks, in holes in homes or sheds, under roof eaves, and even inside a chimney. There is a report of European Hornets invading a living room space when a chimney flue was opened. The European Hornets invaded from a nest on the other side of the flue when they were allowed to enter the living space of the home when the chimney flue was opened.
Stay informed with news from PublicSafetyReporter.com's Emergencies Behind the Scenes Facebook page — Facebook.com/CardinalEmergencies. Includes links to favorite public safety and emergency rescuers and product manufacturers and safety companies that have Facebook pages. Submit your pictures or just stay up-to-date with fire, rescue, EMS and police photo galleries. Please add your public safety photo to the timeline, or send a message to the page.
Help fund The Cardinal

Arlingtoncardinal.com/sponsor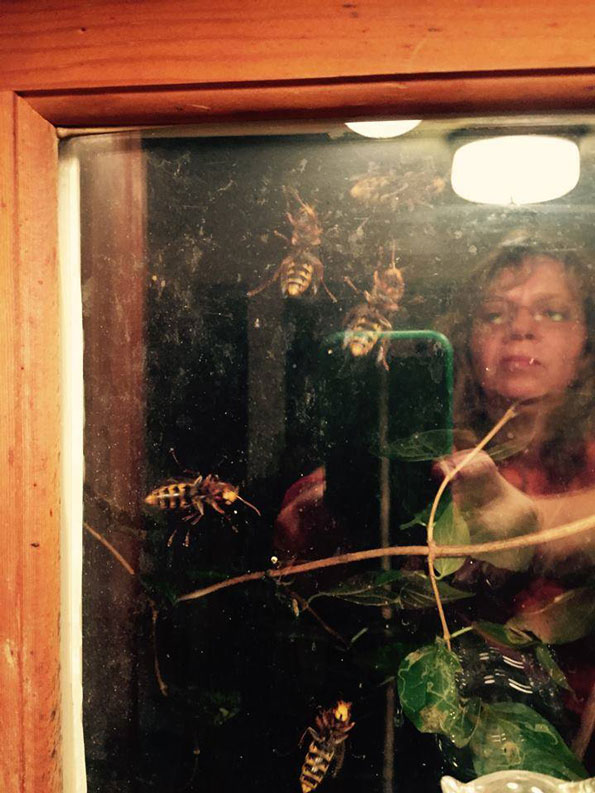 A photo of European Hornets invading a lit window in Upper State New York, where many deep wooded areas are located (Submitted to Facebook.com/AsianGiantHornet).
NEAR BETHANY RD SCENE in Newton, North Carolina …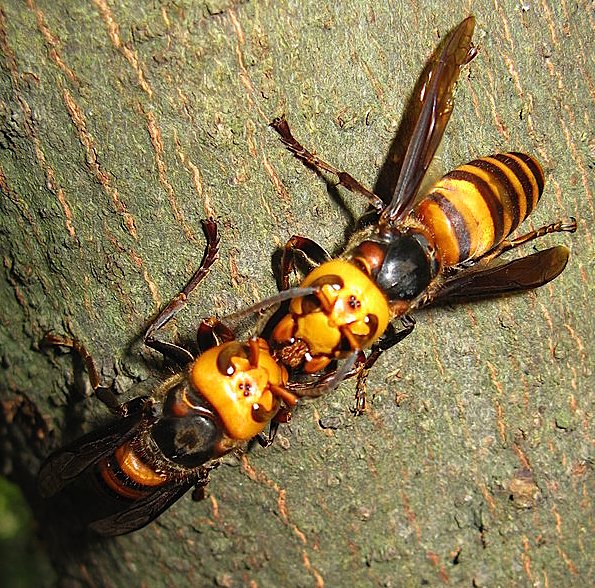 Two Asian Giant Hornets or Japanese Giant Hornets transfer food — trophallaxis in a Wikipedia file photo. The Japanese Giant Hornet is the largest hornet in the world and is native to tropical Eastern Asia, and is the most lethal animal in Japan (By KENPEI – Own work, CC BY-SA 3.0, Link).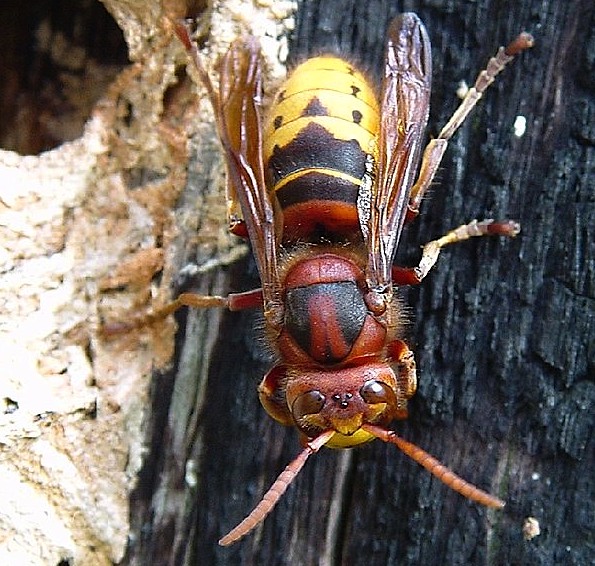 The European Hornet queen (Vespa crabro) is about 1-1.1 inch long — males and workers are smaller. The body segment is half brownish-black and half yellow, but its appearance is similar to the Asian Giant Hornet (By Niek Willems – Made it myself, CC BY-SA 2.5, Link).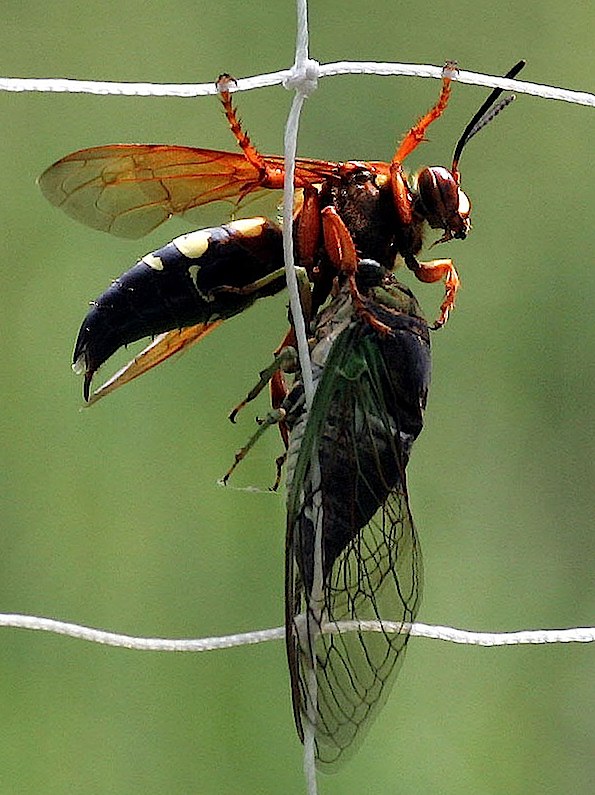 A Cicada Killer Wasp with yellow splashes is darker than the Japanese Giant Hornet or Asian Giant Hornet (By Bill Buchanan, U.S. Fish and Wildlife Service – http://digitalmedia.fws.gov/cdm4/item_viewer.php?CISOROOT=/natdiglib&CISOPTR=11642&CISOBOX=1&REC=1, Public Domain, Link).