Mexico's southern coast was hit by a Magnitude 8.1 earthquake about 54 miles southwest of Pijijiapan about 11:49 PM CDT — the strongest earthquake in a century. The earthquake is reported to have killed at least five people and triggered a series of tsunami waves. The USGS reported multiple aftershocks, including at least five with magnitude above 5.0.
The city of Pijijiapan has a population of about 16,917. Including localities nearby, the population is about 50,079. The states of Chiapas, which borders Guatemala, and Oaxaca were closest to the earthquake epicenter. Mexican President Enrique Peña Nieto said three people died in Chiapas and two in Tabasco. A hotel in Oaxaca and several homes in Chiapas collapsed, Peña Nieto said. The earthquake was also close to Guatemala and El Salvador.
The quake, which was felt as far as Mexico City and Guatemala City, was registered off Mexico's southern coast while heavy rains from Hurricane Katia located to the east in the Gulf of Mexico. The general latitude in the region also is experiencing Hurricane Irma approaching Florida, and Hurricane Jose in the eastern Caribbean/Atlantic region.
The epicenter was in the Pacific Ocean, some 600 miles (1,000 kilometers) southeast of the capital and 74 miles (120 kilometers) from the Pacific coast.
Mexican President Enrique Peña Nieto said the quake was the strongest earthquake Mexico has experienced in 100 years. He added Mexico's country's Army, Marines and Federal Police were being mobilized to respond.
— The United States Geological Survey (USGS) Pager system, which predicts economic and human loss after earthquakes, issued a red alert. "High casualties and extensive damage are probable and the disaster is likely widespread. Past red alerts have required a national or international response," it said.
A tsunami was confirmed in Mexico, with one wave coming in at 3 feet (1 meter), according to a tweet from the National Weather Service's Pacific Tsunami Warning Center. The alert stated Tsunami waves taller than 10 feet (3 meters) could hit the coast of Mexico, while 3-foot waves could reach as far as Ecuador, New Zealand and Vanuatu.
About 1.85 million homes lost electricity, but 74% of them have had service returned, Peña Nieto said. Some people are also without water service, which may require 36-48 hours to get water back up and running.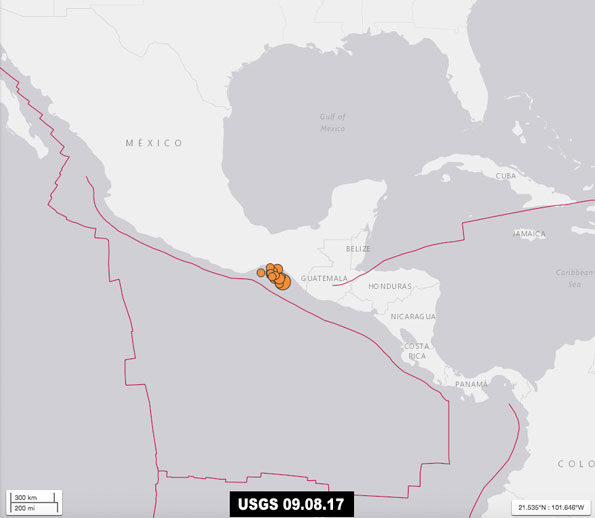 Mexico Earthquake USGS M 8.1 September 8 2017.
Stay informed with news from PublicSafetyReporter.com's Emergencies Behind the Scenes Facebook page — Facebook.com/CardinalEmergencies. Includes links to favorite public safety and emergency rescuers and product manufacturers and safety companies that have Facebook pages. Submit your pictures or just stay up-to-date on with fire, rescue, EMS and police photo galleries. Please add your public safety photo to the timeline, or send a message to the page.
A Magnitude 8.0 #earthquake just struck off the coast of Mexico.

At this point I'm just praying for every living thing on this planet. ?? pic.twitter.com/skBv761y8P

— E5QUIRE (@Dj_E5QUIRE) September 8, 2017
Magnitude 8.1 #earthquake kills at least five in southern #Mexico. Strongest on record in Chiapas state. https://t.co/0Wbbj2tqQo pic.twitter.com/Iq9Rpj8LbC

— The Weather Channel (@weatherchannel) September 8, 2017
Tsunami warning as 8.2-magnitude #earthquake strikes off south-western #Mexico coast https://t.co/FYnTkOOiSw pic.twitter.com/Iu6EpdYCeP

— RT (@RT_com) September 8, 2017