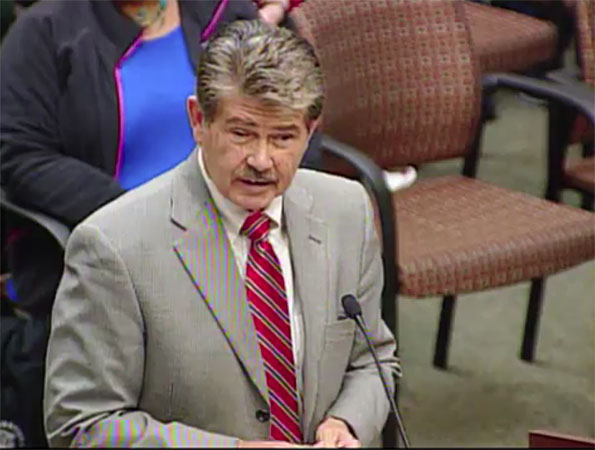 The Arlington Heights village board late Monday night voted 5-4 Monday to opt out of Cook County ordinances raising the minimum wage and mandating businesses to pay employees for sick days. The current Illinois minimum wage is $8.25. As of July 1, the new minimum wage in Cook County will be $10 per hour, then $11 per hour on July 1, 2018; $12 per hour in 2019; and $13 per hour in 2020. For July 1, 2021 and beyond, an inflation-adjusted minimum wage calculated by the Cook County Commission will be announced on the commission's website by June 1 of each year.
The sick leave ordinance will require most private employers in Cook County to offer up to five days of paid sick leave a year.
Ordinance No. 16-5768 passed by the Cook County Board of Commissioners on October 26, 2016. Effective July 1, 2017, this ordinance will increase the minimum wage for many employees in Cook County to $10/hr.
With the Village Board vote to opt out of the Cook County ordinances, Village of Arlington Heights businesses will not be required to raise the minimum wage for employees, and will not be required pay for sick days.
Supporters of a higher minimum wage, who nearly filled the Board Room and the Overflow Room Monday night, say it increases the standard of living of workers, allows for basic medical care that prevents more serious healthcare problems, improves learning by keeping children fed, reduces poverty, reduces inequality, boosts morale and reduces business turnover and associated expenses.
Opponents of a required elevated minimum wage argue that it increases unemployment (particularly among unskilled or inexperienced workers) because business are forced to layoff some employees. Opponents argue that an elevated minimum wage causes businesses to move where labor costs are lower; causes businesses to raise prices of products or services to adjust pay the higher wage, which causes higher prices for consumers; causes business profit margins to be reduced, which inhibits business growth; causes businesses to replace employees with computers, technology, kiosks, and robots; hurts smaller businesses more than larger businesses; and is less effective at reducing poverty compared to other methods (e.g., Earned Income Tax Credit).
Supporters of the increased minimum wage also advocated for mandatory paid sick leave. Supporters of the Cook County Sick Leave ordinance argued that the ordinance will reduce the spread of illness, especially at restaurants where sick and contagious workers may be more likely to come to work while sick.
Board members heard hours of pleas from citizens for support of Cook County rules. A total of 30 people addressed the board before the vote Monday night, most presenting data and stories that support the county ordinances.
Some advocates of the Cook County ordinances also threatened to boycott shopping in Arlington Heights or any other municipality that opts out of the Cook County ordinances.
Arlington Heights Chamber of Commerce Executive Director Jon Ridler urged board members to opt out. A small number of business owners publically agreed with the opt-out.
During Village Board deliberation, Trustee Tom Glasgow expressed concern that he wouldn't want to risk the Vail Avenue Jewel-Osco closing in downtown Arlington Heights, which serves a large senior population. Glasgow explained that if Arlington Heights didn't opt out, executives at Jewel could experience more financial difficulties, compared to the neighboring Rolling Meadows Jewel-Osco, where Rolling Meadows has already opted out. Glasgow said he was concerned (as a hypothetical example) about a potential decision to close the Arlington Heights Jewel-Osco, if it couldn't remain profitable. Glasgow referred to Jewel-Osco executives that have already expressed concern about pressures they would face from a higher minimum wage. Glasgow described Arlington Heights as a long, thin municipality that is vulnerable — eight miles long and, at any given spot, about a mile-and-a-half wide. He said it is easy for a business to move to another district with less expenses, and still serve the same population in Arlington Heights. Glasgow also mentioned that municipalities where the minimum wage ordinance has been imposed are very big geographically.
Communities that have already passed opt-out ordinances include Barrington, Elk Grove Village, Mount Prospect, Rolling Meadows, Rosemont, Schaumburg, Streamwood and Wheeling. Communities have until July to opt out. Otherwise, the Cook County ordinances approved last fall take effect in July 2017.
City of Chicago Wage Ordinance

Ahead of the Cook Cook County wage ordinance, The City of Chicago already passed a rising Minimum Wage Ordinance on December 2, 2014. The City's ordinance raised the hourly minimum wage to $10 in 2015, $10.50 in 2016, $11 in 2017, $12 in 2018, and $13 in 2019, and indexed the minimum wage annually to the Consumer Price Index (CPI) after 2019.

The ordinance also increased the minimum wage for tipped employees from the state minimum of $4.95 to $5.45 in 2015 and $5.95 in 2016, indexed annually to the CPI after 2016.
Glasgow also expressed concern that business owners were reluctant to reveal their opinions, fearing retribution. Glasgow said he had received a phone call from a business owner because "they" felt their free speech was squelched because they didn't want to be pilloried by people that thought differently … they didn't want to be worried about the effect that their opinion might have on their business.
Glasgow said he understood the social justice of this issue, but also described the dismal condition of the State of Illinois with business and citizens leaving Illinois. Glasgow stated that in 2014 Illinois population dropped 11,961 people, which doubled in 2015, and then went over 37,000 in 2016. Glasgow said he can't ignore places like Kraft, Hoist Lift Truck, Motorola, Caterpillar, General Mills "all which have left the state." Glasgow added that he can't ignore the fact that Illinois was rated the most horrendous state in which to do business — ranked 48th out of 50, or that "it's like doing business in a third world country" according to some businesses.
Hayes and other trustees voting to opt out expressed their concern that their conscience would not let them hurt local business by enforcing a higher wages, while advocates of the Cook County proposal said there is no empirical evidence that shows the higher minimum wages hurt prices. Rosenberg and Scaletta emphasized that businesses would simply rise the prices on the store shelves. A $1.00 soda might rise to $1.65, for example.
Trustees voting to opt out explained that the decision should be handled by the federal or state government. Hayes explained that other communities bordering Arlington Heights have already opted out, which meant if the Village of Arlington Heights didn't align with suburbs opting out, Arlington Heights businesses would be at a "severe disadvantage." Glasgow, Rosenberg, Tinaglia, Scaletta agreed with Hayes.
Their messages drew some moans and groans from the advocates of the Cook County ordinance.
Trustee Bert Rosenberg's comment about a payroll service company's comment drew some jeers. Rosenberg was told that adjustments necessary for them to comply with the new ordinance will be an unbelievable task.
The crowd then asked for comment from Richard Baldino, who had not volunteered any comments for deliberation.
"To have a patchwork of minimum wage laws, especially in the county or Northwest suburban area, is anti-business,"

— Tom Hayes
Mayor Tom Hayes and Trustees Tom Glasgow, Jim Tinaglia, John Scaletta and Bert Rosenberg voted to opt out.
Trustees Mike Sidor, Robin LaBedz, Carol Blackwood and Richard Baldino voted to support the Cook County ordinances.
Monday night was Baldino's first night on the board, and several incumbent trustees agreed the night's Cook County ordinances decision was the most difficult they have seen during their service as trustees.
"You put us up here. You've told us what you want Arlington Heights to be. You've told us what direction you want Arlington Heights to go. That made my decision quite easy."

— Mike Sidor
Mike Sidor, Robin LaBedz, Carol Blackwood, and Richard Baldino, who voted against opting out, stressed the number of constituents that communicated with them in support of the Cook County ordinances — instrumental in their decisions.
Sidor was the first to express his support of the large number of constituents that were calling for an increase in minimum wage and paid sick time. Sidor also had a rebuttal and the board's final commentary. He rebuked the patchwork argument, which he said was weak. Sidor didn't believe there is going to be a giant exodus of business out of Arlington Heights if the village doesn't opt out of the Cook County ordinances. He said Arlington Heights already has a situation of stricter electrical code than some neighboring communities, which doesn't stop businesses from opening in Arlington Heights. He added that businesses are subject to varying electric codes, building codes, sign restrictions, etc. — perhaps implying that Arlington Heights' strict requirements doesn't prevent businesses from doing business in Arlington Heights. Sidor asked the crowd if they knew that Arlington Heights doesn't allow electric signs (apparently meaning motion marquee electric signs). He explained the electric signs are not allowed, unless you're the government maintaining the electric sign at Arlington Heights Road and Northwest Highway.
Trustee LaBedz explained that she agreed the decision should be handled by the federal or state government, but that she doesn't see any action happening soon. LaBedz said the ordinances may not be perfect, but that we can't let the perfect be the enemy of the good; it can't wait for the state or federal government … and that change has to start somewhere … and that it will start today with her not voting to opt out.
Trustee Carol Blackwood compared the capability of a $13/hour wage, 40-hour work week ($27,000 per year) to a local median income of $74,700. She explained that low-to-moderate income is considered to be 50 to 80 percent of the median income. Eighty-percent of the median income would exceed $59,000 per year.
Prior to the board's deliberation, Erik Varela, special assistant in Cook County Board President Toni Preckwinkle's office, read a letter from Preckwinkle to Arlington Heights officials expressing her disappointment in towns that have opted out. She wrote that their "spirit of cooperation is lacking" despite the county's collaboration on business tax incentives and transportation investments.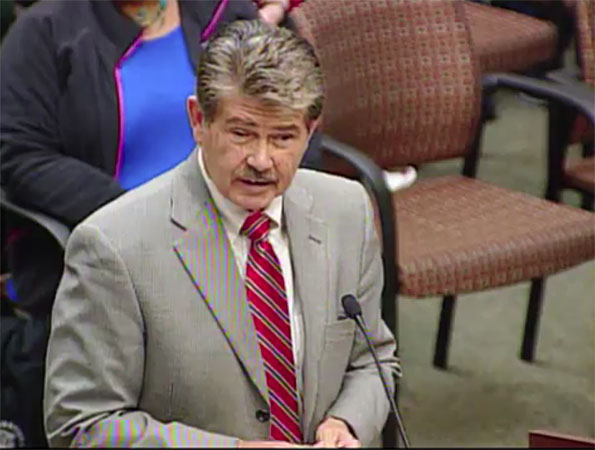 Cook County Clerk David Orr at Village of Arlington Heights board meeting (VAH video still frame).
"There's nothing wrong with treating people who do some of the toughest work in the world with a little bit of dignity and respect."

— Cook County Clerk David Orr
Cook County Clerk David Orr, who attended a rally before the village board meeting and spoke before the board during the board meeting, cited statistics that 65 percent of Arlington Heights voters supported a higher state minimum wage and 75 percent favored paid sick days in non-binding referendums. During the village board meeting's blue card session, some advocates expressed data that showed that there were a lot more constituents supporting the ordinances than there were constituents supporting any candidate — about 32,000 to 5000.
Get updates from The Cardinal ALL NEWS FEEDS on Facebook. Just 'LIKE' the 'Arlington Cardinal Page (become a fan of our page). The updates cover all posts and sub-category posts from The Cardinal — Arlingtoncardinal.com. You can also limit feeds to specific categories. See all of The Cardinal Facebook fan pages at Arlingtoncardinal.com/about/facebook …

Help fund The Cardinal

Arlingtoncardinal.com/sponsor
Arise Chicago, which held a rally Monday night May 1, 2017, also organized a rally before the March 20 village board meeting when trustees were initially expected to vote on opting out of the Cook County Ordinances. On March 20, 2017, Mayor Tom Hayes proposed any decisions be delayed until May 1, 2017 to allow more time to hear from constituents. Hayes credited the board with listening to over 3 1/2 hours of citizen input. Many constituents afterwards felt the board already had their minds made up.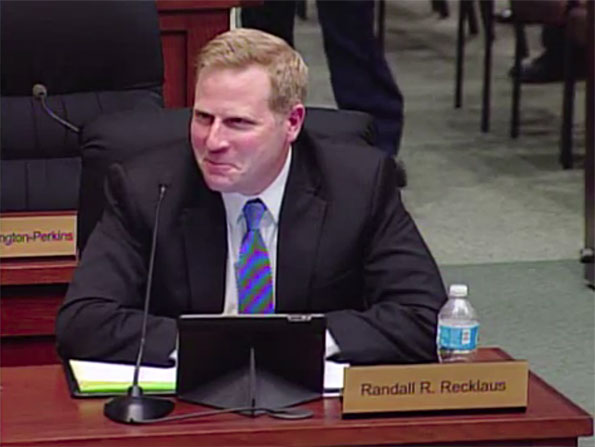 Village Manager Randall Recklaus apparently in an amused state shortly after advocates of the Cook County minimum wage and required sick pay ordinances were defeated, saying "Nothing further to report, Mayor," while smiling and laughing (VAH video still frame).
Following the Cook County ordinance there was some heckling of the board as advocates of the Cook County ordinance were exiting the meeting. When Mayor Hayes, moved on with the agenda, he asked the Village Manager Randall Recklaus for the the Report of the Village Manager. Mr. Recklaus answered "Nothing further to report, Mayor," while smiling and laughing. Another unidentified voice on a personal mic asked, "Are you sure?" [Recklaus and others laughing] "Don't you have something?" [More laughter.]
See also …
Chicago Tribune Editorial Editorial: Stifling growth in Illinois: Next step, raise the minimum wage higher than every border state's