Plans for a new $27.9 million Arlington Heights police station were approved unanimously Monday night by the Arlington Heights Village Board, with construction expected to begin on the two-level, 70,500-square-foot building just 100 feet south of the railroad tracks and at the site of the current police station this summer. Legat Architects and McClaren, Wilson, & Lawrie Inc. prepared construction drawings for the new Police Station site and Riley Construction has been hired as Construction Manager.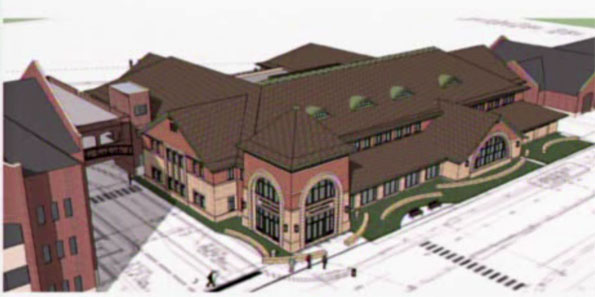 IMAGE CREDIT: Legat Architects and McClaren, Wilson, & Lawrie Inc.
The new station, at 200 East Sigwalt Street, will be built in a tight space between Village Hall and Arlington Heights Fire Station #1 with little room for expansion if the village finds that they once again need a larger facility in a few decades. The existing 38-year-old police station is about to be scheduled for demolition because the 38,000-square-foot facility has become cramped and outdated, according to police officials. Now officials are at risk of making a mistake by squeezing a 70,500 square-foot building into a tight space that cannot be expanded significantly, will be difficult to maneuver around, has natural security problems, and could be at risk of damage or destruction from a nearby train accident with fire or hazardous chemical spill.
Police officials are trading away an old building with basement hallways that have become makeshift storage rooms, a dark room converted to a traffic unit, leaking pipes, leaking windows, rusting infrastructure, and an old locker room that cannot accommodate the modern police officer's extra uniforms and equipment.
In its replace, the Arlington Heights Police Department will settle for a new facility with several shortcomings from the outset that involve traffic flow and maneuverability problems, outer perimeter/natural access security weaknesses, noise and vibration issues, and spatial challenges that could cause high maintenance.
SHORTCOMINGS …
1) an indoor parking garage and outdoor parking lot that is cramped in the back and north side of the building, that required a variance for reduced drive aisle width (reduced by 2 feet);
2) parking spaces that fall short of the parking code analysis that requires 620 parking spaces, and reduces the current 441 spaces to 434 spaces while police officials have stated they hope to host more meetings or training events as one of the reasons they want to have a new police station;
3) narrower driveways which could be susceptible to blockage by criminals or terrorists or stalled vehicles, and could result in a congestion point involving police vehicles and fire vehicles traveling on the driveway between the Arlington Heights Fire Station 1 and the new police station (especially while the Sally Port is accessed);
4) a Sally Port at the southeast corner with difficult turns for police vehicles and ambulances using the Sally Port for prisoner transfer, which also lacks a secondary security fence or gate, and is located near the Sigwalt Street Street public sidewalk (less than 20 feet away) instead of at a more secured area at the rear of the building;
5) a police emergency exit that shares a thru-way where people (including seniors visiting Village Hall) may be backing out of parking spaces in the parking garage;
6) a police emergency exit that dumps into Arlington Heights Road, which is highly congested and backed up during rush hour periods (especially due to the proximity near the railroad);
7) a water service that will be carried underground from the water main on Sigwalt Street under the narrow driveway between Village Hall and the new police station that will run all the way to the northwest corner of the new police station, and will further inhibit traffic flow if excavation repair is required;
8) a municipal campus with three large buildings that has only a small underground stormwater detention vault (rated 100-year event) associated with the narrow rear north parking lot, but will run over in a 100-year event along the driveway between the new police station and Fire Station 1;
9) a $150,000 emergency generator and mechanical equipment vault that has to be installed below grade in a hole because there is not enough space at ground level, and will be subject to possible flood damage from heavy rains or a broken water main, or a chemical spill from the railroad;
10) the necessity of remote storage of evidence and other items because the new police building is not large enough from the outset to archive materials onsite;
11) internal equipment, such as the emergency generator, HVAC, elevators, shooting range simulator or other sensitive instrumentation that could be subject to vibrational damage from passing freight trains only 100 feet away from the building's edge;
12) a firearms range in the basement, which is the closest room to the railroad tracks, and could be subject to vibrations that could cause a firearm to vibrate and fall off a shelf or counter (and misfire);
13) a rear building, parking lot and garage area that is subject to loud train noise that will hinder communications (including dispatched emergency calls), and especially while using public safety radios and cell phones;
14) a location that is at constant risk of a railroad vs. vehicle accident at the Arlington Heights Road/Union Pacific railroad grade crossing, or a train derailment that could jeopardize the approved $28 million police station structure, police officers, visitors, and jailed prisoners with fire or a hazmat chemical leak from a damaged freight train.
While Arlington Heights has been studying a possible expansion or new police station for at least two decades, feasibility studies were carried out in 2010 and 2015, and construction drawings were presented in 2016.
Arlington Heights missed an opportunity to purchase the former AT&T Building site at 1200 North Arlington Heights Road, just north of Arlington Heights Fire Station 2, and failed to seriously consider other potential police station site locations in the Village of Arlington Heights. Instead Transitional Care Of Arlington Heights built their facility at 1200 North Arlington Heights Road, and no other more spacious properties (without traffic flow problems, spatial problems, security problems, and railroad proximity problems) were considered by the village board.
At Monday night's board meeting, which gave final approval of the new police station, very little was said about security of the police station, except a discussion about landscaping barriers. Village Manager Randall Recklaus mentioned that discussion about security was deliberately limited in public discussion for obvious security reasons. Also, very little was said about the practicality of the use of the new police station regarding traffic flow and accessibility in the tight space, even though police department and fire department advisors had expressed concerns about police vehicles maneuvering around the building — especially near the Sally Port. The fire department advisors also expressed concern about fitting and maneuvering the ladder tower truck in the rear, north parking lot.
"This is a handsome building. It's done in a great way without being overdone. It's not too heroic, but definitely pedestrian-scale. It feels good, it looks traditional, and it looks like it fits nicely in our community."

— Jim Tinaglia
The building's first floor plans include a 10,000-square-foot indoor parking garage for police vehicles, a lobby, a patrol and records divisions, a meeting room, jail cells, a booking area, and a Sally Port.
The second floor plans include the investigations division, community services, administration offices, a fitness center and locker rooms.
The basement plans include a firing range with shooting simulator underneath the indoor police vehicle parking garage, a training room and evidence storage.
Get updates from The Cardinal ALL NEWS FEEDS on Facebook. Just 'LIKE' the 'Arlington Cardinal Page (become a fan of our page). The updates cover all posts and sub-category posts from The Cardinal — Arlingtoncardinal.com. You can also limit feeds to specific categories. See all of The Cardinal Facebook fan pages at Arlingtoncardinal.com/about/facebook …

Help fund The Cardinal

Arlingtoncardinal.com/sponsor
The project is being funded through a $35 million bond issue with 2.93% interest approved in January 2016, which will cover architectural expenses, construction costs, and engineering expenses, new furniture, equipment, build-out and rental for a temporary police station, and demolition of the current police station.
The Village Board was highly complimentary of the architectural firm (Legat Architects and McClaren, Wilson, & Lawrie Inc.), and Charles Witherington-Perkins and Police Deputy Chief Nicholas Pecora as the lead petitioners for approval of the new police station.
There was a little humor found among staff and board members in the irony of having Charles Witherington-Perkins being the scrutinized, instead of the scrutinizer on an approval project.
Village Manager's Opening Statement:

"This is obviously a unique situation where the village is the applicant, but I can assure you we stand by our rules and procedures, and we are following all of the same rules and procedures in the same manner that a private business would in an application. It actually was kind of a fun process, in that regard, I think a few of the departments enjoyed being able to have Charles (Witherington-Perkins) on the other side of the table … and put him through his paces."

— Randall R. Recklaus, Village Manager
Trustee Joseph C. Farwell went so far as to say this was the best proposal for a project he has ever seen in his 16 years as trustee, and spoke directly to Charles Witherington-Perkins.
Speaking to Charles Witherington-Perkins

"This was like Christmas to me, man. To see you up here asking for three different variations has been like Christmas. To hear you ask for, you know, a reduction in parking spaces by 30 percent, just outside the downtown district … and then, of course, the saving the best for last … the request for relief for the landscaping islands for one per 20 cars — linear cars, to me that was, it has been … for a guy that loves irony, this is rich. So thank you so much.

— Joseph C. Farwell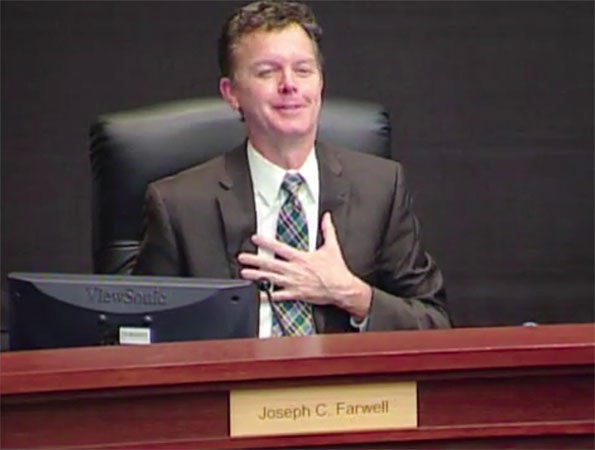 Farwell to Witherington-Perkins: To see you up here asking for three different variations has been like Christmas. Farwell, who will serve five more meetings as Trustee, emphasized the irony of Perkins petitioning approval from the board, while Village Manager Randall Recklaus opened with a serious message that the village had to stand by its own rules and procedures while seeking approval of variances for the nod to proceed with construction of a new police station.
Village officials said they are still working to find a temporary location during the construction period, which is expected to last at least 18 months. An unofficial source has reported that the temporary location of the police station will be on an upper floor at the 7-story One North Arlington building in far northwest Arlington Heights near Dundee Road and Illinois Route 53.
See also …
The Cardinal Arlington Heights Temporary Police Station Far Northwest: If True, Adequate Coverage During Construction Period Questionable
COMMENTS …