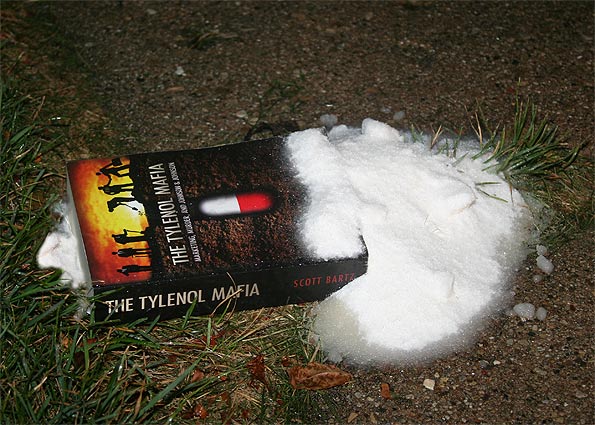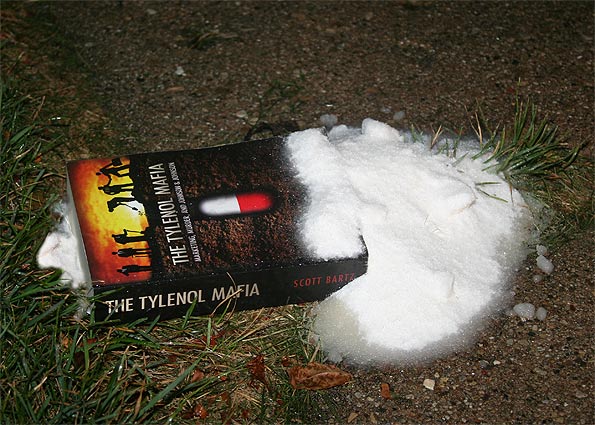 "Tylenol Mafia — Marketing, Murder and Johnson & Johnson" – 500 plus page book about the 1982 Chicagoland cyanide-laced Tylenol murders and allegations of corruption in the investigation.
Three people (Adam Janus, 27, Arlington Heights; Stanley Janus, 25, Lisle; Theresa Janus, 19) died a sudden death in the same house on South Mitchell Avenue in Arlington Heights within six hours (12 noon and 5 p.m.) on September 29, 1982. That raised an alarm. Was there something in the house? A gas? A biological contaminant? A poison? The cause of the deaths was contaminated Tylenol purchased at a Jewel grocery store at 122 North Vail Avenue in Arlington Heights, but nobody new about that yet.
Tylenol Victims and Where They Died
Mary Kellerman, Elk Grove Village
Adam Janus, Arlington Heights
Stanley Janus (of Lisle) Arlington Heights
Theresa Janus (of Lisle) Arlington Heights
Mary McFarland (of Elmhurst) Lombard
Paula Prince, Chicago
Mary "Lynn" Reiner, Winfield
The same day Elk Grove Village resident Mary Kellerman, 12, had died sometime after 6:30 a.m. at Alexian Brothers Medical Center. Her parents had given her Tylenol for a sore throat and runny nose, and found her lying on the bathroom floor. Unusual by itself — based on the age of the victim — but nothing to raise the alarm that a mass murder was underway. Nobody suspected the Tylenol as a problem.
Also the same day, Mary "Lynn" Reiner, 27, was at home in Winfield after she had recently given birth to her fourth child. She was not feeling well and took Extra-Strength Tylenol and collapsed and died about 3:45 p.m. — again, unusual because of her young age, but nothing to raise the alarm of mass murder.
The Extra-Strength Tylenol she took came from Central DuPage Hospital where she received the capsules during her stay at the hospital during the birth of her child. She placed the hospital Extra Strength Tylenol in a bottle of Regular Strength Tylenol she purchased at Frank's Finer Foods in Winfield. She did not take capsules from the bottle of regular Tylenol as was reported by the media — capsules that were reported in the confusion to have been purchased at Frank's Finer Foods in Winfield.
Two more people would die — Mary McFarland in Lombard, and Paula Prince in Chicago.
Initially some of the victims were believed to have suffered a heart attack or stroke. Nothing raised an alarm until three people died in the same house in a six hour period. If the three people who died in Arlington Heights had not taken Tylenol from the same bottle, and had not died after being in the same house within a six hour period, there is a good chance there never would have been a connection with the other Tylenol deaths and cyanide, and Tylenol would never have been taken off the shelf. Tylenol may never have been suspected, as random deaths could have continued with no suspicion of cyanide poisoning — just unfortunate sudden deaths at a young age.
In 1982, law enforcement at local, state and federal levels were behind a response to destroy all the potentially hazardous Tylenol. The Arlington Heights Police Department and other local communities circulated police squad cars on the streets using loud speakers to warn people to flush the Tylenol down the toilet. Of course, there was no Twitter or Facebook in 1982. The FBI allowed Johnson & Johnson to take millions of bottles of Tylenol and destroy them.
Stores locations with tampered capsules
Jewel Foods, 122 N. Vail in Arlington Heights
Jewel Foods, 948 Grove Mall, Elk Grove Village
Osco Drug Store, Woodfield Mall, Schaumburg
Walgreen Drug Store, 1601 N. Wells, Chicago
Frank's Finer Foods, Winfield.
No one knows how many Tylenol capsules may have been on store shelves, in purses, and in medicine cabinets — deviously prepared to kill.
In 2011, Scott Bartz, a Johnson & Johnson whistle-blower and former employee, claimed the poisoned Tylenol had actually been tampered with in the repackaging and distribution process in Tylenol's supply chain, rather than at retail locations. In his book Tylenol Mafia published in 2012, author Scott Bartz opens the first chaper with a fascinating incident that occurred the night before the Tylenol murders in Elgin.
Two Kane County Sheriff Deputies Al Swanson and Joseph Chavez came across a suspicious package in the parking lot of a now-defunct Howard & Johnson's hotel and diner at Route 25 and Dundee Avenue in Elgin. The deputies arrived at the parking lot to park their police cruisers at 2:32 a.m., September 28, 1982 and planned to have a meeting and bite to eat during their shift. About 30 feet away on a grassy strip the deputies noticed two boxes with the words "EXTRA-STRENGTH TYLENOL CAPSULES" on the boxes. In between the boxes was a pile of white powder, and hundreds of capsules strewn about nearby. Swanson and Chavez scraped up some of the powder and rubbed it between their fingers. They assumed a drug dealer cutting cocaine or some other illegal drug dumped the suspicious items. Suddenly Swanson became violently ill with nausea, dizziness and vomiting, and Chavez noticed pain and swelling in his arm. They rushed away — leaving the dangerous packages, but without making a connection with the symptoms and the packages. Swanson couldn't finish his shift. Chavez finished his shift with the arm pain continuing. The next morning both were hospitalized.
The next day, the people who ingested contaminated Tylenol capsules started dying. In a period of three days beginning September 29, 1982, the seven people who ingested cyanide-laced Tylenol in Arlington Heights, Chicago, Elk Grove Village, Lombard and Winfield were dead.
In 2013, police in Arlington Heights — where the most Tylenol/cyanide victims died — announced in a news release that a task force consisting of the Arlington Heights Police Department, the Illinois State Police, the Chicago Police Department, Elk Grove Village Police Department, Lombard Police Department, Schaumburg Police Department and Winfield Police Department would run the investigation.
The FBI bowed out as lead investigator after heading a task force that was formed in 2007 after the investigation of the 1982-year crime had been neglected for years.
Since 2013, no progress has been reported by any police authorities.
Get updates from The Cardinal CRIME BLOG 'Plus' on Facebook. Just 'LIKE' the 'Arlington Cardinal Crime & Forensics' Page (become a fan of our page). The updates cover all posts in the 24/7 Crime Alerts! and sub-categories. See all of The Cardinal Facebook fan pages at Arlingtoncardinal.com/about/facebook …

Help fund The Cardinal

Arlingtoncardinal.com/sponsor