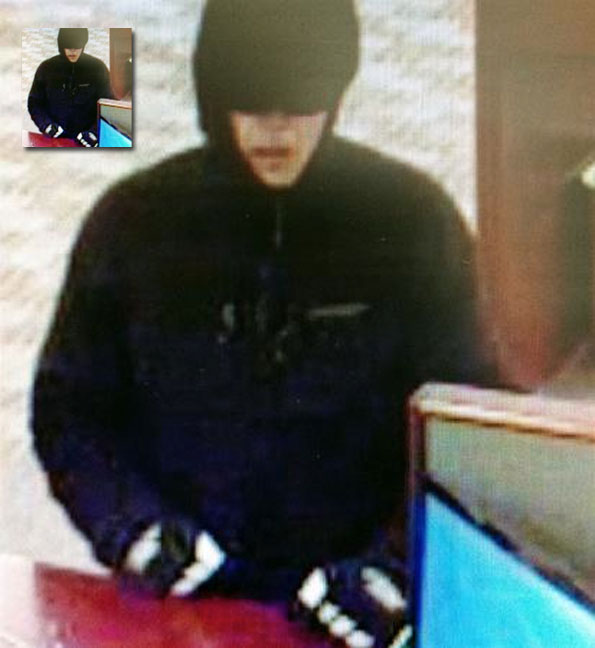 Ben Franklin Bank robbery suspect at bank robbery on Kensington Road just north of Mariano's Fresh Market on Thursday April 28, 2016.
"If You See Something, Say Something™" … It's a trademark of the United States Department of Homeland Security.
The Department of Homeland Security tells us that it takes a community to protect a community. DHS tells us that informed, alert communities play a critical role in keeping our nation safe.
What if you don't know what you're looking for?
Let this message be clear: This is not an anti-police officer message. If anything, I have gained more respect for police officers who I have witnessed maintain fairness, courtesy, and compassion for people during emergencies in Arlington Heights. Police officers, whether they're on-duty or off-duty, want to be informed, too. They want to be well-informed by the superiors who give them orders, and they want to be well-informed by the citizens they serve.
There was a bank robbery in Arlington Heights Thursday afternoon, April 28, 2016 at the Ben Franklin Bank at 830 East Kensington Road. Guess where I was at 3:15 p.m. Thursday afternoon? About 3:15 p.m. to the best of my recollection possible, I was pulling out of Mariano's making a right turn from Mariano's exit to eastbound Kensington Road — right across the street from the bank. Did I see anything suspicious? Did I see an over-winterized man in Khaki pants run toward the Dryden Apartments? Not that I can remember. Did I see the suspicious man — in over-winterized clothing run toward Beverly Lanes and jump into a car and drive away? Not that I can remember. Four days later, when the Arlington Heights Police Department used their Twitter account to notify the public about the bank robbery, I initially could barely remember whether I was there or not.
"If You See Something, Say Something™"
It takes a community to protect a community. Informed, alert communities play a critical role in keeping our nation safe.

— Department of Homeland Security
As a public safety news blogger, I used to carry a police radio scanner that was tuned and programmed to Arlington Heights police radio communications. Since June 2013, Arlington Heights and neighboring communities in the northwest suburbs use encrypted radio talkgroups. That means the media and neighborhood watchgroups are severely hampered in their level of awareness to help communities stay alert, stay informed and stay protected in their communities. Now the communications I monitor are more focused on fire communications. I also listen to ISPERN, an Illinois State Police frequency that alerts area police departments to major crimes. Any communication on ISPERN was also missed — likely, but not certainly — because Arlington Heights police did not use the ISPERN frequency to make the alert about the bank robbery. Arlington Heights Police released information to the public about the bank robbery on their Twitter account Monday May 2, 2016 at 9:06 AM — about 89:51 (hours: minutes) or almost four days after the crime occurred. So I went almost four days without knowing about the bank robbery.
Now if someone like me, who spends more hours than I would like to admit or remember monitoring local public safety communications to help protect the community in my home town, misses out on awareness of a bank robbery, how well do you think the average citizen fares?
More importantly, think about how well your community is informed, alerted, and protected in the event of child abduction, mass shooting, hazmat incident or terrorist act. Police are highly concerned about verification of any incident, and making sure they don't put out false alarms to communities. Police may also become overburdened to a point that overrides their ability to keep public information a priority. The police departments in the northwest suburbs appear to have an obsession with controlling the output of information. Information output is filtered, limited, sanitized, delayed, and sometimes concealed.
Obstructed information could mean the difference between life and death.
If a child abduction occurs in a community that uses encrypted police communications, thousands of eye-witnesses are shut out of the Homeland Security equation. In a community with police communications "in the clear" (not encrypted) thousands of citizens are activated by early real-time police communications — and the communications are often amplified by Twitter, Facebook and text messages. These messages occur citizen-to-citizen by family members, friends, and co-workers who know the whereabouts and possible significance of an incident and their contact's location. Often this could be an alert that brings their contact to safety. If the alert from police radio monitoring turns out to be bogus, it's understandable that information may be inaccurate. Life resumes to normal.
A community is somewhat like a living organism. A community with encrypted police communications is like an organism with poor reflexes and a lousy immune system.
With police radio encryption, a child abduction offender has an easier time slipping out of town unnoticed and unrecalled, especially when police severely delay the output of information via social media or press releases.
With police radio encryption, a bank robber has an easier time going unnoticed and repeating the crime at another bank.
With police radio encryption, mass shooters or terrorists can execute more effective killing by attacking a community that does not have real-time awareness and reflexes for self-defense, and can slip undetected into a community that doesn't have awareness for reporting suspicious activity specific to the incident.
The criminals and terrorists, who police departments have blocked from listening to general police dispatch communications, don't seem to be hampered from carrying out criminal or terrorist activities. If anything, their criminal and terrorist activities are enhanced by the resulting lack of awareness of the citizens whom the Department of Homeland Security says play a critical role in keeping our nation safe.
IMPORTANT ALERT …
Cardinal Note: As of June 5, 2013 — up to and including the date of this article — police incidents related to the above police agency are not reported in real time or within a prompt time period. Police protecting their realm of investigation and police activity, have chosen to use secret military-grade encrypted radios to withhold their police communications, which were previously open to the public and news media via monitoring of public safety scanning radios — with no known negative results locally.
The delayed knowledge or entirely blacked out knowledge resulting from encrypted police communications may protect certain police operations and investigations, but it also puts the public at risk in situations such as when armed and dangerous offenders are at large and when other similar situations occur, such as when desperate offenders of property crimes are eluding police. In other cases, the delayed or blacked out information inhibits or prohibits the possibility of the public providing early witness accounts before a criminal trail goes cold. Citizens are much more likely to recognize or recall suspicious or criminal activity if they are aware of the criminal incident within minutes or hours of its occurrence. The most serious incident involving dire results would be a trail that is allowed to go cold in the case of child abduction.
The lack of real time information from public police dispatch also weakens an effective neighborhood watch program mostly working to prevent property loss, but also working to prevent possible violent crimes.
Lack of real time information from police dispatch also delays public awareness or eliminates public awareness of general hazards and traffic or other situations in every day living in an otherwise economically thriving community.
Police have alternate ways to transmit tactical, operational or investigative information, while still keeping their main public dispatch channels open for the best balance of public safety and police safety.
dhs.gov/see-something-say-something
Get updates from The Cardinal CRIME BLOG 'Plus' on Facebook. Just 'LIKE' the 'Arlington Cardinal Crime & Forensics' Page (become a fan of our page). The updates cover all posts in the 24/7 Crime Alerts! and sub-categories. See all of The Cardinal Facebook fan pages at Arlingtoncardinal.com/about/facebook …