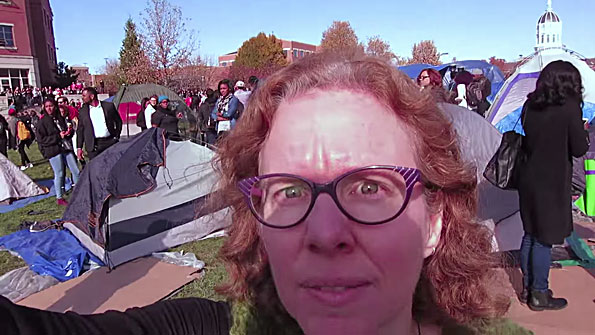 Was Mizzou Fiasco Caused by Inaction or Lack of Civilized Dialogue?
As complaints of racism and anti-gay bigotry progressively increased from students at the University of Missouri, students claimed that President Timothy Wolfe and Chancellor Bowen Loftin failed to address racism.
Journalism and communications professor Melissa Click had little tolerance for student journalists on campus; James Rosen provides insight on 'Special Report' … Watch Bret Baier and James Rosen talk about Controversies and Education on Special Report.
On September 12, 2015, a Facebook post by student government president Payton Head related a personal experience of people in a pickup truck directing racial slurs at him with bigotry and anti-gay sentiment around the college campus. Chancellor R. Bowen Loftin called the incident "totally unacceptable" on September 17, 2015, but one week later students held a protest event "Racism Lives Here" on September 24, 2015 — claiming administers didn't do anything to address Head's concerns.
On October 4, 2015, an African American student group was approached by a drunk white student, who used a racial slur when he was asked to leave.
Loftin, who was out of the country when the incident occurred, sent a video presentation with the message that "Racism and all prejudice is heinous, insidious and damaging to Mizzou… That is why all of us must commit to changing the culture at this university."
In late October a student group "Concerned Student 1950" was created, named for the first year the University of Missouri admitted black students.
Tim Wolfe, the president of the University of Missouri system, has resigned over allegations that he mishandled racial tensions at the school.
Complaints escalated to a hunger strike by Jonathan Butler on November 3, 2015 and a threatened walkout by football players on November 8, 2015. On November 9, 2015, System President Timothy Wolfe announced his resignation, and Chancellor Loftin announced he would resign at the end of 2015. Loftin plans to take a research role at the University of Missouri.
Following the announcement of the resignations of University of Missouri President Timothy Wolfe and Chancellor Bowen Loftin, there was a widely publicized dispute between photojournalist Tim Tai and protesters in the main Carnahan Quad, where protesters had set up an encampment. While attempting to cover the event on a freelance assignment for a major media company, he was physically confronted by students, and University of Missouri staff and faculty — including a journalism and communications professor, Melissa Click. The communications professor had firmly asked Tim Tai to leave while Mark Schierbecker captured video of the confrontation. She also called for "some muscle" to come over to help intimidate Tai. Click was also shown on video to be a crowd agitator, and resigned from her courtesy appointment at the Missouri School of Journalism because of her actions on the following day.
Students had formed a perimeter around an encampment of tents, which was apparently part of the demonstration that involved "guard protesters" protecting the "inner victims" of racism and people with other grievances against the university from approach by the media.
Following the incident with the media, security was a concern, and on November 11, 2015, Head made a Facebook post stating, "Students please take precaution. Stay away from the windows in residence halls. The KKK has been confirmed to be sighted on campus. I'm working with the MUPD [Missouri University Police Department], the state trooper and the National Guard." Major Brian Weimer (MUPD) responded saying, "There is no Ku Klux Klan on campus." Weimer also said that the National Guard was not on campus. Head then apologized, saying on Facebook, "I'm sorry about the misinformation that I have shared through social media."
Students form a perimeter around the #ConcernedStudent1950 tent village at the University of Missouri and ask media to leave. (edited/6:36).
Clash between media and ConcernedStudent1950 (full/12:41).
REACTION …
Jordan Liles explains mob mentality and demonstrates examples from Mark Schierbecker's video of Tim Tai's experience with the college crowd. Liles cites a study that explains that "people who can't differentiate between 'self' and 'group' are most likely to go with the flow. These people, according to researchers, tend to lose a sense of personal moral beliefs."
Liles also explains "college-aged" brains and why mob mentality is happening to the college students. He cites a study that claims that "brain scans show clearly that the brain is not fully finished developing until about age 25 … Their prefrontal cortex is not yet fully developed. That's the part fo the brain that helps you to inhibit impulses and to plan and organize your behavior to reach a goal." The paper claims that 18-year-old are about half-way through the process of brain maturity.
Finally Liles explains political clickbait, which consists of various websites and social media pages that post content that fits their narrative, but avoids posting content that contradicts their message. Liles points out that conservative media strongly correlated this story with their message, while liberal media barely covered the protest.
The Rise of Political Clickbait is all about mob mentality, college brains and the political clickbait that surrounds the November 2015 protests on The University of Missouri campus. Tim Tai and Mark Schierbecker provided inspiration for this project, with Mark being the gracious video provider.
Liles is a freelance videographer and YouTube filmmaker.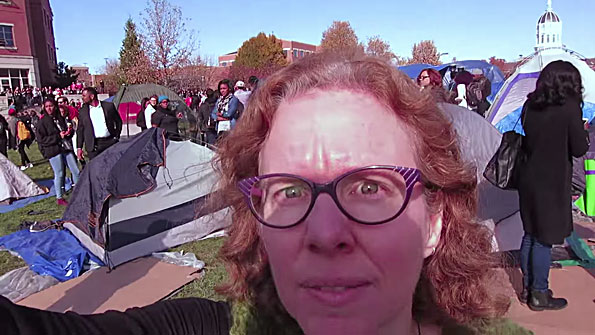 The face of media intolerance, hypocrisy, and mob action — Melissa Click at University of Missouri.
Get updates from The Cardinal ALL NEWS FEEDS on Facebook. Just 'LIKE' the 'Arlington Cardinal Page (become a fan of our page). The updates cover all posts and sub-category posts from The Cardinal — Arlingtoncardinal.com. You can also limit feeds to specific categories. See all of The Cardinal Facebook fan pages at Arlingtoncardinal.com/about/facebook …