The season for increased bee, wasp and hornet stings is upon us, Friday there were two calls for paramedics to respond to allergic reactions to bee stings in the northwest suburbs. Arlington Heights Fire Department paramedics responded to the Westgate Walgreens parking lot Friday afternoon, and Palatine Fire Department firefighter/paramedics responded to a residence in Palatine early Friday evening. Most stings do not cause serious harm, but an allergic or anaphylactic reaction can cause death when the airway is obstructed by swelling from anaphylaxis (severe allergic reaction). All stings should be monitored carefully. One study of anaphylaxis cases discovered that half of individuals with fatal sting reactions had no documented history of previous systemic reaction.
"First Aid"
Immediate care for a sting involves understanding whether the victim has a history of allergies or asthma. If there is a history of bad reactions, go for the EpiPen if available, and call 9-1-1 and get medical help right away.
Any multiple stings should raise alarm even before symptoms occur. It is better to be safe than sorry, even if systemic symptoms never arise from multiple stings. Call 9-1-1 for a multiple-sting attack.
In case of a single sting by a bee, it is important to scrape away the bee stinger if it is still there. Don't pinch it out. The idea is not to squeeze more venom into the flesh. Wasps and hornets don't leave a stinger. They inject and fly away.
Ice packs can be applied to the sting site, unless the victim has a medical condition that is known to be harmed by ice packs.
If a systemic reaction to the sting is detected, it's best to call 9-1-1 for paramedics. Immediately after the sting, you can't be sure what level of severity will occur.
According to severity, hospital emergency medical staff and paramedics identify four levels of reactions to stings:
Local Reaction involves pain, redness, hives and edema at the site of the sting.
Mild Systemic Reaction includes all reactions above, plus peripheral tingling, warmth, feeling of fullness in mouth and throat, nasal congestion, swelling near the eyes, rash, itching, tearing, and sneezing.
Moderate Systemic Reaction includes all reactions above, plus bronchospasm, difficulty breathing, wheezing, swelling in airways, cough, flushing of skin, nausea and vomiting, feeling of warmth, and anxiety.
Severe Systemic Reaction with Anaphylactic Shock includes all reactions above, pluse intense bronchospasm with absent or decreased breath sounds and wheezing, severe swelling of airway, laryngeal edema, hoarseness, stridor (harsh vibrating noise while breathing caused by obstruction), severe difficulty breathing, intense abdominal cramping, diarrhea and vomiting and possibly respiratory and cardiac arrest.
At the various levels of severity, emergency medical treatment involves treatment that includes diphenhydramine (an antihistamine), albuterol (for relief of bronchospasm), ipratropium (for relief of bronchospasm), epinephrine (counteraction of anaphylaxis), glucagon (for people on beta blockers that are resistant to epinephrine) and administration of oxygen.
Recognition by the public and by medical personnel of severe stages or impending severity is very important. Severe reactions to stings involve some of the most urgent medical actions that are performed by paramedics and hospital emergency room personnel. The key is to recognize breathing or airway problems and symptoms that develop away from the site of the sting. NEVER ignore airway, breathing or systemic symptoms because you think they might go away on their own.
UNL Extension Entomologist Jim Kalisch talks about controlling paper wasps and yellow jackets.
Prevention
There are several precautions to take during seasons when bees, wasps and hornets are active.
1. Always check areas outside for streaming bees, wasps or hornets. Streaming indicates the insects are entering and exiting a nest nearby. If you are too close to a nest or accidentally disturb a nest, you are at risk of multiple stings. Some wasps or bees have a different tolerance for the distance a person may approach a nest. Common wasps may ignore a person 12 feet away from a nest, but Bald-Faced Hornets may attack as far as 12 feet away.
2. Beware of bushes and shrubs. Some insects build nests in bushes or even in the ground. You're more likely to be attacked if you walk within several feet of a nest that is built two feet off the ground in a bush or in the ground, compared to a nest up by a gutter.
3. Beware of structures that are infrequently visited. If you haven't been in a shed or barn for months, take a moment to check to see if wasps or hornets are flying in an out of the structure.
4. If you haven't used a covered outlet for a prolonged period, always check to see if wasps are flying in an out of the covered outlet. Wasps have been known to build nests inside covered outlets.
5. If you have an occasionally see hornets or wasps inside your house or apartment, beware of rooms or attics that you have not entered for a prolonged period. Some hornets prefer voids behind walls. It's likely that it is not a coincidence if more than two wasps or hornets are in your house. They may have built a nest dangerously close to your living space. Some hornets have also been known to build nests in chimneys. People have been faced with a swarm of insects when they open the damper to their chimney flue.
6. When outdoors, it is best not to drink out of a soda can. Bees and wasps are known to get inside the can looking for sweets. If you must drink out of a can outside, never let it out of your sight, and cup your hand over the top of the can to help prevent a bee or wasp from sneaking inside the can.
7. If you are concerned about perfume and clothing, don't wear sweet, flowery scents, and wear white clothing. Did you ever notice that most beekeepers' clothing is all white?
For the simple small nest hanging outside, you can probably safely get rid of the nest by following the instructions accompanying a wasp spray can, but larger nests (including large nests underground) or nests connected to living spaces, such as interior voids, should be eliminated by a professional exterminator.
Cicada Killer Wasp (below) in Arlington Heights — only the females can sting, and they are not aggressive. They might only sting if they are actually handled or accidentally contacted.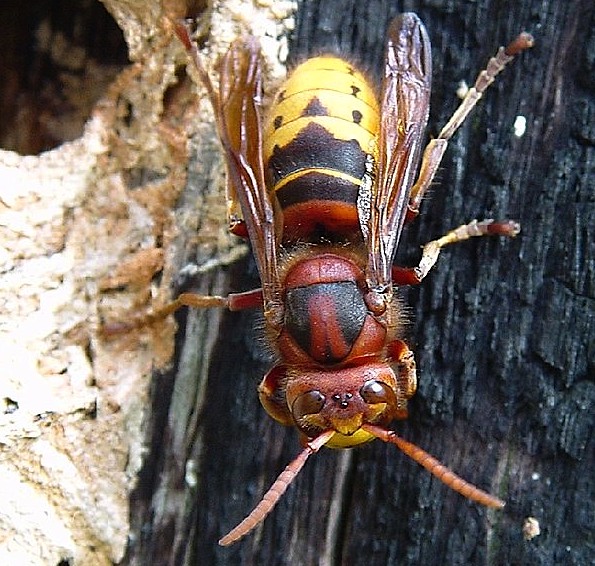 The European Hornet queen (Vespa crabro) is about one to two inches long — males and workers are smaller. The body segment stripes are half brownish-black and half yellow. European Hornets are the largest confirmed hornets in the United States. So far they have been more concentrated in the eastern United States, but they have been reported in Illinois. There are report that they can be aggressive toward human, and are known to fly at night to hunt insects that fly near porch lights.
Get updates from The Cardinal ALL NEWS FEEDS on Facebook. Just 'LIKE' the 'Arlington Cardinal Page (become a fan of our page). The updates cover all posts and sub-category posts from The Cardinal — Arlingtoncardinal.com. You can also limit feeds to specific categories. See all of The Cardinal Facebook fan pages at Arlingtoncardinal.com/about/facebook …