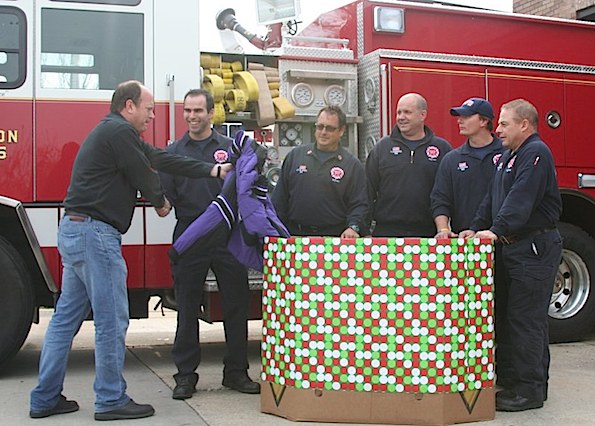 Arlington Heights firefighters accepting a coat for the 3rd Annual Coat Drive for District 25 students and families.
See how easy it is to drop off your coat in this photo album from Facebook.com/CardinalEmergencies …
Arlington Heights Firefighters will be hosting a coat drive lasting from November 1-December 1 to help keep the needy warm this winter. Local firefighters and Arlington Heights School District 25 are teaming up to help needy student and families in the district.
Filling up the bin for the Coat Drive at Arlington Heights Fire Station 4.
Arlington Heights Firefighters will be collecting new and gently used coats at all four fire stations for the month of November. U.S. Census data shows that, "Health experts report that even a 2-degree drop in body temperature results in reduced heart rate, loss of coordination, and confusion. Adults cannot work effectively and children find it difficult to learn. For most, a warm coat solves the problem. But, for the now nearly 15% of Americans living in poverty, a warm winter coat is a budget "extra."" So let's get those old coats out of the back of the closet and help keep our less-fortunate residents warm this winter!
Station 1 — 300 East Davis Street, Arl. Hts., IL
Station 2 — 1150 N. Arlington Heights Road, Arl. Hts., IL
Station 3 — 2000 South Arlington Heights Road, Arl. Hts., IL
Station 4 — 3030 North Arlington Heights Road, Arl. Hts., IL