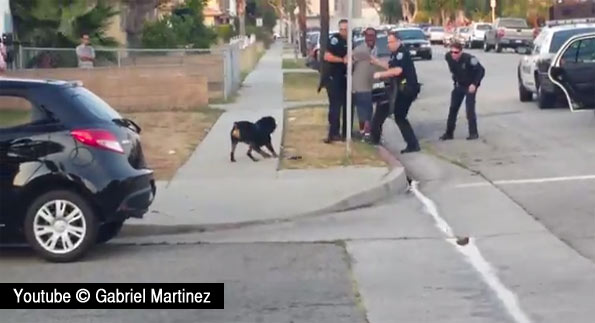 Video still from GRAPHIC VIDEO that shows Hawthorne Police officers shooting a Rottweiler while the owner was handcuffed for obstructing justice.
Police in Hawthorne, California are faced with an angry dog owner and angry protestors after a police officer or officers shot and killed a Rottweiler at the scene of an armed robbery investigation.
A video posted on YouTube shows Leon Rosby, 52, was capturing video of a police activity scene in a residential neighborhood in Hawthorne, California. The graphic video is posted on PublicSafetyReporter.com Hawthorne Police Fatally Shoot Dog After Failure to Confirm Secure Position of Rotweiler.
Hawthorne Police Lt Scott Swain said police officers were warning Rosby to turn down the music in his car because it was distracting police officers about one-half block away working on a report of an armed robbery.
Two police officers walked down about two lots to confront Rosby, whose car was parked near the corner of an intersection with music playing loudly. Rosby immediately attempted to secure his dog in his vehicle with windows open. He then walked toward the police and submissively turned around with his hands behind his back, as if to facilitate handcuffing. The police immediately handcuffed Rosby, and the dog became agitated. The dog eventually lunged out the car window and charged the police officers. A third police officer approaches and draws his handgun. Initially, the dog backed off, but on a subsequent lunge, the third police officer fired four shots at the dog.
A series of misconduct by the dog owner and the police led to the unfortunate fatal shooting of the dog.
The owner of the dog parked too close to the scene, and is possibly illegally parked and obstructing access of additional police vehicles responding to the scene.
The owner of the dog should not have been playing loud music next a scene with police activity involving multiple police cars with police carrying long weapons. The loud music is further obstruction of the scene.
The owner did not properly secure his dog inside the car.
The police acted improperly by not respecting the nature of the Rottweiler breed. Rottweilers are known to loyally protect their owners and are more aggressive than the average dog toward strangers. Police officers acted improperly by not confirming that the dog was secured, and by taking action (handcuffing the dog's owner) that would provoke the dog before confirming that the dog was secure.