VIDEO: Extra-alarm ambulance response at Arens Controls plant after an explosion killed one employee, injured seven employees, and also injured three police officers.
Arens Control, 3602 North Kennicott Avenue in Arlington Heights, has paid in full total fines of $26,100 after an OSHA investigation found five violations classified as SERIOUS at the warehouse plant where an explosion occurred on Tuesday, May 22, 2012. None of the violations were classified as WILLFUL or REPEAT violations. Also, the company did not received advance notice of the violations. All violations were cited on November 20, 2012.
First Violation 01001 SERIOUS — Failure to Ventilate Hydrogen Adequately — Fine $6300
OSH ACT of 1970 Section (5)(a)(1): Section 5(a)(1) of the Occupational Safety and Health Act of 1970: The employer did not furnish employment and a place of employment which were free from recognized hazards that were causing or likely to cause death or serious physical harm to employees in that employees were exposed to explosion hazards when the employer failed to ventilate hydrogen gas adequately. The hydrogen gas was generated by hydrogen-on-demand (HOD) units being tested in the Reliability Laboratory. a) Arens Controls Company, LLC – On May 22, 2012, an explosion occurred at a Tenney Environmental test chamber in the Reliability Laboratory during troubleshooting operations. The following conditions found at the facility increased the potential for an explosion: hydrogen was being created by hydrogen-on-demand (HOD) units being tested and the exhaust system was not designed, constructed, installed, tested and maintained properly to provide safety to life from fires and explosions. Abatement of the violation was January 9, 2013.
Second Violation 01002 SERIOUS — Control of Hazardous Energy — Fine $6300
The control of hazardous energy standard covers the servicing and maintenance of machines and equipment in which the unexpected energization or start up of the machines or equipment, or release of stored energy, could harm employees. This standard establishes minimum performance requirements for the control of such hazardous energy. Abatement of the violation was December 19, 2012.
Third Violation 01003 SERIOUS — Failure to Classify an Electric/Vapor area dangerous — Fine $4500
This section covers the requirements for electric equipment and wiring in locations that are classified depending on the properties of the flammable vapors, liquids or gases, or combustible dusts or fibers that may be present therein and the likelihood that a flammable or combustible concentration or quantity is present. Hazardous (classified) locations may be found in occupancies such as, but not limited to, the following: aircraft hangars, gasoline dispensing and service stations, bulk storage plants for gasoline or other volatile flammable liquids, paint-finishing process plants, health care facilities, agricultural or other facilities where excessive combustible dusts may be present, marinas, boat yards, and petroleum and chemical processing plants. Each room, section or area shall be considered individually in determining its classification. Abatement of the violation was January 9, 2013.
Fourth Violation 01004 SERIOUS — Failure to Use Propert Equipment in Dangerous Electric/Vapor area — Fine $6300
The Fourth Violation is related to the third violation because improper equipment was used — equipment that would have been used if the hazardous area was properly classified. Abatement of the violation was January 9, 2013.
Fifth Violation 01005 SERIOUS — Failure to Develop MSD Sheet for Hydrogen — Fine $2700
This section covers failure to develop a Materials Safety Data Sheet to ensure that the hazards of all chemicals produced or imported are classified, and that information concerning the classified hazards is transmitted to employers and employees. The transmittal of information is to be accomplished by means of comprehensive hazard communication programs, which are to include container labeling and other forms of warning, safety data sheets and employee training. Abatement of the violation was January 9, 2013.
Hydrogen is produced as a byproduct at the plant, which could have caused oversight regarding actually developing a Material Safety Data sheet for Hydrogen.
Arlington Heights police and firefighter/paramedics responded about 8:38 a.m. Tuesday, May 22, 2012 to a report of an explosion in a warehouse/factory building at 3602 N. Kennicott Avenue in Arlington Heights. Police officers from Arlington Heights and Buffalo Grove arrived first to help evacuate the building. Firefighters arrived to find the building being evacuated and some light smoke and twisted metal inside of the building.
One person, who was identified as Arens employee Neil Nicholson, 55, was killed in some type of industrial accident and explosion — possibly involving potassium hydroxide and formation of hydrogen. As an employee, Neil Nicholson, was testing energy components for use in hybrid vehicles was killed when an explosion occurred.
The explosion also injured twelve employees at the time of the blast, three police officers, and two firefighter/paramedics, who were first on the scene after the explosion. The employees and first responders suffered smoke inhalation and exposure to chemical irritants — possibly potassium hydroxide, which is a skin and respiratory irritant. Overpressure injuries related to the blast of the explosion were reported to involve hearing-related injuries and chest pain. The emergency responders were apparently exposed to fumes, gases or smoke in the aftermath of the explosion. Some personnel were experiencing coughing and headache. All people transported to Northwest Community Hospital were in good condition as of 11:30 a.m., according to Northwest Community Hospital.
Arlington Heights Fire Department activated an extra alarm for mutual aid ambulances from Buffalo Grove, Palatine, Prospect Heights, Wheeling and others fire departments.
All people that were transported seemed to be walking in good shape before they were transported by firefighter/paramedics to the hospital. Neil Nicholson's body remained inside the building for part of the investigation, and was not immediately removed Tuesday.
A brief fire occurred, but was immediately extinguished before firefighters arrived.
In medical textbooks, blast injuries are categorized as four types:
(1) Primary injuries, which involve direct injuries to ears and internal organs from overpressure of air molecules hitting victims in a shock wave. The most common cause of fatalities that occur after initial survival of an explosion are injuries to the lungs, alveoli and pulmonary blood vessels. The resulting pulmonary contusion, bleeding or swelling is known as blast lung.
(2) Secondary injuries, which are cause by shrapnel, such as flying glass, flying metal or other flying objects can cause penetrating trauma with visible bleeding and possible severe blood loss.
(3) Tertiary injuries, which are caused by victims being thrown into something, can cause blunt and/or penetrating trauma, such as bone fractures and brain trauma caused by motion of the brain inside the skull. Brain trauma can occur when the head strikes an object and the momentum of the brain inside the skull causes the brain to collide with the inside of the skull.
(4) Quaternary injuries include flash burns, chemical splash, respiratory injuries, crush injuries, and all injuries not classified in the first three classes. Eye injuries, amputations, neurological damage and/or psychiatric injury that can cause post-traumatic stress disorder are included in the quaternary class.
Potassium hydroxide is a strong base chemical, also known as caustic potash. Potassium hydroxide in modern chemistry is produced by electrolysis of potassium chloride solutions. Hydrogen gas is formed as a byproduct on the cathode, which is an electrode that attracts positively charged atoms or molecules. Chlorine gas is formed as a byproduct on the anode, which is an electrode that attracts negatively charged atoms or molecules. The hydrogen ion is a positively charged ion. The chloride ion is a negatively charged ion. Hydrogen is highly explosive. Hydrogen gas forms explosive mixtures with air if it is 4–74% concentrated. Hydrogen forms explosive mixtures with chlorine if it is 5–95% concentrated. Mixtures spontaneously explode by spark, heat or sunlight.
Interestingly there was an odor of chlorine gas east of the scene — downwind from the building. A neighbor, who said he frequently walks past the building, said he never noticed the chlorine smell before.
It is unknown whether the company was producing potassium hydroxide or using it for some other application, such as producing hydrogen for some commercial vehicle energy application.
Potassium hydroxide itself is non-flammable — it's the white stuff you see leaking from dead alkaline batteries that are left in a device too long. Potassium hydroxide (KOH) is rated 3 out of 4 as a health hazard by the NFPA 704 standard maintained by the National Fire Protection Association. KOH does not burn on its own — it's rated 0 out of 4. KOH is reactive at high temperatures and pressures.
NFPA Fire Diamond* for Postassium Hydroxide explained …
BLUE (Health) = 3: Short-term exposure could cause serious temporary or moderate residual injury.
RED (Flammability) = 0: Will not burn [Hydrogen is a 4 — Rapidly or completely vaporizes at normal atmospheric pressure and temperature, or is readily dispersed in air and will burn readily (e.g., propane, hydrogen). Flash point below 23°C (73°F)].
YELLOW (Reactivity) = 1: Normally stable, but can become unstable at elevated temperatures and pressures.
WHITE (Special) = ALK: Alkaline.
* The NFPA Fire Diamond gives firefighters a quick general size-up of a hazardous material at a business. Firefighters also look for relevant Material Safety Data Sheets (MSDS) when they arrive on the scene in an emergency. Here is an example of the MSDS for Potassium Hydroxide made available from Iowa State University.
Potassium, by itself, is a raw alkali combustible metal, that oxidizes rapidly in air, and can react violently with water — generating enough heat to cause a fire. Small potassium combustible metal fires are extinguished in a laboratory with Class D fire extinguishers. Potassium metal is not to be confused with potassium hydroxide.
Potassium ions — sometimes simply called 'potassium' — are positive ions and vital electrolytes in human physiology that are important for nerve conduction, muscle contractions, and cardiac contractions (beating of the heart). The potassium ion is the main intracellular ion for all cells, and is also important for maintenance of fluid and electrolyte balance. Bananas, orange juice, avocados and apricots are some of many fruits that are a good source of 'potassium' or more accurately — potassium ions.
Police investigators, fire investigators, the Illinois State Fire Marshal and OSHA personnel were all on the scene by about 1:00 p.m. Tuesday. OSHA will likely present a detailed report of the cause of the accident with recommendations for preventing future industrial accidents, but the report could take about six months to be completed.
According to officials, no criminal activity is suspected related to the explosion, which is believed to be an industrial accident.
No visible damage was seen outside the building. Fire Chief Glenn Ericksen and police Capt. Ken Galinski reported that there was twisted metal inside related to the explosion. The roof was also slightly buckled in the explosion. Some gravel rock was blown off the roof of the building and damaged about 20 cars parked near the building.
Firefighters from Buffalo Grove inspected the roof by way of their ladder tower truck.
According to their official website, Arens is a world leader in engineering and manufacturing of precision operator interface control systems as well as power management systems for commercial vehicles — including the hybrid vehicle market. Arens reports their engineers are focused on developing innovative solutions and next generation technology control and power management systems for commercial vehicle manufacturers.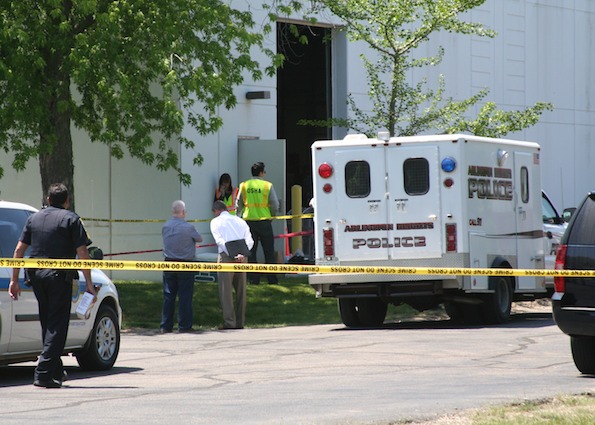 Photo OSHA on the scene: Most rescue and investigator activity was on the northeast corner of the Arens building, 3602 North Kennicott Avenue, Arlington Heights.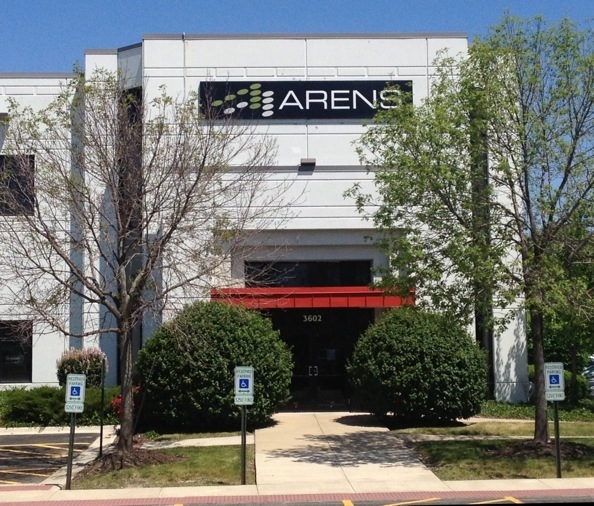 Entrance to Arens control, 3602 N. Kennicott Ave. at the southeast corner of the building.
See also …
OSHA Inspection: 444073.015 – Arens Controls Company, Llc
Stay informed with news from The Cardinal's Emergencies Behind the Scenes Facebook page — Facebook.com/CardinalEmergencies. Includes links to favorite public safety and emergency rescuers and product manufacturers and safety companies that have facebook pages. Submit your pictures or just stay up-to-date on with fire, rescue, EMS and police photo galleries. Please add your public safety photo to the wall album — go direct to the Arlington Cardinal Emergencies Behind the Scenes photos. For a list of all of The Cardinal Facebook fan pages, go to Arlingtoncardinal.com/about/facebook …